If you're a yoga buff and you're interested in trying out aerial yoga, you're in luck. There are some amazing studios for aerial yoga in CT for you to check out.
In this article, you'll learn a little bit about this unique type of yoga and find out where to go for aerial yoga classes in CT.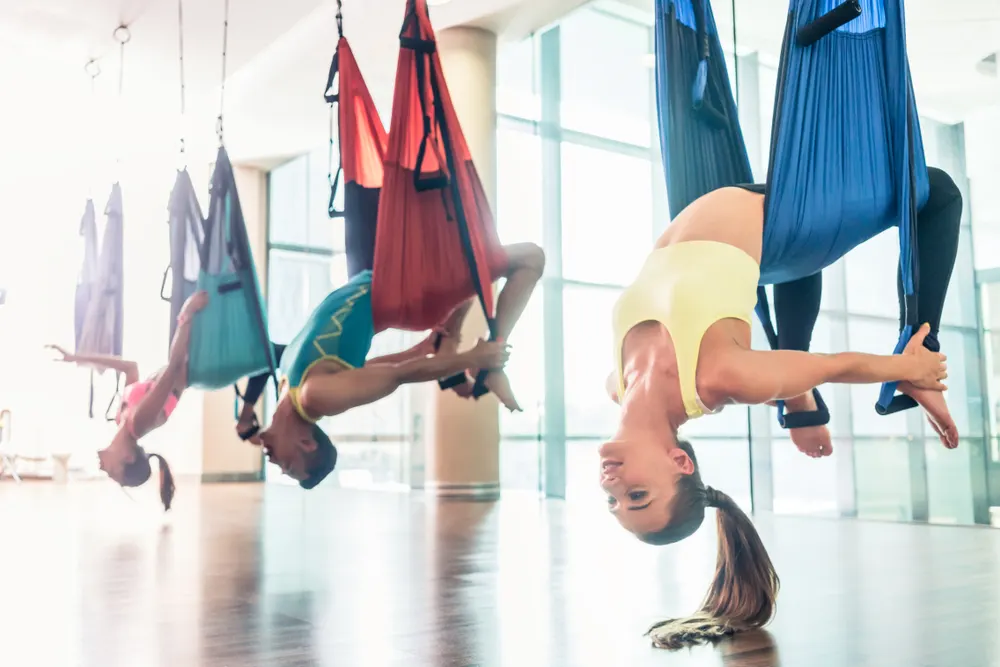 What is aerial yoga?
If you found this article on a search engine, it's safe to say you already know what aerial yoga is.
Just to make sure we're on the same page, though, we're going to go over its definition and benefits just a little bit.
Aerial yoga is a workout that integrates traditional yoga postures with hanging circus fabrics, often referred to as hammocks.
Aerial yoga is considered a low-impact (easier on the joints) activity that improves cardiovascular and digestive health.
It's also beneficial for building muscle strength and improving posture. Many people find it to be a calming and centering activity, as well, much like a trip to a spa.
The 4 best studios for aerial yoga in CT
Connecticut Aerial Yoga is one of the most renownd yoga studios in the state.
Here, you'll experience a blend of traditional yoga poses and the aerial arts. Class instructors have particiapants move between floor activities and aerial poses to promote both strength and relaxation.
The atmosphere here is calm and inviting and the classes are lead by certified instructors.
Connecticut Aerial Yoga also offers a variety of other graceful stregth-building classes, like dance trapeze, as well.
224 Farmington Ave., Hartford, CT 06105
Another top-rated aerial yoga studio in the Hartford, CT area is Higher Ground Aerial Yoga.
Led by the highly accredited instructor Syria Low, these classes will build your strength while also centering your mind.
This is a small studio and classes are limited. So, if you are interested in getting started, sign up today!
635 New Park Avenue Suite 2J, West Hartford, CT
Sky's the Limit aeral yoga studio in Farmington is led by the highly qualified instructor, Tyra Clammenson, who studied under Christopher Harrison, an AntiGravity Fitness expert.
Here, you'll work on yoga poses using hammocks in a calm and friendly atmosphere, in small groups.
This aerial yoga studio is availible for one-on-one classes and private bookings, as well.
222 Main Street – Suite 129, Farmington, CT 06032
Aerial Arts Fitness offers a variety of classes and specializes in fitness pole dancing.
While aerial yoga is not offered at this studio, we felt it belonged on this list as aerial aerobics using hammocks is offered here. (Many people choose aerial yoga for the strength-building benefits only.)
If you're looking for some amazing aeriel strength training, this is one of the best studios in Connecticut.
39 Wedgewood Dr. Jewett City, CT 06351
---
There you have it – the 4 best studios for aerial yoga in CT! If you're favorite spot didn't make the list, drop us a comment or an email and let us know where you love to go in Connecticut for aerial yoga!