Are you in Connecticut and looking for somewhere to ease your aches and calm your mind? Or maybe you want to find a place to unwind and reconnect with your significant other?
Well, you've come to the right place. Connecticut is home to some of the best day spas where you can retreat from life's hustle, center yourself, and emerge sparkly and new.
Below are our picks for the top 10 day spas in CT!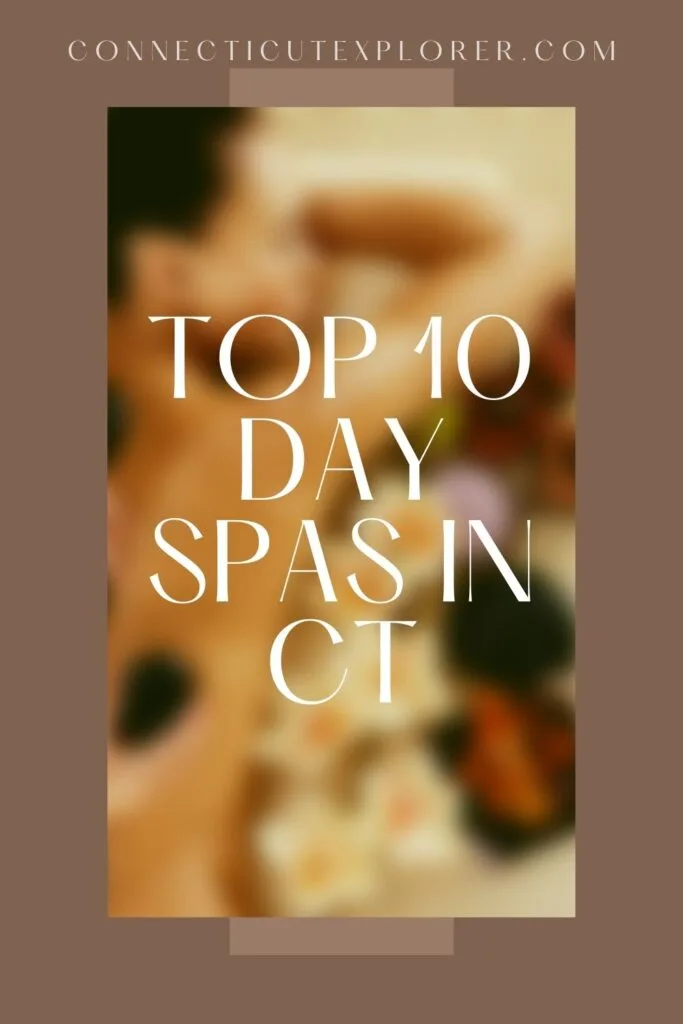 The top 10 day spas in CT
1. The Spa at Norwich Inn
The Spa at Norwich Inn features 37 treatment rooms, an indoor pool, a fitness center, a sauna, a steam room, and a hot tub, among other amenities.
Spa visitors don't have to stay the night because the Spa at Norwich Inn offers day spa packages that include lunch, usage of the spa, fitness classes, and more.
Teen packages are also available, which are a fantastic way to spend some quality time with your daughter.
607 W Thames Street, Norwich, CT 06360
2. Water's Edge Resort and Spa
Water's Edge Resort and Spa offer professional massage therapists and estheticians in a peaceful seaside setting.
A vitamin C brightening facial, a black Baltic mud body wrap, express facials, and more are among the treatments provided.
The Spa at Water's Edge offers exquisite treatments that are a fantastic opportunity to practice self-care.
1525 Boston Post Road, Westbrook, CT
3. The Mayflower Inn & Spa
This luxurious boutique hotel is surrounded by acres of manicured gardens and a wildlife preserve, providing visitors with a perfect experience.
With 20,000 square feet of space, the spa offers Japanese-inspired health therapies.
Massages, manicures, pedicures, and hair treatments are all available, as are specialized mixes of aromatic oils designed to complement and improve your body chemistry.
118 Woodbury Road, Washington, CT 06793
4. Winvian Farm, Morris
Winvian Farm is one of Connecticut's most opulent boutique hotels for visitors to enjoy a luxurious spa experience.
The Winvian Farm Spa has 5,000 square feet of treatment rooms, making it a magnificent haven for relaxation.
Shiatsu massage, deep tissue massage, massage flame, and facial treatments are signature spa services that employ REN products.
Winvian Farm is also a top romantic destination for couples all over Connecticut.
155 Alain White Road, Morris, CT 06763
5. Vitality Spa
This beautiful day spa offers professionally trained technicians for a day of relaxation and pampering. Everything from massages, skin care, pedicures, and hair removal treatments are all available, making it a one-stop-shop.
Pregnancy massages are performed here, as well, and reservations, while not required, are strongly suggested.
14 Lyme St, Old Lyme, CT
6. Saybrook Point Inn and Spa
The Saybrook Point Inn's Sanno Spa offers clients soothing treatments. The spa body routines are the standouts of the spa program.
Your skin will be polished, detoxified, and nourished because of these routines. "The Kate," "Ocean Memory," or the Sanno Body Polish are all options.
Massages, manicures and pedicures, cosmetics applications, facials and peels, and waxing are among the many services available.
2 Bridge Street, Old Saybrook, CT 06475
7. Mandara Spa at Mohegan Sun
Elemis services, a gym, lounges, treatment rooms, and a hair and nail salon are available in the Sky Tower's Elemis Spa.
The Mandara Spa, located in the Earth Tower, transports you to Bali, Indonesia, for a unique experience.
Signature massages, facials, and an unforgettable Fire and Ice treatment are available at the Mandara Spa.
1 Mohegan Sun Boulevard, Uncasville, CT 06382
8. Nova Spa
Guests at the Nova Spa can select in-room beauty and spa treatments for the ultimate day of relaxation. Reflexology, reiki, yoga, facial massages, and other treatments are available.
Herb walks are a unique service offered by Nova Spa and provide visitors with an informative tour led by a certified herbalist who will point out medicinal plants to smell and taste.
After that, you'll be served tea made with local herbs and will relax in one of their spaces curated to calm the mind and body.
1845 Silas Deane Highway Rocky Hill, CT 06067
9. A Moment Away
Everything from massage therapy to skin and nail care can be found at A Moment Away Spa in Southington.
Specializing in prenatal maternal massages for expecting mothers, A Moment Away takes care to ensure they meet your specific needs during your day of rest and relaxation.
Offering a variety of spa services, book one of several packages that vary from including lunch to couples massages!
61 Curtiss Street, Southington, CT 06489
10. Catherine & Company
The objective of Catherine & Company is to pamper its guests' minds, bodies, and spirits in a setting perfect for centering your wellness and relaxation.
Traditional massage techniques, ranging from relaxation massage to hot stone massage, are available, and each treatment is tailored to the client's specific needs.
The spa also takes care of booking for bridal hairstyling and make-up. This is a great place to take your bridal party for a day of pampering and beauty treatments.
Men are welcome at this spa, as well, for reflexology and many other spa treatments.
There are 2 locations to choose from, so no matter where you are in Connecticut, a relaxing day here is accessible to you!
710 East Main Street, Meriden, CT 06450
1921 Boston Post Road, Westbrook, CT 06498
---
Connecticut is in no short supply of relaxing activities.
If you are looking for some relaxation and pampering, be sure to check out some of the best day spas in CT.