Are you wondering where you can the best bagels in CT? If so, I've got you covered – after all, bagels are my all-time favorite breakfast food.
There's nothing like a warm Everything Bagel topped with cream cheese that's about an inch thick.
Ok, I'm exaggerating a little bit. 3/4″ inch of cream cheese is plenty.
Anyway, you came here looking for some great bagel shops in CT, so let's get right to it.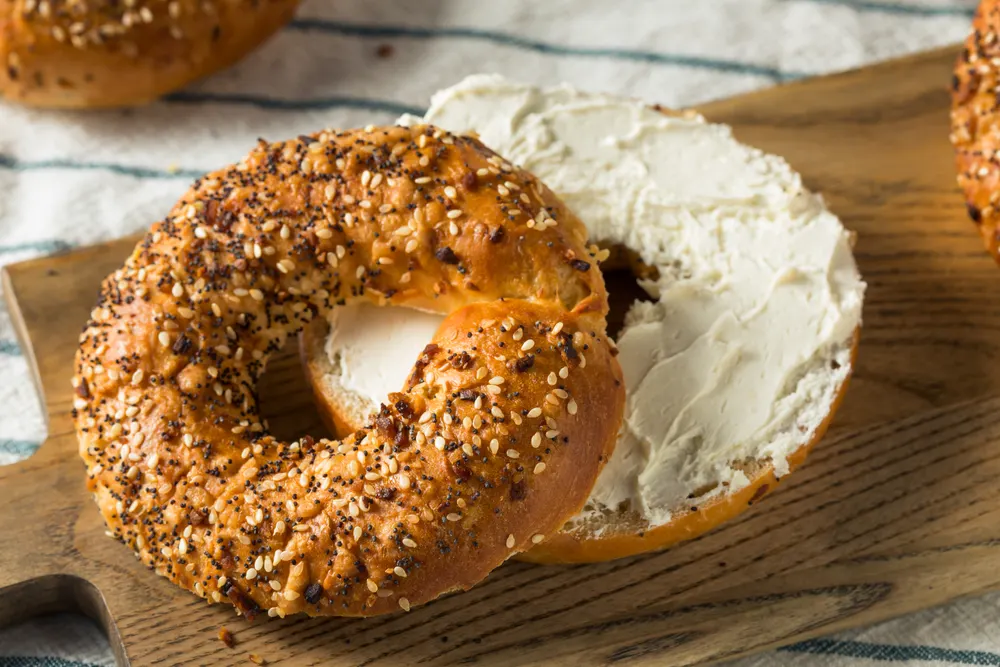 Does Connecticut have good bagels?
If you think you've got to travel to New York City to get a decent bagel, I've got good news. You don't.
Connecticut borders the Big Apple, after all.
You can find great, freshly-made bagels right here in Connecticut – even New York-style bagels.
The 13 places for the best bagels in CT
If you're looking for some delicious fresh-made bagels, Fancy Bagels has you covered.
They've been one of Connecticut's top bagel shops for over 30 years. From bagel sandwiches to breakfast wraps, this place has everything.
Fancy Bagels has 3 great locations and they even do delivery.
Farmington Address: 353 Scott Swamp Road (Route 6), Farmington, CT 06032
Southington Address: 405 Queen St. (Route 10), Southington, CT 06489
Plantsville Address: 309 Buckland Street, Plantsville, CT 06479
One step into Ami's Bagels in Waterbury and your mouth will start watering.
Here, you'll find everything from french toast bagels to garlic bagels.
Ami's Bagels also serves other breakfast and lunch items like muffins, sandwiches, and wraps.
Address: 2457 E Main St #2b, Waterbury, CT 06705
If you're looking for a bagel shop in CT with a huge selection of different types of bagels, Isaac's Bagels in Bloomfield has what you're looking for.
Here, you'll find unique bagel flavors like Cheddar Onion, Jalapeño Asiago, Cinnamon Sugar, and more.
They also serve lox for your bagel, as well as a great selection of different types of cream cheese.
Address: 16B Mountain Ave. Bloomfield, CT 06002
A.M Bagels in Derby is a small take-out-only bagel shop that serves some of the best bagels in CT.
They have a large selection of bagels, ranging from their rye bagel to their very yummy french toast bagel.
Everything is made fresh daily and when they sell out for the day, that's it, you'll have to wait for tomorrow.
So, put your order in early. This place is totally worth getting up early for.
Address: Bradley Pond, 111 New Haven Avenue | Derby, CT
Breugger's Bagels in Glastonbury boasts the best kettle-boiled bagels in the West Hartford area.
Their bagels are freshly made and the cream cheeses that they offer are all made right here in New England.
At Breaugger's, you'll find bagels like rosemary olive oil and poppy seed.
Their cream cheese selection includes flavors like smoked salmon and honey walnut.
Address: 2801 Main St., Glastonbury, Connecticut 06033
Niantic is known for its dining options and you can find some great bagels here.
Feta spinach artichoke and red pepper & feta are just 2 of the amazing bagel flavors that Deke's serves.
The cream cheese options here include bacon horseradish, as well as brown sugar-flavored cream cheese.
Address: 157 W Main St, Niantic, CT 06357
Cohen's Bagels in Madison is the place to visit if you're looking for gourmet specialty bagels.
The bagel options here are spectacular, as are the spread options.
At Cohen's, you'll find bagels like cinnamon crunch and spinach blue cheese – yummy.
Address: 1347 Boston Post Road, Madison, CT 06443
If you're looking for some delicious homemade bagels, Gayle's Depot Square Farm Shoppe in Watertown is a great place to check out.
Gayle's serves so much more than just bagels, though. Here, you'll find all of your breakfast favorites.
They're known all over CT for their bagels, though!
Address: 51 Depot Street, Unit 101, Watertown, CT 06795
Bagel Delight is a highly-rated bagel shop in Newtown, CT. Specifically, this shop gets a lot of praise for its New York-style bagels.
The coffee here is top-notch, as well.
Address: 30 Church Hill Rd., Newtown, CT
Bagelman has 2 locations, one in Brookfield and one in Danbury.
Here, you'll find some of the best authentic New York-style bagels in Connecticut.
Everything at Bagelman is freshly made, including the cream cheese.
They serve plenty of other breakfast favorites here, as well.
This is also a great place from which to get your next family gathering or company party catered.
Brookfield Address: 14 Candlewood Lake Road, Brookfield, CT 06804
Danbury Address: 40 1/2 Padanaram Road, Danbury, CT 06811
Bagel King has the best bagels in the Bridgeport area, hands down.
Here, you'll find bagel flavors like sun-dried tomato and garlic.
They have a large selection of cream cheese flavors and other spreads for your bagels, as well.
Bagel King also serves a large variety of coffee and other breakfast beverages.
Address: 3550 Main Street, Bridgeport, CT
Village Bagels in Westport has some of the best bagels in CT and a great variety of cream cheese flavors, as well.
Whether you're looking for a great breakfast of bagels and lox or a delicious panini, you'll find it here.
Address: 1874 Post Rd. East, Westport, CT 06880
Liz Sue Bagels is one of the best and most popular bagel shops outside of New York City.
Here, you'll find a variety of freshly made, New York-style bagels.
This bagel shop has been around for decades and is family-owned and operated, so the atmosphere is friendly.
The bagels, though, are what people travel miles for – and they are fantastic.
Address: 63 High Ridge Road, Stamford, CT
---
Now you know where to go for the best bagels in CT.
If your favorite bagel shop isn't on this list, drop us an email or leave a comment and let us know the name of the place and what you love about it.