Are you looking for some awesome comic book stores in CT? If so, you've come to the right place.
We are a family of comic book and superhero lovers, and there's nothing we enjoy more than finding a "hidden gem" type comic book store.
Luckily, Connecticut has plenty of great comic book stores to choose from.
It's almost a guarantee that you'll find a comic book shop close to your home in CT – there are just so many great ones.
I put together a list of the absolute best comic book stores in CT.
So, let's get right to it.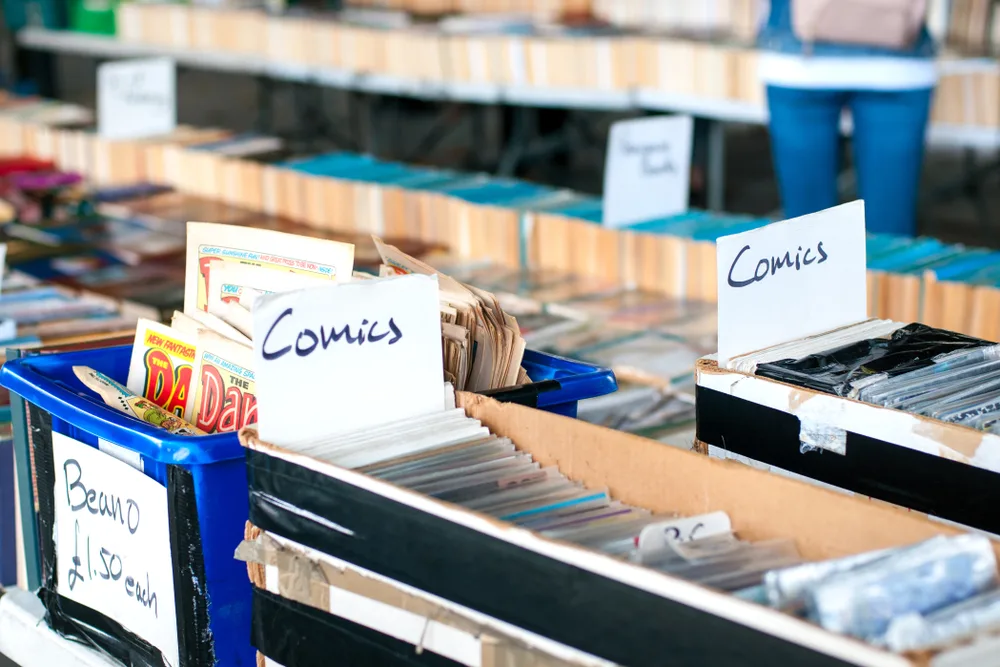 10 comic book stores in CT
Clockwork Comics in Orange, Connecticut has one of the state's largest and most extensive collections of comic books.
Here, you find everything from classic collectible comics to brand-spanking-new editions.
Clockwork also has a decent selection of collectible action figures and other comic book and superhero gear.
Address: 512 Boston Post Road, Orange CT
There are so many cool things to do in New London, especially in the downtown and historic district.
One of the awesome shops in downtown New London is Sarge's Comics – it's one of our favorite comic book stores.
Sarge's Comics is huge and filled with everything from games and gaming gear to just about any type of comic book you can think of.
Address: 124 State Street, New London, CT
You will absolutely flip when you see the selection of classic collectibles at DJ's Cards & Comics in North Haven.
From DC graphic novels to the most sought-after baseball cards to comic books galore, DJ's Cards & Comics is worth the visit no matter how far you're traveling.
Address: 1 Lincoln St, North Haven, CT 06473
The Book Barn is a 3-part book store that's located in Niantic, CT. It's one of the most unique bookstores in New England.
While people tend to flock to the branch of Book Barn with the petting zoo and playground, comic book lovers know where the real gold is – at the downtown building.
Here, you'll be able to dig through bin after bin of some of the coolest comic books in circulation.
Address: 269 Main Street, Niantic, CT
Wonderland Comics is one of Connecticut's most popular comic book stores. There is a serious selection of comic books and comic book gear here.
Here, you'll find classic collectible comic books and brand-new editions of some of your favorites from DC, Marvel, and more.
You'll also find plenty of graphic novels, comic sticker and activity books, games, and gaming accessories here at Wonderland Comics.
Address: 160 Main Street, Putnam, CT 06260
Whether you're looking for comic books, graphic novels, games, or anything else comic or gaming-related, Cave Comics in Newtown is worth a visit.
Cave Comics boasts an inventory of over 20,000 comic books – easily one of the largest selections in CT.
Address: 57 Church Hill Rd., Newtown CT. 06470
Retro Junk in Machester is one of the coolest comic book stores in CT. It's actually so much more than just a comic book store – it's a place where you can find vintage everything!
From vintage gaming systems, collectible toys, and an amazing selection of comic books, you've got to check this place out.
They'll buy your collectibles, as well.
Address: 757 Main Street, Manchester, CT 06040
Black Cat Collectibles is such a fun comic book store!
Here, you'll find tons of amazing comic books and graphic novels.
They also carry a wide selection of collectible toys and other collector's items.
This is one of the most fun places to visit for lovers of classic toys and comic books.
Address: 274 East Main Street, Torrington, CT
Alternate Universe is a comic book store that has a huge selection of the most popular comic series.
From Sonic the Hedgehog to Spiderman, you'll find so many great comic books here. Plenty of collectibles, too.
There are 2 locations you can visit, in both Milford and New Haven.
Milford Address: 398 Bridgeport Ave, Milford, CT 06460
New Haven Address: 1181 Chapel Street, New Haven, CT 06511
Legends of Superheros is one of the best comic book stores in northwest CT.
Here, you'll find a spectacular variety of comic books. Seriously, the selection here is amazing and they are constantly getting new comics in.
Address: 28 Main Street, Oakville, CT 06779
---
There you have it – the 10 best comic book stores in CT!
If your favorite comic book store didn't make the list, drop us a comment or an email and tell us what you love about it!