In this article, you will learn about the 6 best places in Danbury, CT for a massage. So, if you are need of some relaxation and de-stressing, read on!
---
You're overworked and stressed out of your mind. You want to do something to give yourself a break and to experience a lowering of the stress in your life as is your due.
If this sounds like what you're experiencing right now, and you're near the Danbury, Connecticut, area, this article will come to you as a source of relief.
You'll get the relaxation you're due! Read on to learn about some of the best places in Danbury, CT, for a massage, and then make sure to book an appointment so you can quickly head to relaxation nation.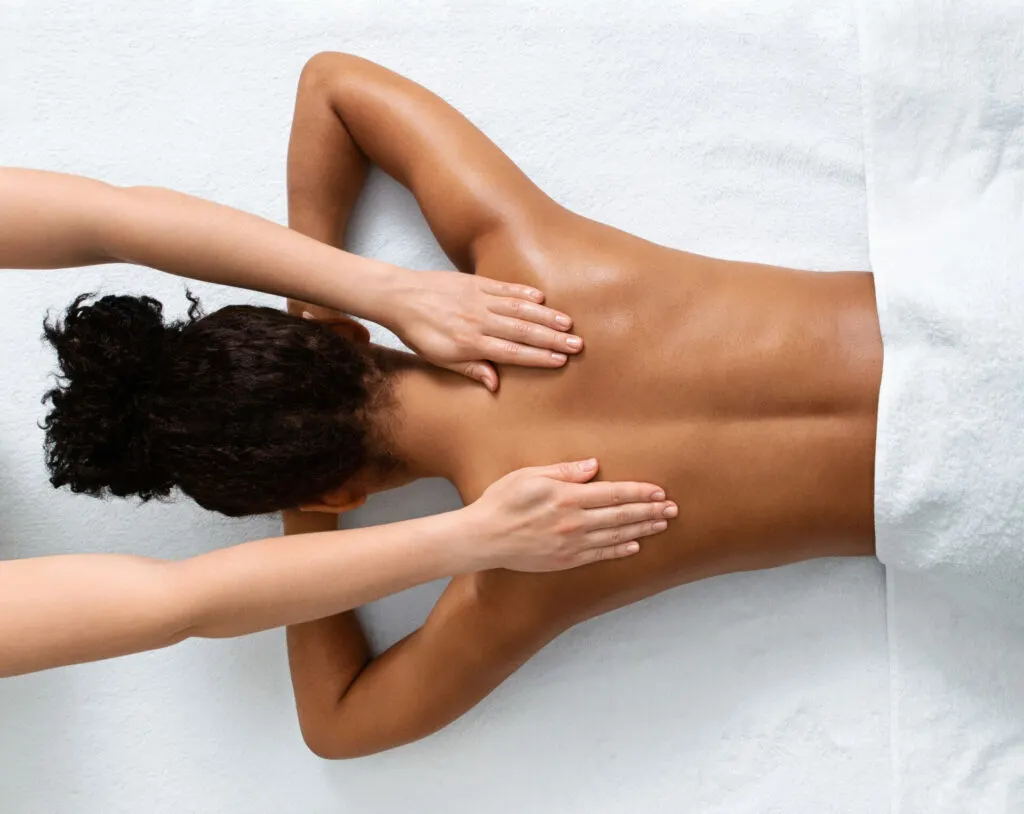 The 6 most relaxing places for a massage in Danbury, CT
1. Massage Therapy Studios Of CT
This location features a serene and beautiful massage parlor. You'll believe that you've been transported to another area and that you've gained access to an outdoor, private spa with heated tables that are specifically meant to loosen tense muscles and enhance the feeling of the massage.
This location is run by Paula Jelly, and she's certified by the National Certification Board for Therapeutic Massage and Bodywork.
You know you'll get professional attention while under Paula's care, and when you visit her studio, you'll feel all your worries melt away.
Before you even begin the massage session, you'll be treated to a hot, steam-filled shower to loosen up your muscles further.
Once the session begins, you'll get to enjoy relaxing music meant to soothe the soul and whatever might be stressing you out.
2. Touch Of Soi LLC
Many massage parlors exist to specifically get customers in and out as quickly as possible.
Sure, you'll feel more relaxed at the end of your visit, but it won't take long for the stressors to return and put you back where you started.
At Touch of Soi, LLC, however, the massage therapists here would like to help you relax and continue to stay relaxed.
They operate on a message of self-love and healing in the hopes that you'll be able to combat the root of whatever is stressing you out and making your muscles tense.
Find yourself not only relaxed in the moment of the massage but in the time following the appointment.
Give yourself the massage of a lifetime that will not only change you at that moment but for long afterward.
3. Massage Works
Finding the time to schedule a massage appointment might be one of the hardest parts of getting a massage.
Trying to find the time in your already busy schedule can even run the risk of making you even more stressed.
However, that's where Massage Works comes into play. With Massage Works, you can have your cake and eat it, too. Massage Works is a mobile massage experience.
A trained technician at Massage Works will come into your office and give you – and fellow employees – mini massage sessions.
You'll be able to take a small break in your work and get all your worries massaged away as well.
There's no stripping necessary, meaning that you can get up from your office job, hop into a massage chair, and then return to your work feeling refreshed.
4. Lily Spa
Lily Spa is an East-Asian-run massage parlor located in Danbury, CT. The Lily Spa chain stretches across the nation, meaning that you'll be able to get the same service no matter where you are in the world.
Treat yourself with a Classic Body Massage or, if you're feeling particularly sensitive, the Soft Touch treatment.
You'll be offered a comfortable table and access to relaxation music that is meant to bring revitalizing energy to your body, soul, and mind.
Leave the Lily Spa parlor feeling like a new person who is in touch with the inner core of yourself.
The massages at Lily Spa will help you to ascend to a new plane of relaxation.
5. Therapeutic Massage and Wellness
If you're looking for a great place in Danbury, CT for a massage, one that will have you leaving the parlor feeling rejuvenated and like a new person, look no further than the Therapeutic Massage and Wellness location.
This area is host to some of the friendliest staff you'll find in Danbury, CT, so you'll not only get to experience relaxed muscles but also a relaxed and comforting atmosphere.
You may find yourself returning to this location just for the beautiful vibes that everyone on staff gives off.
But if it was the only positive energy that was coming from this place, that wouldn't solely work to relax your tension.
This location was established back in 2014, and it plays host to a team of professional masseuses.
And if you want to extend your pampering outside of massages, this location also offers a slew of other services meant to help you feel refreshed and able to handle the challenges that might plague you in your normal life.
Other services they offer include skincare, meditation, cosmetics, and various forms of massage therapy.
Realize that you'll be getting the full-fledged experience and be pampered to the nines as soon as you walk in the door.
6. C. Van Wattum Therapeutic Massage, LLC
If you're looking for professional service and an outstanding staff, look no further than this therapeutic massage parlor.
Carley, the owner, has been a licensed therapist since 1995, which means she knows her stuff and has had years of experience to perfect her massage technique.
She's able to combat the tensest of muscles and see the most stressed patients. If this is you, you should book your appointment as soon as possible.
Carley offers several services, from Swedish massages to craniosacral therapy, hot stone therapy, and many more – this is one of the reasons she's so popular!
If you want to be rejuvenated, but always want to work with someone who has decades of experience under her belt, Carley will knock your massage out of the park.
You'll find yourself wanting to go back mere moments after your session – not because you're stressed, but because the experience will be so life-changing.
Takeaway
Check out these places and see how well they can help with whatever seems to be stressing you out.
Who knows – you might find a new favorite place to spend your time after a hard, grueling day at the office.
Ensure you get the best treatment with any of these great places in Danbury, CT for a massage.