If you love the outdoors and are in the New Haven area, this post is for you. Right here, you will find out the best 5 places for camping near New Haven, CT.
---
COVID-19 has made things very hard in the world. It's completely changed the global landscape and made all of humanity shift how they live their lives and perform activities that used to be normal.
Nowadays, you can hardly step outside your door without panicking that you have enough protection from the airborne disease!
However, there's still one avenue of activity that's considered safe for people – and that's getting in touch with the great outdoors.
Although coronavirus is an airborne disease, being in open-air spaces will make it harder to contract it.
And what's more open-air than nature?
That's why, if you and your loved ones are looking into ways to connect without being as much at risk of COVID-19, it might be time to take up camping in your life.
If you're looking for some of the best places for camping near New Haven, CT, then look no further than this list to get some ideas for your next trip.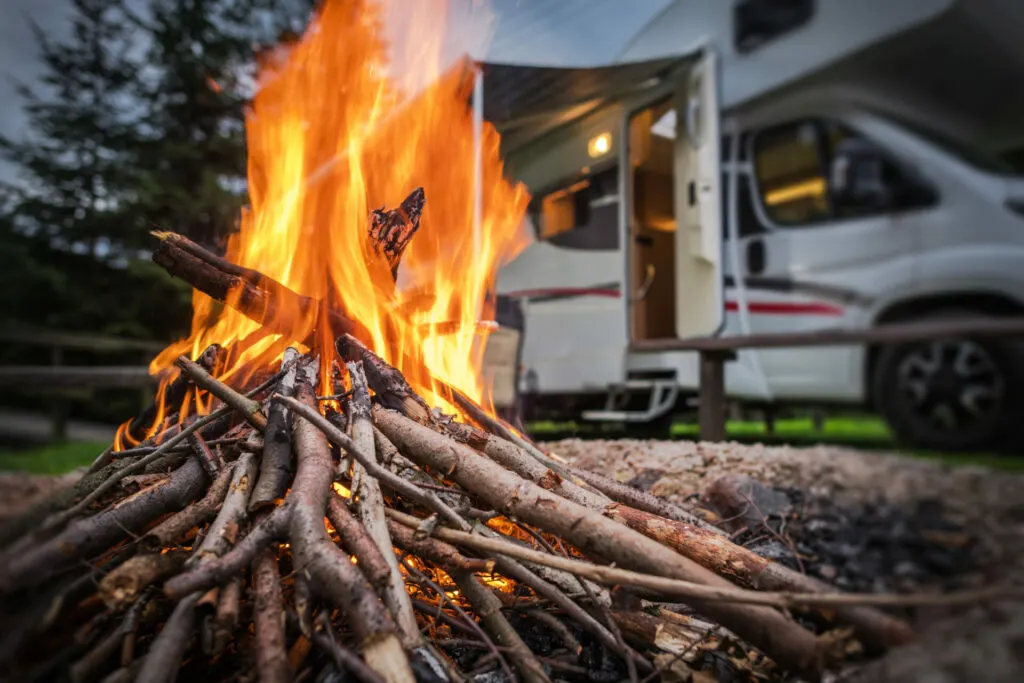 Top 5 places for camping near New Haven, CT
1. Branch Brook Campground
When it comes to some of the best places for camping near New Haven, CT, you must check out the Branch Brook Campground.
This is a beautiful and large camping area in Thomaston, which is only about an hour's drive from New Haven.
This facility is settled on the same-named Branch Brook property, and it offers tent camping, RV rentals, and RV sites if you want to bring your personal rig on your camping adventure.
Once you're there and situated, you can avail yourself of the amenities, such as the great fishing spots, the recreation room (that acts as a common room when you're on-site), showers, bathrooms, and a swimming pool.
If you need anything, there's a store on the premises where you can get basic supplies, but if there's anything direr, make sure to check with the on-site office.
They will help to see how your needs can be met. They are also able to provide propane, should you need it.
2. Aces High RV Park
With a name like Aces High, you should understand that you've stumbled upon one of the best places for camping near New Haven, CT.
This campground is close to the iconic I-95 and is considered an upper-crust camping spot.
However, just because you'll be experiencing a more luxurious experience doesn't mean that you'll be paying through the nose for a spot.
Aces High's rates are comparable to other campgrounds in the area, and you can choose between staying for days, weeks, or even months!
Whatever your needs, you can find them met at this campground. As for amenities, they surely have some great ones.
They offer corn hole tournaments, potluck dinners, kid's crafts, and, depending on the time of year, you might also experience some of the local parades and festivals that take place in the nearby town of East Lyme.
If you're looking for a stunning campsite that offers entertainment and necessities, then Aces High RV Park is the best place for you.
3. Odetah Camping Resort
If you're looking for a campground located in east-central Connecticut, then Odetah Camping Resort is where you should pivot your attention.
This campground is in Bozrah, which is only about 20 miles from the Atlantic Ocean and Rhode Island.
You can make a full trip adventure by having fun at the campground and then going to the beach or enjoying the nearby state.
Keep in mind that this resort is only open between May and November, but it will still allow you to stay on a short-term or long-term basis, depending on your needs and desires.
Unlike more rustic campgrounds, the Odetah Camping Resort is a more luxurious option when it comes to places for camping near New Haven, CT.
They offer spa and pool access, horseshoes, volleyball, a mini-golf course, and many other amenities for you and your family to enjoy.
Odetah is a family-friendly campground that is meant to offer many fun activities for people of all ages.
You can even bring your pets, too! Additionally, this more modern campsite offers WiFi and access to a private beach that is attached to the campsite.
And, of course, you'll find that you have access to showers, bathrooms, an exercise room, laundry, and even a place to watch movies.
4. Grandview Camping Resort
Rent an RV or bring your own when you decide to camp at the Grandview Camping Resort.
For this resort, you will be setting up your area at this location in East Haddam that sprawls across 22 acres of land.
You'll be able to see pine and oak trees that will allow you picturesque sights and stunning shade during the humid summer months.
When you arrive at this resort, you'll be treated to fire rings, picnic tables, stunning grassy lawns, and you'll also have access to the full hookups that include water, sewage, and electric connections.
This way, you'll be able to have your cake and eat it, too, at this campground, and you'll be able to stay there for as long as you want without worrying about letting your RV holdings overfill.
You'll have access to modern bathrooms, and at the same time, there are other amenities that you can access as well.
Grandview also offers picturesque scenery for weddings, reunions, parties, and corporate events, so you and your family won't be bored.
5. Niantic Campground
Take the iconic I-95 exit to find yourself at this beautiful campground between New York and Boston.
This is considered one of the most relaxing campgrounds that you'll happen to find in Connecticut.
There are few campgrounds – or areas in general, rather – that will offer you unforgettable sights of the sea and close access to the beach.
Also, Niantic is near a town that will offer access to seaside bars and restaurants, parks, aquariums, casinos, art galleries and museums… and many more offerings.
And if you want to spend more time in nature than in the city, you can experience the modern amenities offered at this campsite.
However, there are also options for less-traditional camping experiences – you can play in a bouncy castle, play some basketball with your friends, and play tetherball.
Just make sure to schedule your reservation at this place sooner rather than later. As a popular location, it'll book up quickly.
Takeaway
When it comes to the best places for camping near New Haven, CT, you can't go wrong with any of the options on this list.
So long as you have access to an RV, you'll be able to grab your loved ones and go after a vacation of a lifetime.