Are you looking for a list of the restaurants that serve the best sushi in CT? If so, you are in luck today.
Sushi is one of my favorite foods – I'm craving it as I type this.
Connecticut certainly isn't known for its Japanese cuisine, but there are so many great sushi chefs that live and work here.
You just have to know where to look, and I'm telling you – I know sushi and I know where to find the freshest, most delicious sushi in CT.
From all-you-can-eat sushi spots to sushi that's served in a fine-dining atmosphere, there are some great restaurants on this list.
So, let's get right to it so you can find your new favorite CT sushi restaurant.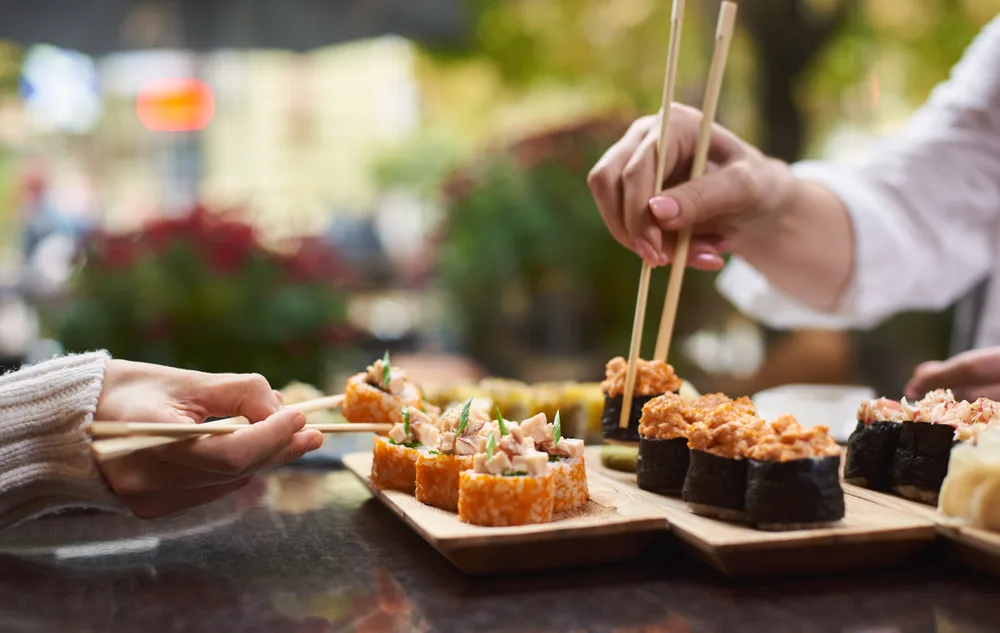 The 13 best restaurants for sushi in CT
Toro is a sushi restaurant in Cheshire that's widely known for having some of the absolute best sushi in CT.
Some of the yummy rolls you will find here include Tempura Asparagus, Tempura Sweet Potato, and Mango Avocado.
The options for sushi bar appetizers here are worth checking out, as well – so delicious.
Address: 1105 South Main Street, Cheshire, CT
If you ask anyone in CT to list places where you can find amazing sushi in the state, Sweet Mango in Southington is likely to be included on their list.
The menu options here are so fun and unique.
Sushi options here include the American Dream Roll and the Independence Roll.
Address: 692 West St., Southington, CT 06489
If you are looking for a sushi restaurant that has a classy atmosphere and a nice sushi bar area, you need to check out Sushi California in Newington.
The Soft Shell Crab Roll is from another planet and there are tons of other delicious menu options, as well.
I highly recommend this place.
Address: 30 Fenn Road, Newington, CT
Sushi X in West Haven is one of the most popular sushi restaurants in CT.
The atmosphere here is fantastic and you can find all of your favorite sushi and sashimi dishes here.
Sushi X is known all around the New Haven area for its quality sushi.
It's definitely worth checking out.
Address: 220 Captain Thomas Blvd, West Haven, CT 06516
If you're looking for a sushi restaurant with an atmosphere that's so casual that you can even take your kids to dine with you, Tokyo 2 in North Haven is worth checking out.
You can get all of your favorite sushi rolls at Tokyo 2, all fresh and prepared to perfection.
They also serve bento boxes for kids here, as well, which include a California Roll.
Address: 117 Washington Ave., North Haven, CT 06473
The Sushi House in Rocky Hill is a must-visit restaurant if you love good sushi.
That's because not only can you get amazing sushi here, but they have an all-you-can-eat option.
Yes – all-you-can-eat sushi.
It's my dream.
From Boston Rolls to Alaska Rolls, all your favorite sushi rolls can be found right here.
Address: 397 Cromwell Ave., Rocky Hill, CT 06067
If you are trying to find a sushi restaurant that has delicious and unique menu options, Little Tokyo in Norwalk deserves a visit.
Sushi roll options here include Winter Jasmine Roll and the crunchy Love Roll.
The atmosphere here is calm and relaxing, which makes for a great sushi lunch.
Address: 120 New Canaan Avenue, Norwalk, CT 06850
Sushi Soba in Greenwich is some of the best sushi and sashimi you'll find directly outside of New York City.
All the sushi here is great, however, their signature rolls are something special.
If you visit Sushi Soba, make sure you try the Mango Tango Roll – it's raw, fresh, and amazing.
Address: 1345 E Putnam Ave, Old Greenwich, CT 06870
The sushi at Pink Sumo Sushi & Sake Cafe in Westport is hands-down one of the best sushi restaurants in CT.
The menu here is fantastic as far as sushi and sashimi.
Pink Sumo has delicious rolls like eel and their lovely Bollywood Roll.
Address: 4 Church Ln, Westport, CT 06880
If you are in the mood for amazing sushi in an upscale but relaxing atmosphere, you've got to check out Mazhu Japanese Restaurant in Norwich.
The fish here is fresh and the sushi is prepared perfectly.
Address: 624 W Main St, Norwich, CT
Higashi in South Windsor is one of the best Japanese restaurants in CT.
Everything on the menu here is authentic and delicious, and the sushi is some of the best in Connecticut.
Whether you like tuna rolls, yellowtail rolls, or anything in between, you'll love the sushi at Higashi.
Address: 1735 Ellington Rd, South Windsor, CT 06074
Mystic, CT is known for its delicious restaurant options, and Peking Tokyo lives up to Mystic's dining standards.
The sushi and sashimi here are over-the-top delicious and are just as pleasing to the eyes as it is the taste buds.
The Lobster Dragon Roll is delicious and the Truffle Kobe Roll – you'll never forget it.
Address: 12 Coogan Blvd., Mystic, CT 06355
If you are looking for a restaurant that has a variety of Asian cuisine options – and, of course, some of the best sushi in CT, Mei Tzu Sushi Bar & Kitchen in Windsor is your place.
Whether you're into the basic California Roll or you want to try something crispy and delicious, like the Angry Mr. Mike, you'll find what you want here.
There are plenty of other Asian food options here, as well, as I mentioned, including Thai, Chinese, and Japanese appetizers and main courses.
Mei Tzu is definitely known for its sushi, though.
Address: 4 Prospect Hill Rd, East Windsor, CT 06088
---
These sushi restaurants are the very best in CT.
Is your favorite sushi bar on this list?
If not, drop us an email or leave a comment and let us know which sushi restaurant in CT you think is the best.