If you've got an avid dinosaur lover in your home, you're in the right place – Connecticut, that is. There are so many cool places in CT to see fossils and replicas of dinosaurs.
I just happen to have a little one that has been absolutely obsessed with dinosaurs for several years.
We have been so fortunate to live in a state that preserves its natural history and makes education a priority.
Dinosaurs have quite the history in CT, as it turns out.
We're going to get into that just a little bit here in a moment.
You'll also get a list of the best places in CT to take your kids if they love dinosaurs as much as mine do.
So, let's get right to it. I'm so excited to share these places with you!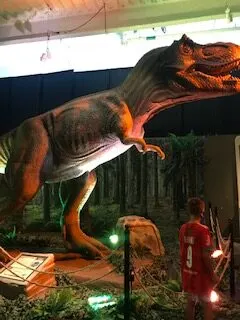 Have dinosaurs been found in CT?
Here's a fun fact for your kids: The very first dinosaur ever to be unearthed in the United States of America was found right here in Connecticut.
The Connecticut Valley is actually where the world's very first dinosaur tracks were found.
So, yes, dinosaurs have been found in Connecticut and this is a great state to be in if you love learning about dinosaurs.
Oh, and the state dinosaur of Connecticut (yes, that's a thing) is the dilophasaurus – just in case your kids ask.
Fun places to see & learn about dinosaurs in CT
If you've heard about there being a dinosaur exhibit at the Connecticut Science Center, you may be wondering why it's not on this list.
Unfortunately, the dinosaur exhibit was a temporary one and has been replaced with other exhibits a few times over at this point.
Hopefully, there will be another one coming to the Science Center again in the future.
In the meantime, here are the current dinosaur exhibits in CT.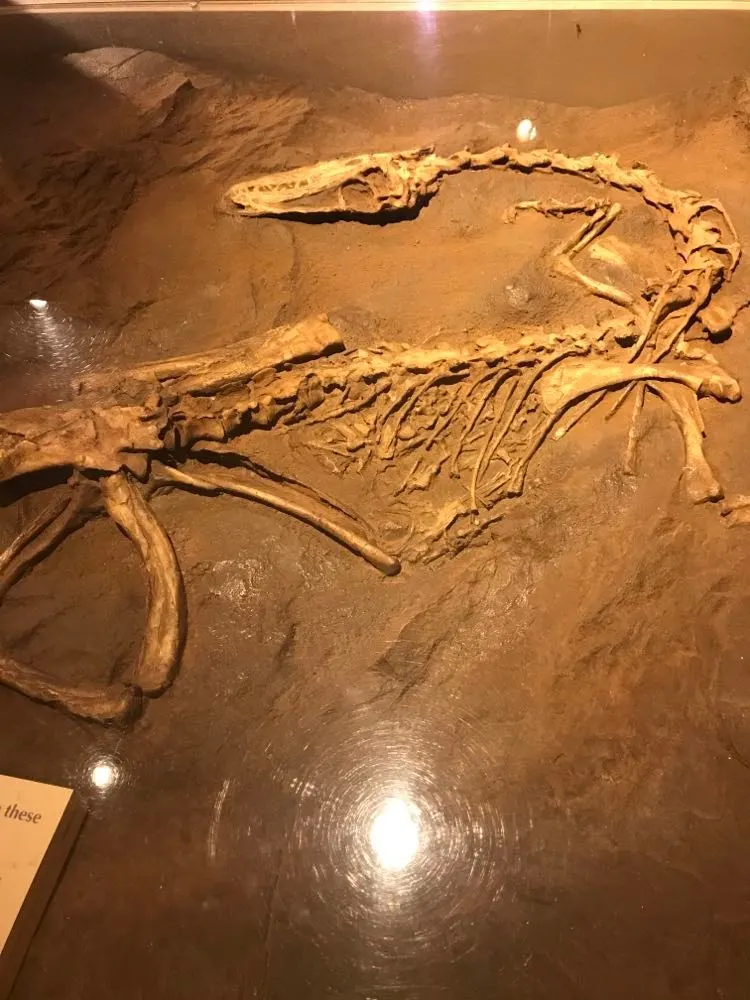 If you're looking for a thoroughly educational dinosaur experience, Dinosaur State Park in Rocky Hill is your place.
The museum itself is fairly small, but it's so much fun.
After you walk through the life-like dinosaur exhibits, you'll enter a room where you can explore tons of rocks, fossils, and artifacts.
Outside, there are some great activity stations, butterfly gardens, and walking trails to enjoy.
Address: 400 West Street, Rocky Hill, CT 06067
The Dinosaur Place is one of my all-time favorite places to take my kids in the summer.
Here, you will walk a trail through the woods, spotting small and nearly life-size dinosaurs as you go.
There are educational stations along the way, as well as plenty of fun.
At the end of the trail, there is a massive playground and a splash pad, too.
Address: 1650 Hartford-New London Turnpike, Oakdale, CT 06370
The Peabody Museum in New Haven has one of the best dinosaur exhibits in CT.
You can come to explore fossils and learn all about how the dinosaurs lived from the exhibits and the incredible staff here.
Renovations are going on right now, so make sure you check on the website first to see if the exhibit is open before you come.
As with so many great museums in New Haven, it's completely free to get in.
Address: 170 Whitney Ave., New Haven, CT 06511
Wells Dinosaur Haven – Uncasville
Wells Dinosaur Haven is one that you might miss if you don't know exactly where to look.
In fact, you may have driven past this cool dinosaur park already without even realizing it.
This cool dinosaur park has been in operation since the 80's and has been completely free the whole time.
All the dinosaurs here are built by hand by the artist, Jeff Wells.
You do have to ask permission to walk the trail since it's on private property, but it's worth the extra step to show your kids all the cool dinosaurs.
Address: 2464 Route 32, Uncasville, CT
Peckham Park – Middlefield
Peckham Park isn't exactly a spot with dinosaur exhibits and other cool dinosaur things, but it does have fun stuff for dino lovers.
The park has a fantastic skateboarding area, some playscapes, and a few places for dinosaur lovers to dig and climb.
Address: 161 Strickland Road, Middlefield, CT 06455
Trader Joes – Glastonbury
So, yes, Trader Joe's is a grocery store – we're aware.
If you have kids, you've got to go to the grocery store, though.
And if you happen to have kids that love dinosaurs, Trader Joe's in Glastonbury has a fun dinosaur scavenger hunt for kids to do.
Address: 400 Hebron Street, Glastonbury, CT 06033
Stepping Stones in Norwalk is one of CT's best children's museums. If you haven't visited before, you should definitely check it out.
For you dinosaur-loving kid, there's a really fun and interactive dinosaur exhibit to check out.
Your child can travel through a time machine, dig for eggs and fossils, and meet a dilophosaurus.
For a children's museum, it's a fairly extensive dinosaur exhibit.
Address: 303 West Avenue, Norwalk, Connecticut 06850
Miniature golf is so much fun and if you're dino-loving kid enjoys a game of putt-putt here and there, Tee Rex Miin Golf in Thompson is worth checking out.
Life-like dinosaurs can be found all over the course, as well as caves and a volcano.
Address: 274 Riverside Drive, Thompson, CT
---
Now you know where to go if you want to see some dinosaurs in CT.
If you know of any other dinosaur museums or places with dinosaur exhibits, let us know.
We'd love to go check them out and add them to our list!