Are you looking for some tea rooms in CT? Some places where you can get afternoon tea and cakes in a traditional tea room atmosphere?
If so, this is your list.
Many of Connecticut's spas, resorts, and upscale inns include afternoon tea with a booking.
For those simply looking to drop in for some tea and pastries, it's great to have a go-to list of tea rooms.
Some of the CT tea rooms on this list are traditional English-style and others are more contemporary.
They're all great, though.
So, let's get right to it.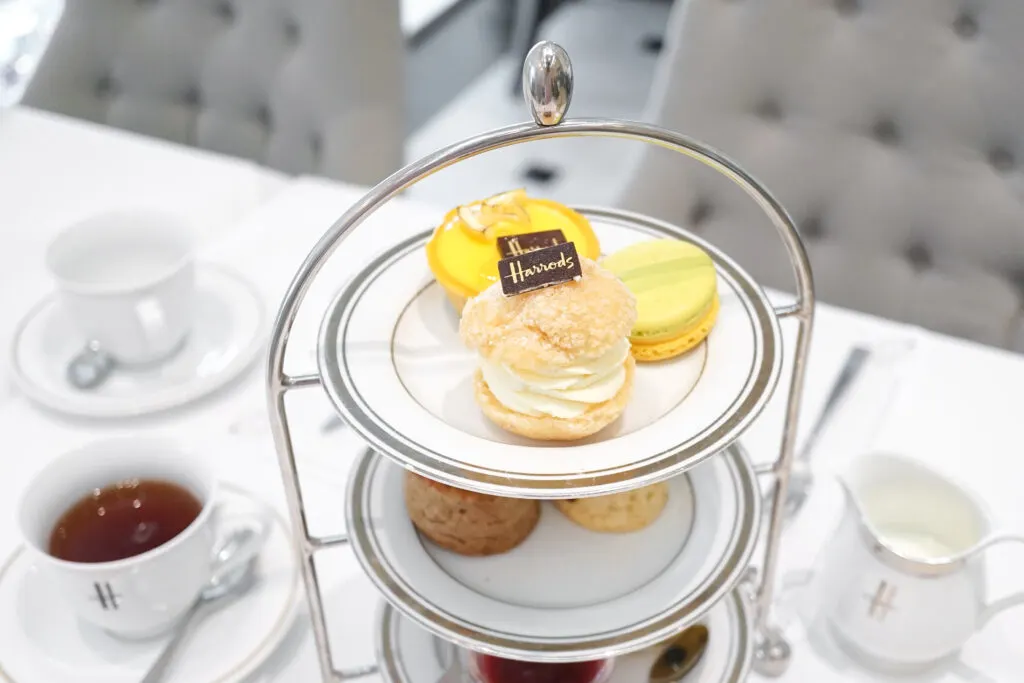 The 11 best tea rooms in CT
Open Door Tea Room in Stratford is such a lovely and comfortable place to come and have afternoon tea.
Come sit and sip a warm cup of tea on a comfy chair or drop in to buy some high-quality loose-leaf tea to brew at home.
(If you're looking for something to sweeten your tea, check out our list of places to get local CT honey.)
Address: 3552 Main Street, Stratford, CT 06614
Alice in the Village is not a traditional tea room, but it's a really charming place that serves great tea.
It's located in Olde Mistick Village and is Alice in Wonderland-themed.
I included it on the list because the teas are wonderful and it's a nice little place to bring your kids if they're too young to sit still for a proper afternoon tea.
Address: 27 Coogan Blvd., Building 26A, Mystic, CT 06355
Tea with Tracy is one of the best and most popular tea rooms in CT.
The Oxford location of TWT is also one of Connecticut's best spots for steak, as well.
The atmosphere here is both charming and delightful and the selection of teas is amazing.
Seymore Address: 16 Bank Street, Seymour, CT 06483
Oxford Address: 320 Center Rock Green, Oxford, CT 06478
The Old Lyme Inn is one of the most charming Inns in CT.
The Saturday afternoon tea here is great – they serve delicious teas with lots of yummy scones and sandwich choices.
They also host themed afternoon teas, like Alice in Wonderland-themed.
If you want to have a tea party here, Old Lyme Inn is able to accommodate you, just make a reservation.
Address: 85 Lyme Street, Old Lyme, CT
A Spoonful of Britain is a lovely little spot in Simsbury that serves a variety of teas, pastries, and other treats.
There are plenty of British treasures here, as well.
Address: 2 Railroad Street, Simsbury, CT
The Barnes Museum in Southington doesn't host daily afternoon teas, however, this is the place to be for holiday teas.
Special afternoon tea events are held here, such as Mother's Day Tea, which is very popular.
Address: 85 North Main Street, Southington, CT
Arogya Tea in Westport isn't a traditional tea room, but it's well-known in CT as a great place to sit and have a cup of tea.
The shop here has such an amazing selection of teas to take home and brew, as well.
Address: 131 Post Rd E, Westport, CT 06880
The Old Mill English Tea Room in Somers is a traditional British tea room that is set in a classic atmosphere.
Come for a cup of tea with some tea sandwiches, crepes, or quiches.
Address: 63 Maple Street Somers, CT 06071
If you are looking to have afternoon tea in a traditional English-style tea room, Take Tea in Avon is worth checking out.
Here, you'll find quality tea, serves with fine tea breads, puddings, and scones.
Address: 19 East Main Street, Avon, CT 06001
Grace Farms in New Canaan is a wonderful place with a terrific mission.
Grace Farms hosts traditional English afternoon tea, which is set in a beautiful glass-enclosed room.
Check out the calendar in the link above and reserve your spot for the next tea.
Address: 365 Lukes Wood Road, New Canaan, CT 06840
If you're looking for an amazing tea room that's just outside of New York City, I recommend checking out the Drawing Room in Cos Cob, CT.
The Drawing Room is a Design Boutique, Gallery, and Café all in one.
If you appreciate both fine art and fine tea, this is your tea room.
This is the last tea room on our list, but it's just as great as all the rest!
Address: 220 East Putnam Avenue, Cos Cob, CT 06807
---
These are the best tea rooms in CT – enjoy your afternoon tea!
Is your favorite tea room on this list?
If not, tell us about it. Leave a comment or send us an email.