If you are looking to treat your family or friends to a fun Hibachi experience, you're in luck. There are plenty of restaurants that do great Hibachi in CT.
A favorite memory of mine from my childhood is visiting a Hibachi grill with my grandparents.
I'd never experienced anything like it before.
Chefs were cooking right there in front of me, tossing bottles and knives, chopping vegetables and meat, flames were flying – it was such a unique experience.
And the food was so delicious.
My kids are approaching the age where they'd appreciate an experience like this and that's prompted me to check out some Hibachi places in CT.
These are the best Hibachi restaurants I could find.
Some of these are straight Japanese restaurants that serve sushi and other Japanese dishes and some of them serve a variety of Asian cuisine, like Filipino and Korean food and ramen and pho – but all of them have Habichi grills.
All of them are great, though.
So, let's get right to it.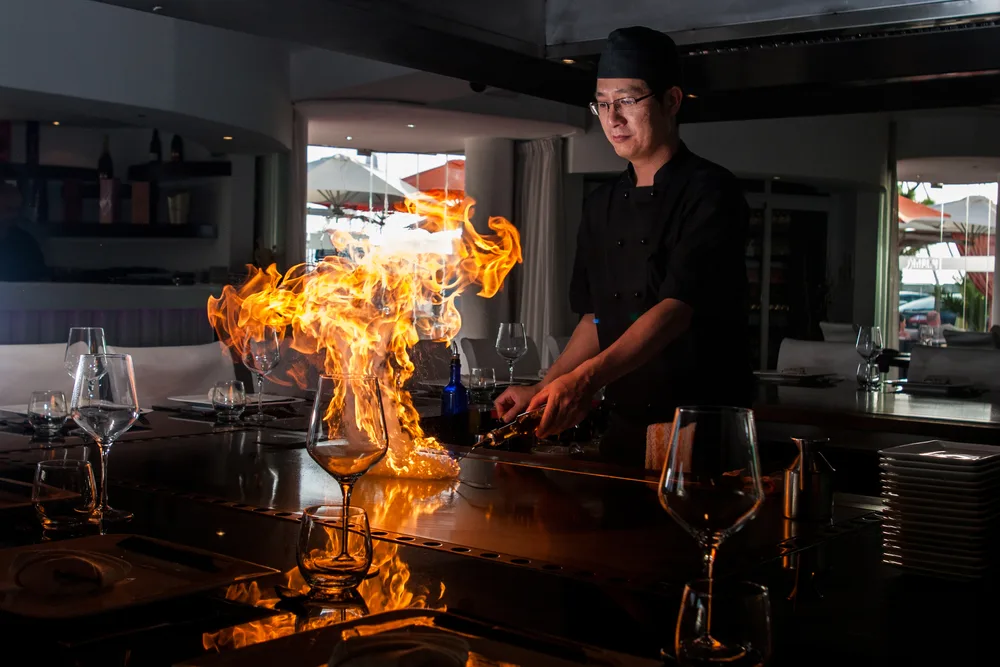 The 9 best restaurants for Hibachi in CT
Sakura is one of the best, and certainly the most popular, Hibachi restaurants in CT.
The food here is some of the highest quality, from the vegetables to the steak and chicken.
The chefs here are truly talented with their cooking as well as their presentation.
Not only does Sakura have Hibachi tables, but they also have a sushi bar and a cocktail bar.
Sakura has 2 locations, one in Westport and one in Watertown.
Both are great.
Westport Address: 680 Post Road E., Westport, CT
Watertown Address: 544 Straits Turnpike Watertown, CT 06795
Mizzu Asian Bistro and Hibachi in Cromwell is a fun Hibachi restaurant.
Here, you can get veggies, shrimp, steak, or chicken, all cooked Hibachi style.
They also serve a wide variety of Thai, Chinese, and Japanese food, as well as sushi.
They have a full bar and a laid-back, friendly atmosphere.
Address: 136 Berlin Rd, Cromwell, CT 06416
Moonlight Sushi Bar & Grill in Middletown is known for its sushi, but it's a great Hibachi restaurant, as well.
The atmosphere is very casual and it's a great place for a laid-back Hibachi dinner with kids or coworkers.
Everything here is tasty and the presentation of the kitchen dishes and Hibachi preparation is fantastic.
Address: 130 Main St., Middletown, CT 06457
Gobi Mongolian Grill in Southington is an Asian bistro that offers Hibachi.
The Hibachi setup at Gobi is unique.
The counter is set back a bit from the large circular grill, which allows more guests to enjoy watching the chefs.
The menu is also unique – you select the vegetables, meat, and sauce, then you watch the chef turn your selections into an amazing meal.
Love this place!!
Address: 855 Queen St., Southington, CT
If you're looking for a really nice Japanese steakhouse that does Hibachi for a business dinner or for special out-of-town guests, Kampai in Branford is your place.
Kampai has many Hibachi tables, so you don't have to share space with strangers if that doesn't appeal to you.
The Hibachi presentation here is great – the chefs are just amazing.
The menu is large apart from the Hibachi offerings, with items like poke bowls, soups, and bento boxes.
The Hibachi, though – you definitely want to check this place out.
Address: 869 W Main St., Branford, CT 06405
Toyo Hibachi & Asian Fusion is one of Colchester's best restaurants and it's certainly one of the best Hibachi grilles in the area.
Toyo serves plenty of Thai, Chinese, and Japanese favorites, as well as a healthy selection of Hibachi options.
This restaurant is not fine dining, but it's a nice Hibachi place for a date night.
Address: 464 South Main Street, Colchester, CT 06415
When you ask someone in Connecticut what Hibachi grilles they recommend, 9 East in Branford will be on each and every list you're given.
This place is a treasure in this state, not for just Hibachi, but for the quality of the overall menu.
The atmosphere is higher-end, but so, so fun, too.
If you want a great Hibachi experience, you need to check this place out.
Address: 310 E Main St., Branford, CT 06405
Iron Chef is an award-winning Hibachi bistro in Wallingford.
The food here is over-the-top delicious and prepared so beautifully.
The Hibachi presentation here is spectacular and you also have the choice of quieter seating, if that's what you're in the mood for.
Address: 930 North Colony Rd., Wallingford, CT
Misimi Restaurant in Shelton is an Asian-fusion Hibachi grille with a super fun and friendly atmosphere.
The menu here has dishes like Rock Shrimp and Misimi Tacos.
As far as Hibachi, their offerings include fun and delicious foods like swordfish, sea bass, and filet mignon.
Address: 702 Bridgeport Avenue, Shelton, CT 06484
---
There you have it – the 9 best Hibachi restaurants in CT.
Is your favorite Hibachi grille on this list?
If not, drop a comment below and tell us about it.