Have you ever wondered how New Haven got its name? Well, it's actually a pretty interesting story.
Grab a seat and learn how the awesome Connecticut city of New Haven got its name.
---
New Haven, Connecticut's third-largest city, is a college town, a healthcare hub, a major transportation center, home to some of Connecticut's best and most iconic restaurants, the self-proclaimed Cultural Capital of Connecticut, and a major commercial center for the residents of south-central Connecticut.
What many don't know is New Haven is not the city's original name. If it wasn't for New Haven's English settlers, we would be calling the city by a name shared by both a river and a Hamden university.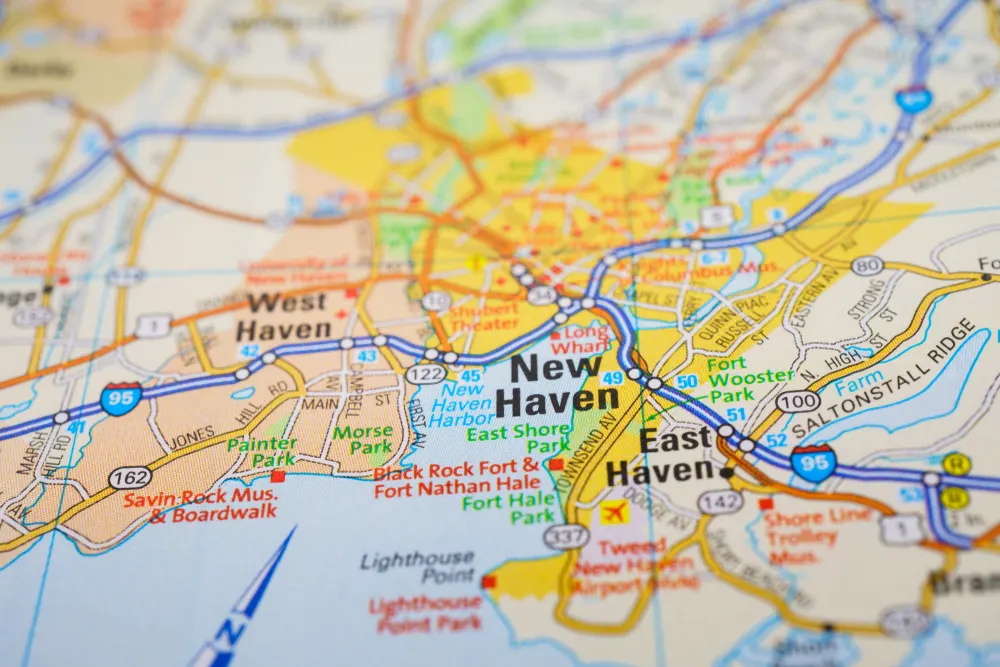 What Was New Haven Originally Called?
New Haven currently sits on the former home of the Quinnipiac nation and was originally named Quinnipiac. Quinnipiac means people of the long water land in the Quiripi language.
The Quinnipiacs were part of the Eastern Algonquian group of tribes, along with the Wangunk, Podunk, Tunxis and Paugussett nations.
Even though they settled in different parts of Connecticut, they shared the common Quiripi language.
The estuary around the Quinnipiac River was home to the Quinnipiac's original settlement.
The settlement stretched twenty miles inland from Long Island Sound and along the shoreline from West Haven to Madison.
Most of the Quinnipiac population lived in four villages. The largest village, Quinnipiac, now New Haven, sits on both sides of the Quinnipiac River and was home to the Momauguin band.
North Haven was home to the Montowese band. Branford was home to the Totoket band, and Guilford was home to the Shaumpishuh band. Each band had its own leader, or sachem, and lived in peace.
English Settlers Arrive
In May 1637, John Davenport, a Puritan minister from London, and 500 of his congregants left England for Boston.
Davenport wanted to create a utopian community, which he referred to as a "New Jerusalem," where he and his congregants could live pure and Godly lives without the religious persecution and social class structure that existed in England at that time.
After arriving in Boston in June 1637, theological differences between Davenport and Massachusetts Bay Colony governor John Winthrop made Davenport reconsider settling in Massachusetts.
After Colonial soldiers told Davenport about a harbor located in the hunting grounds used by the Quinnipiac, Davenport sent a small group of his congregants, led by Theophilus Eaton to scout the Quinnipiac harbor.
Eaton liked the harbor, the abundance of shellfish, the open meadows, the large number of trees, and the springs providing drinking water.
The Quinnipiac, whose population decreased significantly due to the plague, smallpox, and battles with the Mohawk and Pequot nations, welcomed Eaton and the scouting party.
While Eaton returned to Boston, the remaining scouts spent the winter at Quinnipiac. The Quinnipiac provided the scouts with food and furs and taught them to hunt, trap animals, fish, and plant crops.
In April 1638, Eaton returned to Quinnipiac with Davenport and the remaining congregants.
Quinnipiac becomes New Haven
In November 1638, Davenport, even though he lacked a royal charter, and Eaton negotiated a treaty with the Quinnipiacs. Davenport and Eaton would purchase the Quinnipiac land in exchange for coats, spoons, knives, hatchets, scissors, and bowls.
The Quinnipiac also received protection from their enemies, permission to hunt on their former lands, and a 1,200-acre parcel of land in what is now East Haven where they could live. This created the first indigenous reservation in America.
As Davenport, Eaton, and the settlers needed more land, the Quinnipiacs would eventually sell the reservation land to the settlers and move inland.
John Brockett would map out the colony created from the Quinnipiac land, creating a grid of nine squares with the center square being the town green. This would result in the first community in the New World to be laid out in a formal grid.
In 1640, Quinnipiac received a new name. It would become New Haven.
What Is The Meaning of New Haven?
New Haven, like other Connecticut communities, was named for an English community. In New Haven's case, it was named for an English port town called Newhaven, which sits on the River Ouse sixty miles south of London.
The definition of Haven, according to Merriam-Webster, is a harbor or port, or as a place of safety, or a place offering a favorable opportunity.
The English port town Newhaven got its name because it was a new port established after the River Ouse shifted westward from its original port in Seaford.
To Davenport, Eaton, and the other settlers, New Haven has a couple of meanings. New Haven is a new physical harbor, one where ships could enter and leave.
New Haven is a new place of safety, where Davenport and the others can live, worship, and govern in a Puritan manner without English church or government interference, the concept of a "New Jerusalem."
Others Seeking A New Beginning in New Haven
The English settlers weren't the only ones who arrived in New Haven for a new beginning.
In 1660, three men wanted by England's Parliament for convicting and ordering the execution of King Charles I, Edward Whalley, William Goffe, and John Dixwell, left England for New Haven to start new lives while eluding British agents.
While Whalley and Goffe eventually settled in Hadley, Massachusetts, Dixwell changed his name and stayed in the area.
Yale University was originally located in Old Saybrook. The university moved to New Haven in 1716 when trustees, ignoring a deed requiring it to stay in Old Saybrook, accepted New Haven's bid as the new home for the former "Collegiate School."
Among the immigrants to New Haven seeking a "new haven" in the form of a favorable opportunity in the Elm City are the people responsible for a couple of New Haven's iconic restaurants.
In 1886, Danish immigrant Louis Lassen arrived in New Haven and started selling food from a cart. In 1900, Lassen sold a sandwich to a customer consisting of a blend of two ground steak trimmings placed between two slices of toast.
That sandwich, which Lassen called a hamburger, led to the opening of Louis' Lunch.
Italian immigrant Frank Pepe arrived in New Haven in 1909 and worked in a macaroni factory and a bakery.
Pepe and his wife Filomena opened their own bakery on Wooster Street and started making what would become the first New Haven-style pizza. In 1925, the Pepes opened their famous pizzeria next door to the bakery.
Pepe's nephew Salvatore Consiglio, who learned how to make pizza from his uncle, opened his own pizzeria, Sally's, in 1938.
If it wasn't for John Davenport finding a "new haven" in a harbor off of Long Island Sound for him and his congregants to freely live, worship, and govern according to Puritan values, New Haven would, to this day, still be called Quinnipiac.
---
It's a story of colonization, just as with most American cities, but there you have it – you now know where New Haven gets its name!