With nearby Yale University, which goes back to the 16th century, being in New Haven, some of the finest dining can be found in the southern Connecticut city – and romantic restaurants in New Haven are in no short supply.
From quiet cafés to beautiful restaurants and fine dining places for a special night, the city offers many lovely eateries to celebrate being in love.
Read through our recommendations below featuring the top 10 romantic restaurants in New Haven!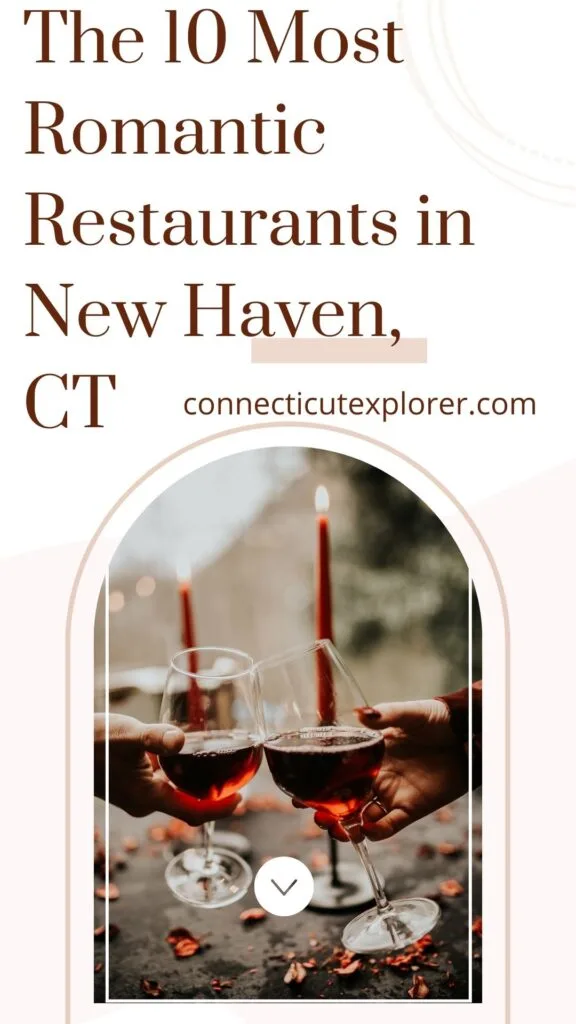 The 10 most romantic restaurants in New Haven
Consiglio's Restaurant
Consiglio's Restaurant is a long-standing family-owned and managed restaurant with an old-world atmosphere that offers traditional Italian cuisine and organizes dinner theater performances and culinary courses on occasion.
The restaurant provides terrific Italian cuisine featuring fresh seafood, handmade pasta and from-scratch sauces, fresh and organic salads featuring locally grown vegetables, and delectable desserts since it first opened its doors over 80 years ago.
165 Wooster Street, New Haven, CT 06511
Harvest Wine Bar & Restaurant
Harvest Wine Bar & Restaurant is an upmarket restaurant with an exquisite appeal that provides a pleasant respite from Chapel and Yale Street's hustle and bustle.
The restaurant is housed in a striking architectural structure designed by renowned American architect Louis I. Kahn.
It features a sleek design with solid concrete walls, elegant glass displays, contemporary décor, and a spacious, open-air, stone outdoor dining room ideal for summer alfresco dining.
The elegant diner offers a seasonal menu of farm-to-table food made with fresh, locally sourced ingredients and regional products, as well as excellent wines from around the world, craft and international beers, and high-end spirits.
1104 Chapel Street, New Haven
Pacifico Restaurant
Pacifico Restaurant, an award-winning restaurant in downtown New Haven, provides exceptional Nuevo-Latino cuisine in a friendly and dynamic environment. Chef Palomino, a Colombian native, serves classic tapas.
Share one of their famed deserts like the Tres Leche Pound Cake, and chat over beverages that include house-made sangria and world-class mojitos. Pacifico Restaurant serves lunch and dinner seven days a week.
220 College Street, New Haven
ROÌA Restaurant and Café
ROIA Restaurant and Café, which opened in 1912 in the old Taft Hotel, is a modern venue that delivers award-winning French-Italian cuisine in a beautiful and elegant environment.
The contemporary restaurant, which is named after a river that passes between France and Italy, is situated over two floors and has an open plan design, magnificent columns, soaring ceilings, and elegantly set tables with soft lighting to create an intimate and romantic environment.
Homemade duck prosciutto, delicate grilled octopus, pan-seared duck breast, and traditional French steak fries are among the delicacies on seasonal farm-to-table menus.
The food is complemented by an excellent wine list from across the world.
261 College Street, New Haven, CT
Union League Café
The Union League Café is a multi-award-winning French-inspired restaurant located in the center of New Haven's historic theater and entertainment area, with a vibrant ambiance and Old-World charm.
The beautiful 19th-century-style café, located immediately across from Yale University, provides an exquisite menu of classic French cuisine created with locally sourced ingredients, as well as a highly regarded wine selection showcasing top vintages from across the world.
Grilled Organic Salmon, lobster, Bouillabaisse, handmade pasta, and pan-seared New York steaks are just a few of Chef Jean-Pierre Vuillermet's delectable creations.
1032 Chapel Street, New Haven
116 Crown
116 Crown is a trendy cafe known for its magnificent onyx bar and extensive cocktail menu.
The fashionable bar and nightclub, founded in 2007 by John Ginnetti and his wife, has rebuilt itself as a first-class restaurant serving Mediterranean-inspired small, shared dishes and gourmet entrées.
The stunning bar, composed of polished concrete, steel, and leather, serves a fantastic range of libations, including traditional cocktails crafted with top-shelf spirits, as well as craft drinks.
116 Crown Street, New Haven
Cast Iron Chef Chop House and Oyster Bar
If you're looking for an evening full of delicious surf and turf, Cast Iron Chef Chop House and Oyster Bar is for you.
This traditional steakhouse and raw oyster bar offer the best cuts of aged steak, prime rib, and sirloin, as well as fresh raw oysters on the half shell.
The steakhouse menu features USDA choice steaks, free-range chicken, fresh seafood, and a fresh variety of oysters from the raw bar in a typical steakhouse setting with tastefully decorated tables and gentle lighting.
660 State Street, New Haven
Goodfellas Restaurant
Traditional Italian food focusing on farm-fresh ingredients is served at Goodfellas Restaurant, an old-school mobster-themed Italian restaurant, and a famous New Haven staple.
The quaint bistro, one of Connecticut's most highly renowned restaurants, has hosted celebrities such as Robert DeNiro, Mark Wahlberg, and Al Pacino over the years and has a cozy dining room with exposed brick walls and white tablecloths – the ideal setting for a romantic supper.
For lunch and supper, guests may enjoy classic Italian food and sparkling Bellinis while listening to Andrea Bocelli, Dean Martin, and Frank Sinatra.
702 State Street, New Haven
L'orcio
In the center of New Haven, L'Orcio is an upmarket Italian restaurant that provides sophisticated Mediterranean food in an elegant and comfortable atmosphere.
The restaurant, which is housed in a beautifully restored historic mansion, has three modern dining areas: the main dining area, a romantically sleek bar area, and a charming outside area with a wisteria-covered arbor for alfresco eating.
Seasonal menus feature specialty kinds of pasta such as ricotta gnocchi, ravioli, and pappardelle, meat and fresh seafood from Italy, and exquisite desserts like Tiramisù and Chocolate Mousse Cake.
806 State Street, New Haven
Miso Japanese Restaurant
Offering contemporary Japanese food, Miso Japanese Restaurant provides traditional Japanese food such as fresh handmade sushi, sashimi, and teppanyaki.
It is located in a historic building on Orange Street, just two blocks from Yale University's main campus.
For dinner, the restaurant features an array of all of your favorite hibachi meals and go-to sushi rolls, tempura, teppanyaki, and other fresh seafood dishes.
15 Orange Street, New Haven
As you can see, this city is heaven for Connecticut foodies and there is no shortage of romantic restaurants in New Haven. Enjoy!