The residents of Manchester, CT are blessed with a rich and abundant system of parks, recreation areas, and trails. Some of the town's parks are close to one another while others are conveniently located next to schools.
While many of Manchester's parks have similar amenities, the town made sure that some of the more unique amenities are found at only one park.
Center Memorial Park, for example, is the only park to have a bocce court. The Verplanck Recreation Area is the only park to have a sprayground. (It's kind of like a splash pad, for those unfamiliar!)
While there are no state parks located in Manchester, Gay City State Park, on the Hebron/Bolton town line, is accessible from Route 85. The state park offers historical hiking trails, swimming, and fishing.
Manchester recognizes that its parks are vital assets and in 2021 created a Master Plan to renovate and revitalize most of the town's parks and recreation areas. Many items in the Master Plan are in the development, funding, or construction stages.
Here are the top ten parks in Manchester, CT. Manchester's town parks are open daily from sunrise to sunset. Lighted basketball and tennis courts may open earlier and close later.
During the summer, swimming pool hours may vary due to staffing levels and are subject to change.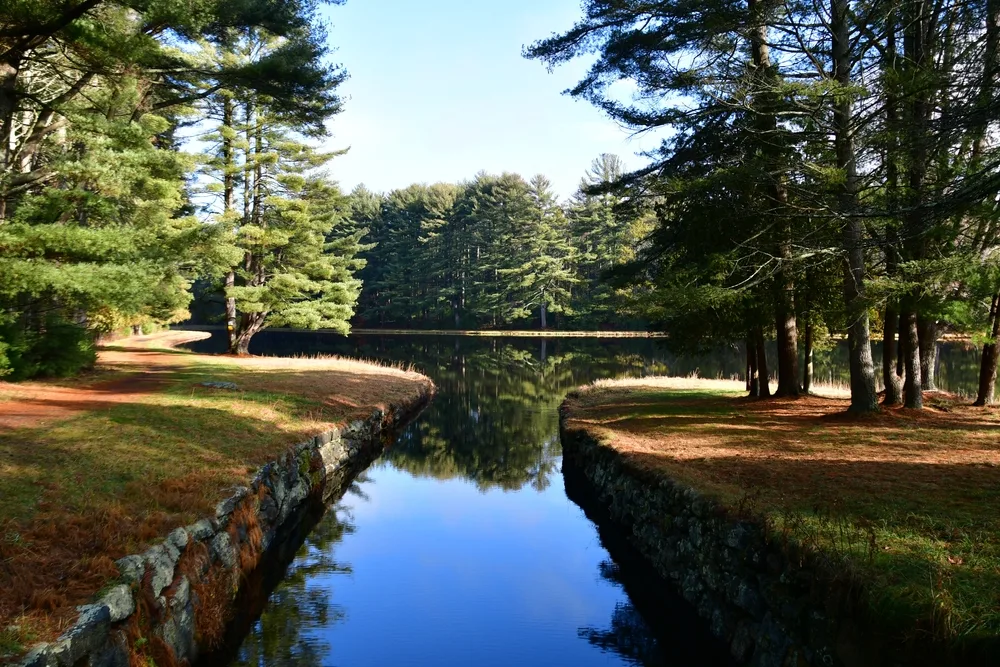 The 10 best parks in Manchester, CT in 2023
1. Charter Oak Park
Charter Oak Park is surrounded by South Main Street, Charter Oak Street, and Interstate 384 in Manchester, Connecticut.
The 34 acre Manchester, CT park is part of the East Coast Greenway, the longest connected biking and walking route in the country. Porter and Birch Mountain Brooks run through the park.
The playground contains several climbing structures along with slides, crawling equipment, swings, and a zipline.
A separate playground section has a play structure for toddlers and a spinning boat. A nearby music garden contains nine all-weather large playable musical instruments.
Picnic tables and benches are located adjacent to the playground.
The Charter Oak Greenway, part of the East Coast Greenway, runs through the park and provides a direct connection to Mount Nebo Park.
Mount Nebo Park, a 16 acre park, is home to Carlin Field, a combination football and soccer field; the Moriarity Baseball Field; and a popular Dog Park.
Other Charter Oak Park amenities include a softball field, two basketball courts, four lighted tennis courts, two racquetball courts, a paved bicycle pathway, an open grass area, other walking and running paths, and a three-wall handball court.
The park also has a lighted skating pond that is open during winter, as ice conditions permit.
A store located in a former warming hut sells recreation supplies, bottled water, and Manchester parks shirts, hoodies, and caps. The store is open in the early evenings during the summer.
The park also offers an early evening bicycle and scooter sharing program during the summer.
Park events include an April home run derby, summer and autumn moonlight yoga classes, slime nights, charity walks, summer movie nights, and a fall pumpkin fest.
The park hosted a weekly Nature Explorers program for kids with the goals of learning about nature through creative and scientific activities and becoming stewards of the town's parks, trails, and green spaces.
The 2021 Master Plan calls for constructing a skate park, a BMX-style bike pump track, a synthetic turf soccer field, and a ninja-style obstacle course at Charter Oak Park.
At Mount Nebo Park, the Master Plan calls for baseball and football/soccer field renovations.
2. Northwest Park
Located on the north side of Union Pond on Tolland Turnpike, Manchester's Northwest Park provides an oasis close to Interstate 84 and the shops, restaurants, and hotels surrounding the Mall at Buckland Hills.
The 27 acre park is one of Manchester's most popular parks due to its location and amenities.
Two lighted baseball fields highlight the amenities. One baseball field is used for high school and collegiate games while the other field is used for little league games.
From 2000-2009, the Manchester Silkworms, a summer collegiate baseball league team, played their home games at Northwest Park. The team moved to Laconia, New Hampshire and was renamed the Winnipesaukee Muskrats.
Northwest Park features a 50-foot long fishing pier that extends eighteen feet above Union Pond. The pond is stocked with bass, carp, and catfish.
Non-motorized boating and paddleboarding are permitted. Birdwatchers will find hawks, blue herons, ducks, and other waterfowl.
The park has a boundless playground designed for both able-bodied kids and kids with physical, sensory, and developmental disabilities.
The playground is divided into two areas, one for kids ages 2-5, the other for kids ages 5-12. The younger kids' play area includes a sand pit. The playground also has two sets of swings.
Nearby, a children's butterfly garden contains butterfly-friendly flowers and plants.
Other amenities include a sand volleyball court and several picnic areas, including a picnic pavilion that large groups may rent in season. The restrooms have diaper-changing tables.
Along with the park's own walking trails, The Union Pond Trail connects Northwest Park to both Union Pond Park and the Hockanum River Linear Park.
The Hockanum River Linear Park is an 18 mile trail going through East Hartford, Manchester, Vernon, and Ellington.
Northwest Park hosts a number of events during the year, including a farmers market, Holiday in the Park, a fall festival, a country fair, National Night Out, and concerts.
The 2021 Master Plan calls for building eight pickleball courts, a boat launch area, a new playground, and a pedestrian bridge connecting Northwest Park to Union Pond Park.
3. Union Pond Park
Union Pond Park is located on North School Street across from Robertson School. At 5 ½ acres, the north Manchester park is smaller than Charter Oak and Northwest Parks.
Despite its smaller size, Union Pond Park offers a couple of features not available at other Manchester parks.
The park features the Jay Howroyd Fitness Trail. The trail consists of eight stations located in a half-mile loop.
The stations include steps, parallel bars, an overhead ladder, and a graduated workout space with an incline bench, a push-up bar, a decline bench, a horizontal ladder, and a pull-up bar.
The park's walking trails include the Union Pond Park Accessible Trail. The half-mile trail has signs in raised Braille, allowing blind and visually impaired visitors to learn about plant and animal life along the trail and surrounding area.
The park allows fishing and non-motorized boating on Union Pond. A fishing dock gives visitors a nice place to fish for bass, carp, and catfish.
There's a handy launch area for canoes, kayaks, and paddleboards. The picnic areas provide pond views.
The boat launch site serves as the beginning of the Union Pond Hiking Trail, which goes around the perimeter of Union Pond. On the 2.4 mile trail, hikers can see wildflowers, the old Oakland Paper Mill, and a variety of waterfowl.
In the winter months, an unsupervised lighted ice skating area is open, depending on weather and ice conditions. The park also permits cross-country skiing and snowshoeing.
The 2021 Master Plan calls for a pedestrian bridge to connect Union Pond Park to Northwest Park and a canoe and kayak storage area.
4. Robertson Park
Robertson Park is located across from Union Pond Park on North School Street, next to Robertson School and the Manchester Board of Education office.
The close proximity to Union Pond Park allows Robertson Park visitors to enjoy that park's amenities, including the hiking and fitness trails.
In 2021, a regulation-size cricket field opened in the park. Replacing a skateboard park and a softball field, the cricket field is home to two Hartford area cricket leagues.
While there is currently no spectator seating, the cricket matches are open to the public. A walking track runs around the field's perimeter.
The park's other amenities include two basketball courts, two lighted tennis courts that can also be used for pickleball, two shuffleboard courts, and a playground with swings and a climbing structure.
Robertson Park is also home to Swanson Pool. Open during the summer, Swanson Pool offers youth swim lessons and adult water workout classes.
Depending on staffing levels, the pool is open to the public in the afternoons, with an hour set aside for lap swimming.
The 2021 Master Plan calls for the construction of a community center building, a pavilion, a playground, a picnic area, additional playground equipment, and new pickleball, tennis, and basketball courts.
5. Center Springs Park
Located on Lodge Drive behind Manchester Town Hall and within walking distance of Manchester Memorial Hospital, Center Springs Park sits on 57 picturesque acres in downtown Manchester. Bigelow Brook runs through the park.
A 1 ½ mile walking and biking trail goes along both sides of Bigelow Brook. Cross country skiers and snowshoers can use the trail during the winter. Park visitors can see a bridge signaling the location of the nearby Cheney Rail Trail.
The park's amenities include a small baseball field and a playground. A nine-hole disc golf course is located in the western part of the park. In the winter, visitors go sledding on the park's hill.
The six-acre Center Springs Pond is a popular site for fishing, with a small fishing pier. Ducks and other waterfowl can be found in and around the pond, which has three lighted fountains.
Center Springs Park has picnic areas scattered throughout the park. A pavilion overlooking Center Springs Pond hosts special events.
A 2018 Center Springs Park Master Plan calls for adding an amphitheater and fitness equipment. Other recommendations include relocating the park's playground and making the walking paths more accessible to visitors with disabilities.
6. Center Memorial Park
Center Memorial Park is a nice place to sit and read a book, thanks to its location behind the Mary Cheney Library. The 6.9 acre Main Street park is centrally located next to the Manchester Probate Court House and across the street from Manchester's town hall.
The park's amenities include two bocce courts, two shuffleboard courts, a walking path, and a hill for sledding in the winter months. Two sets of bocce balls may be borrowed from the fire station on Center Street.
A weekly summer concert series takes place at the park's performance stage. The park also features three veterans memorials. A memorial fountain honoring the Revolutionary War was displayed in several different locations before finding a permanent home in the park.
A Civil War Monument faces the intersection of Center and Main Streets. A Spanish-American War Monument is located east of the Probate Court House. On Memorial Day, Manchester's Memorial Day Committee lays wreaths on each memorial.
7. Gay City State Park
Located near Manchester on Route 85 in Hebron and Bolton, Gay City State Park sits on over 1,500 acres of land bordering Meshomasic State Forest. The park's land was once a mill town. The park's name came from one of the families living in the town.
The mill town, Factory Hollow, was originally settled in 1796. A wool mill and a sawmill were constructed and twenty-five families, including the Gay family, lived in the town.
After the wool mill burned to the ground in 1830, a paper mill was built. In 1879, the paper mill burned to the ground and Factory Hollow was abandoned.
In 1943, a Gay family member sold the land to the State of Connecticut, which became a state park in 1946.
Gay City's trails are the original roads leading to and from Factory Hollow and take hikers to the town's ruins.
From the Blue Trail, hikers can see the remnants of the paper mill, the stone wall remains of the town's building foundations, a few cellar holes, and a small cemetery with a few headstones. Additional Factory Hollow ruins can be explored by walking off-trail.
The longest of Gay City's trails, the five-mile-long Outer Loop Trail, covers the park's perimeter.
The 1.7 mile long Gay City Trail connects with the Shenipsit Trail, a Connecticut Blue Blazed Hiking Trail. The 2.5 mile long Pond Loop Trail passes by the Gay City pond and a picnic area.
The remaining trails are less than a mile long. The Gay City Trail is a walking trail only. The other trails are open to bicyclists and cross country skiers.
The Gay City pond is open for trout, perch, and pickerel fishing and has a swimming beach. Visitors choosing to swim do so at their own risk as there are no lifeguards in the park.
Camping inside the park is limited to non-profit youth groups with advance permission. Picnic areas are located inside the park near the park entrance, the youth camping area, and Gay City pond.
Gay City State Park is open year-round, 8 AM to sunset. The park's vehicle entrance gate is open from the third Saturday in April through Columbus Day Weekend.
A fall and winter parking area is located outside the vehicle entrance gate. There is year-round pedestrian and bicycle access. A parking fee applies to out-of-state registered vehicles.
8. Case Mountain Recreation Area
Case Mountain Recreation Area, well known for its trails, became a Manchester park in the 1960's. The 309 acre recreation area, accessible from both Birch Mountain Road and Spring Street, was originally owned by the Case family, who owned a paper mill and a water bottling plant.
Hikers and mountain bikers are drawn to Case Mountain's three mountain summits and ten-plus miles of interconnecting trails. The area's seven trails include an approximately two-mile section of the Shenipsit Trail, a Connecticut Blue Blazed Hiking Trail.
Trails extend to Glastonbury's Buckingham Reservoir and Hebron's Gay City State Park.
The White Blaze trail, also called the Carriage Path, is Case Mountain's most popular trail. The Carriage Path is a three-mile trail connecting the Spring Street parking lot to the Case Pond parking lot on Birch Mountain Road.
The trail includes a steep climb up to Lookout Mountain, where the summit has an overlook. On a clear day, visitors can see downtown Hartford, the Talcott Ridge and Simsbury's Heublein Tower.
On the Carriage Path, visitors can also see the Case Pond upper dam waterfalls, the Maytie Case Crowell bathhouse at Case Pond, and the Carol Maude Case Dennison Cabin, where the 2014 horror film Animal was filmed.
The 2021 Master Plan calls for demolishing the Carol Maude Case Dennison Cabin and replacing it with an observation deck overlooking Case Pond.
9. Waddell Recreation Area
Manchester's Waddell Recreation Area, on Broad Street next to Waddell Elementary School, sits on just over ten acres. The recreation area attracts visitors, especially during the summer break period from school.
Waddell Recreation Area's primary attraction is the Waddell Pool. Open during the summer, the Waddell Pool is the only pool in Manchester to offer teen swim lessons.
Depending on staffing levels, the pool is open to the public in the afternoons, with an hour set aside for lap swimming.
Bagshaw Memorial Field, a softball field named for State Police Trooper Russell Bagshaw, who was killed in the line of duty in 1991, sits in front of the Recreation Area.
The recreation area's basketball court is located behind the school. Two playgrounds are located on either side of the parking lot behind the school, one for kids ages 2-5, the other for kids ages 5-12.
10. Verplanck Recreation Area
Located at Verplanck School on Olcott Street, the 13.9 acre Verplanck Recreation Area doesn't offer as many amenities compared to other Manchester parks.
However, the recreation area is home to a hiking trail connecting to a regional trail system and has an attraction currently not available at any other Manchester park.
Like several other Manchester parks, Verplanck Recreation Area has a little league baseball field. Unlike any other Manchester park, Verplanck has a sprayground. Open from Memorial Day Weekend to Labor Day Weekend, the sprayground offers water fun for kids and adults of all ages.
The Verplanck Hiking Trail begins at the southwestern portion of the recreation area. The ¾ mile trail follows Hop Brook past Olcott Street and Leber Field before ending at the Stone Dust Path, which is part of the Laurel Marsh Trail.
Both the Verplanck Hiking Trail and the Laurel Marsh Trail are part of the Hockanum River Linear Park system.
Manchester has seven other parks and recreation areas. Stoneybrook Park on Parker Street, Wilfred Road Park on Wilfred Road, and the Meadowbrook Fields on Meadowbrook Drive are small neighborhood parks with playgrounds.
Spring Street's Globe Hollow Swimming Area is open seasonally for swimming and picnicking. The Nike Site on Garden Grove Road has pickleball courts, a softball field, a pistol range, and the headquarters building for the Connecticut Concert Ballet.
The Nathan Hale Recreation Area on Spruce Street has community gardens among its amenities.
The West Side Recreation Area on Cedar Street features an indoor recreation center, soccer and basketball facilities, a picnic area, two playgrounds, and a pool.
Visitors to the top ten parks in Manchester, CT are treated to a unique experience at each park. Everyone should take the opportunity to have fun at Manchester's parks.