Connecticut winters can be brutal, and make you want to stay huddled up inside next to the fire with hot cocoa, but on the bright and sunny days, the outdoor activities are so fun they warm you right up.
We wanted to help you find some fun activities to keep busy with when winter comes. Winter is the best time for finding new hobbies and new family activities to do together with time off work and school.
From food activities, brewery tours, sports, wineries, and more, Connecticut has plenty to offer if you are planning some fun for your family, friends, or loved ones. We hope some of our ideas inspire you.
You don't have to do a bunch of searching anymore, these top 10 winter activities in Connecticut are sure to inspire some winter plans!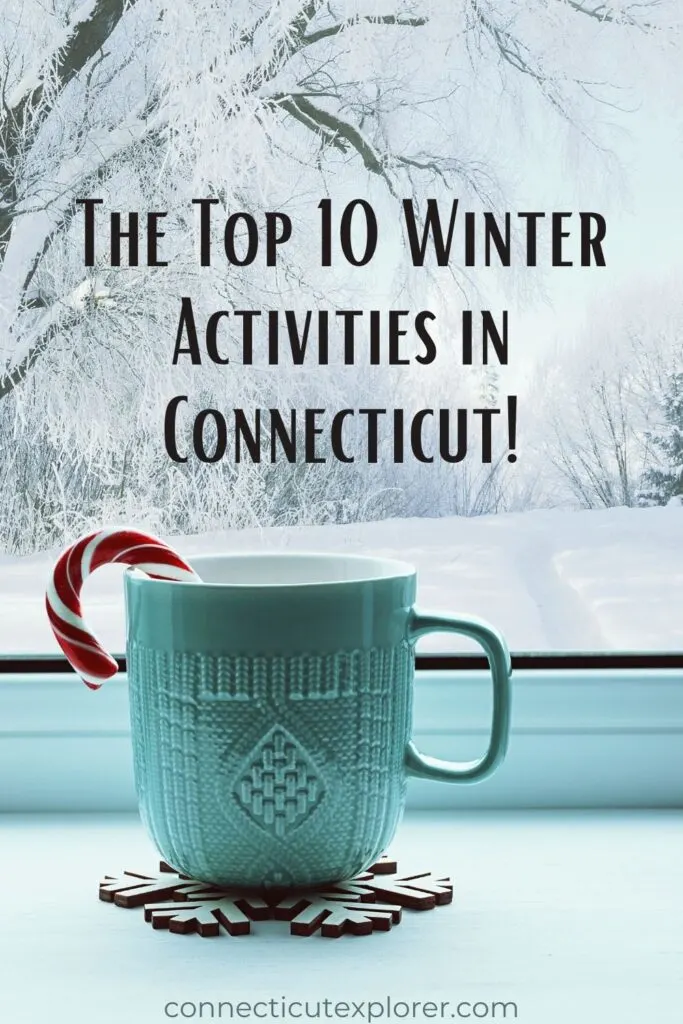 The top 10 winter activities in Connecticut
1. Boat Parade- Mystic, CT
This one is perfect for the Christmas season. If you plan on doing a 25 Days of Christmas sort of event, then the Boat Parade in Mystic, Connecticut is a good place to start.
The parade includes boats decorated with Christmas lights and sailing through the Mystic River. At the end of every parade, there is a Santa Claus riding by with a tugboat.
The Mystic River Park is where the activities begin, and the boat parade starts in the evenings.
For more information on dates and times, the website has a wealth of information!
2. Restaurant Week- Middlesex County, CT
More restaurant weeks are coming up all over Connecticut. The winter restaurant week is most popular, because of the heart-warming soul food offered at the Taste of Middlesex County Restaurant Week.
The participating restaurants have 3-course meals planned for the visitors at the price of $20 per person.
That's not too bad for a full 3-course meal!
3. Holiday Craft Sale- Brookfield, CT
If you love keepsakes and gifts with meaning, then the Holiday Craft Sale is perfect for you!
The Brookfield Craft Center has a huge selection of Christmas gifts like ornaments, handmade wooden items, pottery, and jewelry.
After over 40 years in business, the Holiday Craft Sale is still going strong, and features more local artists and crafters every year!
4. Lantern Light Tours- Mystic, CT
Mystic is clearly a popular place for winter activities in Connecticut!
Not only is Mystic historic, but it has a lot of loyal residents that keep their favorite winter activities going.
Mystic Seaport has annual Lantern Light Tours every year. It's such a magical display at the historic Mystic Seaport and has remained popular for many years.
They even have a group of actors perform the Christmas Eve in 1876 story each year!
It was inspired by the Nutcracker, so it is the perfect chance to enjoy a family classic together.
5. Sun Wine and Food Fest- Uncasville, CT
Mohegan Sun, a gorgeous casino in Uncasville, hosts the annual Sun Wine and Food Fest.
With over 1,000 craft wines and beers, and liquor, the Fest includes famous chefs like a few notable celebrity chefs from the Food Network Channel.
They also do a bourbon tasting and Mexican night! This is perfect for the older group of family or friends, and with the casino's hotel rooms nearby, it can even be a weekend plan.
6. Powder Ridge- Middlefield, CT
We all know winter is the best time for Connecticut's outdoor activities, so that's why Powder Ridge is a perfect winter destination.
They have tubing, skiing, and snowboarding. So, if you have never skied before or always wanted to try, now is the time!
They offer lessons from their trained professionals, so you can come as a beginner and leave as a pro!
7. Connecticut Flower Show- Hartford, CT
If you love nature and plants, then this is the event for you! The Connecticut Flower show happens at the Connecticut Convention Center and gives visitors a chance to check out some cool specialty flowers across 300 booths.
They sell flowers, seeds, and herbs, even books so if you don't have a green thumb, you'll be just fine!
Each year there are more plant breeds and florists ready to show off their hard work and share their beautiful creations with you!
8. Wonderland of Ice- Bridgeport, CT
If you love ice skating or anything ice rink-related, the Wonderland of Ice is perfect for you!
They offer skate rentals for just $5, and public skating is open nearly every day. With low admissions for adults and kids, the Wonderland of Ice is the perfect destination for family fun and winter festivities!
They even offer skating lessons, so no matter your skill level, you're sure to have a fun time here!
9. New Year's Eve Celebration- Mystic, CT
Another Mystic, Connecticut gem! The Mystic Yachting Center rings in the New Year with a catered event for the evening.
If you have never been to the Mystic River, then you will enjoy the panoramic views that the Mystic Yachting Center has to offer during this event.
Enjoy incredible food, live bands from local communities, and interact with your friends, family, and the Mystic community at the New Year's Eve Celebration!
10. Ski Sundown- New Hartford, CT
The Ski Sundown area is a perfect chance for you and your family or friends to try out skiing, especially if you are a first-timer.
They offer lessons and have trained staff to help you along the ski slopes. They have smaller slopes than other ski locations, making it much easier for you to have fun and get the hang of skiing.
You don't even have to bring your own equipment if you don't have any, they have rentals at decent rates.
Their website has more info on their new hours and visiting restrictions, they have everyone's safety in mind!
We hope you've got some ideas in the works for your winter plans. You can almost never run out of ideas and fun activities for the family, or your group of friends looking to make some memories this winter!