If you love authentic Japanese cuisine and you're on the hunt for the best Japanese restaurants in CT, you've come to the right place.
Living in an Asian-American household, I get to experience authentic Asian cooking.
So, when it's time to go out to eat, I'm pretty picky about my Asian food.
From Indian to Korean, Japanese to Filipino, I want the flavors to be bold and authentic.
As far as Japanese restaurants go, we've got some great ones here in CT.
Many people think of their favorite sushi bars when they think of Japanese food.
Lots of the Japanese restaurants on this list do serve sushi, however, we know that's not the only delicious Japanese cuisine.
From udon noodles to yakisoba, you'll find plenty of restaurants that serve traditional and authentic Japanese favorites.
We've even got a couple of cool Hibachi grills on the list.
So, let's get right to it.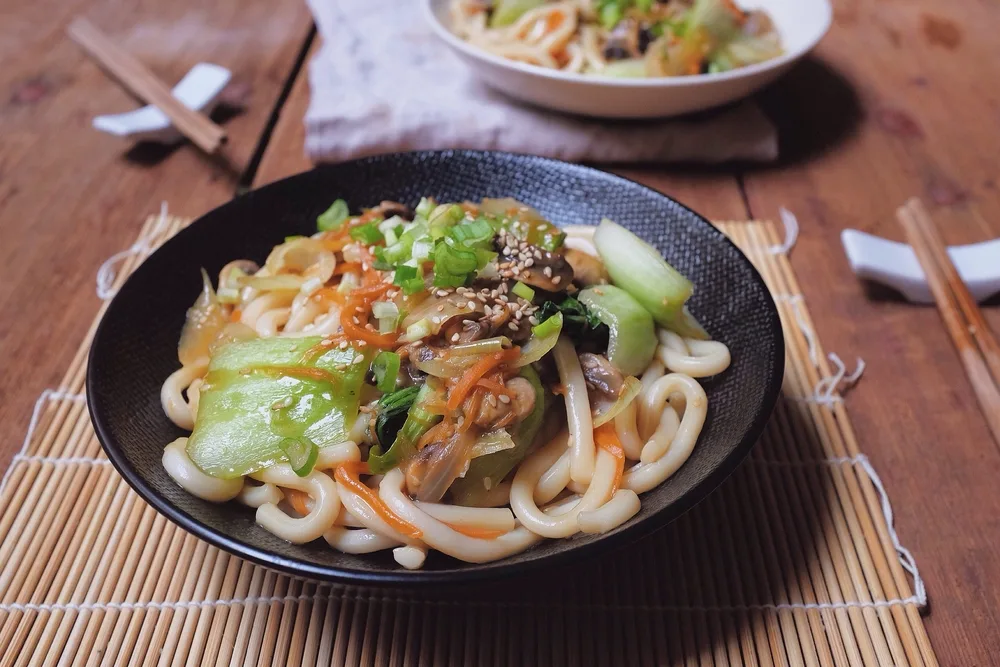 The 13 best Japanese restaurants in CT
Osaka is one of the overall restaurants in East Lyme, CT, but it also qualifies as one of the best Japanese restaurants in CT.
Here, you'll find an array of Asian cuisine.
As far as Japanese dishes go, the Nadeyaki Udon and Tempura Udon are amazing.
If you're a ramen lover, they even have something for you, too.
Address: 324 Flanders Rd. East Lyme, CT 06333
Fiji Japanese Steak House in Bristol serves amazing Chinese and Japanese food.
The Gyoza here are so good, but I love the Chinese dumplings, as well.
This Japanese Steak House, though, is known for its Habachi dinners and its sushi.
There are so many Habachi choices and they're all so delicious and authentic.
This is definitely the best Japanese restaurant in the Bristol area.
Address: 1186 Farmington Avenue, Bristol, CT 06010
Farmington has some of the best dining options in Connecticut, and Japanese restaurants are no exception.
Bamboo Asian is certainly one of Farmington's best Asian food options.
Here, you'll find entrees from all over Asia.
As far as Japanese dishes go, Bamboo serves amazing sushi, teriyaki meals, tempura meals, and lots and lots of Japanese noodle dishes.
Address: 3 Melrose Dr., Farmington, CT 06032
Kempai Japanese Steak House in Branford is the go-to Japanese restaurant in the area for folks looking for the quintessential Hibachi grill experience.
Come to Kempai and watch a talented Japanese Hibachi chef work their magic right at your table.
The delicious goodness doesn't stop at Habachi, though.
There are so many other traditional and contemporary Japanese dishes served here, as well.
Address: 869 W Main St, Branford, CT 06405
Mikado Asian Bistro in Middletown has so many great Japanese dishes on its menu.
From miso soup to sushi and sashimi, you have lots of Japanese favorites to choose from here.
Unlike most of the other Asian restaurants in the Middletown area, Mikado has a heavy Japanese food focus.
Address: 3 Melilli Plaza, Middletown, CT 06457
Johnny's Peking Tokyo in Mystic is one of the most popular Japanese restaurants in CT.
The food here is actually described as "Asian Fusion", which is an accurate description.
Japanese dishes here include options like sushi, sashimi, shogayaki, and udon noodles.
Address: 12 Coogan Blvd., Mystic, CT 06355
Mahzu Japanese Restaurant is one of the best places for Japanese food in CT.
Located near the Mohegan Sun, you can find amazing and authentic Japanese dishes.
The atmosphere here alone will leave you feeling like you had a great experience and the food – it's good.
This place is a must-visit if you love sushi.
Address: 624 W Main St., Norwich, CT 06360
If you're looking for an amazing dining experience with some of the best Japanese food in CT, you've got to head to Westport and visit Sakura Japanese Restaurant.
Sakura in Westport has so many different great dining options, from patio seating to sushi bar seating.
The Hibachi grill experience here, though, is what draws folks in from all over the state.
Your guests will be wowed as they watch skilled Japanese Hibachi chefs prepare delicious dishes right at the table.
Address: 680 Post Road E., Westport, CT 06880
Ichiban in Hartford specializes in both Korean and Japanese dishes.
Here, you'll find delicious Japanese dishes like BBQ Eel and Vegetable Tempura.
The Kalbi Tang is my favorite house special, though.
The atmosphere is casual and it's the perfect Japanese restaurant for lunch or a casual dinner with family and friends.
Address: 530 Farmington Ave., Hartford, CT 06105
From all-you-can-eat sushi and sashimi to some of the best Japanese entrees, appetizers, and salads, Kama Sushi more than qualifies as one of Connecticut's best Japanese restaurants.
The Gyoza and Unagi Don are wonderful and the Yaki Tori is so yummy.
They also serve lumpia here, which I love – it's probably some of the best you can get in the state.
Address: 2410 Main Street, Stratford, CT 06615
Sushi X in West Haven is certainly known for its amazing sushi wraps, but there are plenty of other great Japanese dishes to choose from here, as well.
From teriyaki dishes to stir-fried vegetables and noodles, everything here is simply delicious.
Address: 220 Captain Thomas Blvd., West Haven, CT
Sakura Garden is a Japanese Steak House in South Windsor that is perfect for those looking for an over-the-top dining experience.
The layout of the restaurant is interesting and unique and the atmosphere is comfortable but very classy.
From the amazing sushi choices at the sushi bar to their Hibachi dinners, you will walk out of this place satisfied with the meal, as well as the experience.
Address: 34 Evergreen Way, South Windsor, CT 06074
Ginza Japanese Cuisine is one of the best Japanese restaurants in the Hartford area.
Everything here is so delicious and beautifully presented.
The Tempura Sweet Potatoes here are top-notch and I highly recommend both the Yaki Soba and the Yaki Udon noodle dishes – very delicious.
Ginza also serves some great Japanese kids' meals.
Address: 14 Wintonbury Mall, Bloomfield, CT 06002
---
There you have it – the best Japanese restaurants in CT.
Is your favorite spot for Japanese food on this list?
If not, send us an email or drop a comment below and tell us about it.