I don't know about you, but my childhood is filled with memories of trips to the roller skating rink. When I went looking for somewhere to take my kids roller skating in CT recently, though, I almost came up empty-handed.
Almost.
Due to Covid and other social and economic factors, roller skating rinks just aren't a big thing anymore.
Like every trend, though, it will make a comeback at some point. Hopefully, we don't have to wait too long, since this is such a fun indoor activity.
The big roller skating rink in Middletown closed somewhat recently and Gallaxy Roller Rink in Groton shut its doors, as well. (I swear the building still has "Gallaxy Roller Rink" written across it…maybe one day.)
For now, in Connecticut, there are 3 places you can go roller skating, indoors, anyway.
There's no need to be too bummed out about the lack of roller skating rinks in CT because the ones that we do have are pretty dang awesome.
So, let's give these places our business and show CT that we still love our roller rinks!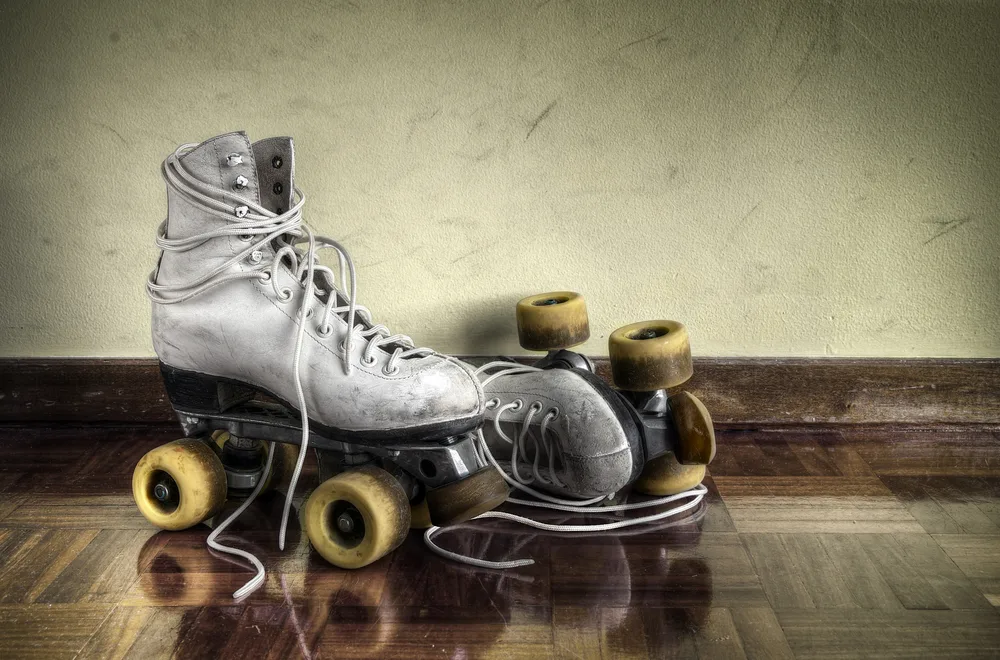 3 fun places for roller skating in CT
If you are looking for a roller skating rink in CT that brings you back to your childhood, you've got to check out Ron-a-Roll in Vernon.
Here, you can enjoy a classic roller skating rink experience, complete with fun lights and music.
Ron-a-Roll has a massic beach wood skating surface, multiple private rooms for parties and events, and it's a member of the International Roller Skating Association.
This is a great place for roller skating lessons, as well.
The roller skating lessons offered here focus on both artistic ability and speed.
As far as birthday parties go there are multiple packages to choose from, all fairly priced and full of fun.
Address: 85 S Frontage Rd, Vernon, CT
Skte Inn in Plainfield is a small, but super cool skating rink that's a great place to come if you want to be able to just drop in for an open skate.
Here, you can grab a soda and a pizza while you skate with your family.
Skate Inn has adult skate times, as well, for those who want a fun skating experience without the aggravation of having to watch out for little ones.
Here, you can also take roller skating lessons and have your child's birthday party.
The birthday party package is very affordable and includes soda, pizza, popcorn, and skates for up to 12 people.
Address: 992 Norwich Rd, Plainfield, CT
Roller Magic in Waterbury has that classic roller skating rink vibe that you remember from your childhood, complete with disco lights and music.
Roller Magic offers traditional roller skate rentals, as well as inline skate rentals.
Regular skate sizes start at toddler 7's and go all the way up to adult size 15.
So, even the youngest roller skaters can come to have fun here.
Roller Magic also offers roller skating lessons and is a great place for kids' birthday parties.
Another great thing about this place is that it's open most school holiday breaks.
So, if you're looking for something fun to do on spring break with your kids, you should definitely come to check this place out.
Address: 60 Harvester Rd, Waterbury, CT
---
There you have it – 3 great places for roller skating in CT.
If you're looking for some other fun and physical indoor activities that you can do with your family, check out the following:
These are indoor rinks for roller skating, but there are plenty of skate parks and paved walking trails that are great for roller skating outdoors.
We're curious, where do you like to go roller skating in CT?
Send us an email or drop a comment and let us know.