Are you looking for some Filipino restaurants in CT, but you're finding them a bit hard to find? If so, you've come to the right place.
For sure, authentic Filipino restaurants are few and far between in Connecticut, but there is a handful of them – and they're all really good.
Whether you're looking for some fresh lumpia or a warm bowl of dinuguan, Connecticut's Filipino restaurants have what you're looking for.
A couple of the restaurants on this list even have Filipino grocery stores attached. So, you can bring a taste of the Philippines home with you after your meal.
Filipino food is some of my favorite cuisine and I'm excited to help you find some great Filipino restaurants in CT.
Let's get right to it.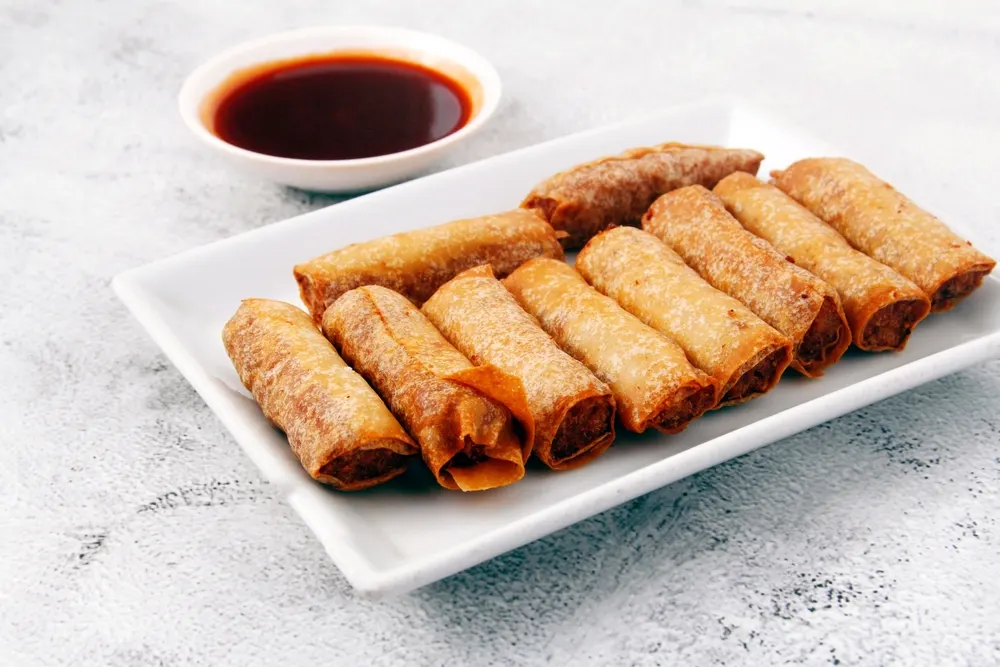 Kayumangi is easily one of the best Filipino restaurants in CT. The food here is prepared fresh and 100% authentic.
Whether you're wanting some fresh pancit, a bowl of sinigang, or some fresh, crispy lumpia, Kayumangi has you covered.
Kayumangi is also a Filipino-specific grocery store, another rarity in Connecticut.
You can find mango and ube ice creams, frozen Siopao, shrimp chips, banana ketchup, ube candies, and lots of other Filipino staples – imported mainly from the Philippines.
There are several tables to the rear of the grocery section where patrons can sit for a meal. The atmosphere is very casual and it's a great place for a quick lunch.
Address: 69 N Turnpike Rd Ste 5, Wallingford, CT
There's nothing better than Filipino breakfast food, and Zul Cafe and Grill does a great job on its breakfast menu.
From longenisa to Spam, everything is cooked to perfection and served with rice and an egg.
It doesn't stop at breakfast here, though. Lunch and dinner are great, too.
The pancit is amazing here, and they do a great job at preparing some other delicious dishes, like tapsilog and tokwat baboy, as well.
Zul Cafe and Grill also serves bubble teas, which are a cool and unique Filipino treat.
Address: 268 Main Avenue, Norwalk, CT 06851
Tindihan City is a small and quiet Filipino restaurant that has a Filipino grocery store a couple of doors down.
The food here is authentic and delicious. They serve all of the best Filipino comfort foods.
Some good menu options are the Lechon belly, pakbet, and pusit. The lumpia is a good choice here, too.
The halo-halo here is delicious – definitely the best I've had. If you like to end your meal with sweets, I highly recommend it.
Address: 544 Deming Rd, Berlin, CT 06037
Yoko Loco is one of the Filipino restaurants in CT that offers a mix of some other flavors on their menu.
It's actually advertised as a "Taqueria & Hibachi Eatery" – kind of a cool mix.
If you're in eastern CT, though, this is it as far as Filipino food goes. It's not disappointing, though.
Yoko Loco serves fried pork belly, lumpia, cucumber salad, and pancit, all of which are delicious.
Definitely check their Facebook page or call to see if they're open before you make the drive there – their days and hours are pretty limited.
A couple of other things to add, which are lessons I've learned from getting takeout from here – If you want pancit, call ahead to make sure they are preparing it that day.
Also, they sometimes limit the number of lumpia orders, so it's best to ask them ahead of time if you have a serious craving for it.
Address: 1598 Connecticut 12, Gales Ferry, CT 06335
---
These are the only Filipino restaurants in CT, but they are amazing.
Hopefully, we'll see some more pop up soon. For now, though, we've got 4 great places to get authentic Filipino food in CT, and, for the size of the state, I think we're doing alright.