Mashantucket Pequot Museum is located in Mashantucket, CT minutes from Foxwoods Casino. It is tribal-owned and operated and the world's largest Native American Museum.
It is not only informative but also beautiful, moving, and thought-provoking.
Here is my review of my experience at this incredible Native American museum in Connecticut.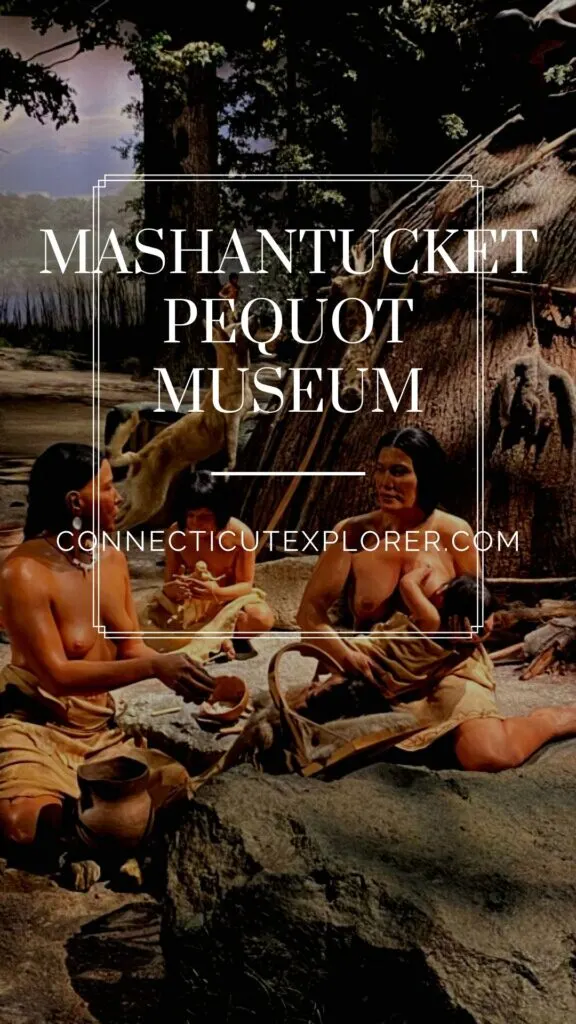 The Mashantucket Pequot Museum Exhibits
At first, you may think that it wouldn't be an exciting museum for the family, but there is plenty to see to interest all ages. I've taken my daughter when she was about 10 months old, and again recently at 2.5 years old and both times she enjoyed it.
The first time, I took my grandmother (who is Mohawk), my mother and brother, and all four generations were impressed with the museum.
Throughout the Mashantucket Pequot Museum, you'll see extraordinary replicas, as well as real artifacts and stunning artwork.
A Little More About The Pequot Museum
Once you've taken the ramp downstairs, you'll see a miniature replica of the reservation. If you click on the buttons along each side, it will light up where each location is in the diorama.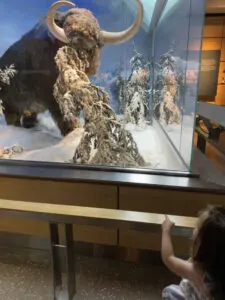 Next, you'll travel down the escalator surrounded by an ice crevasse and cool water feature. Don't worry if you have a stroller, there's an elevator nearby.
You'll get to see some really beautiful art by contemporary Indigenous artists. Turn the corner and you'll travel back in time to the Ice Age with incredibly realistic, life-size exhibits of animals and a scene with hunters and caribou.
The highlight of the museum though is the life-sized, 16th Century Pequot Village. Grab an Acoustiquide at the entrance to listen to an audio tour, as you stroll through the village to see recreated scenes of everyday Pequot life.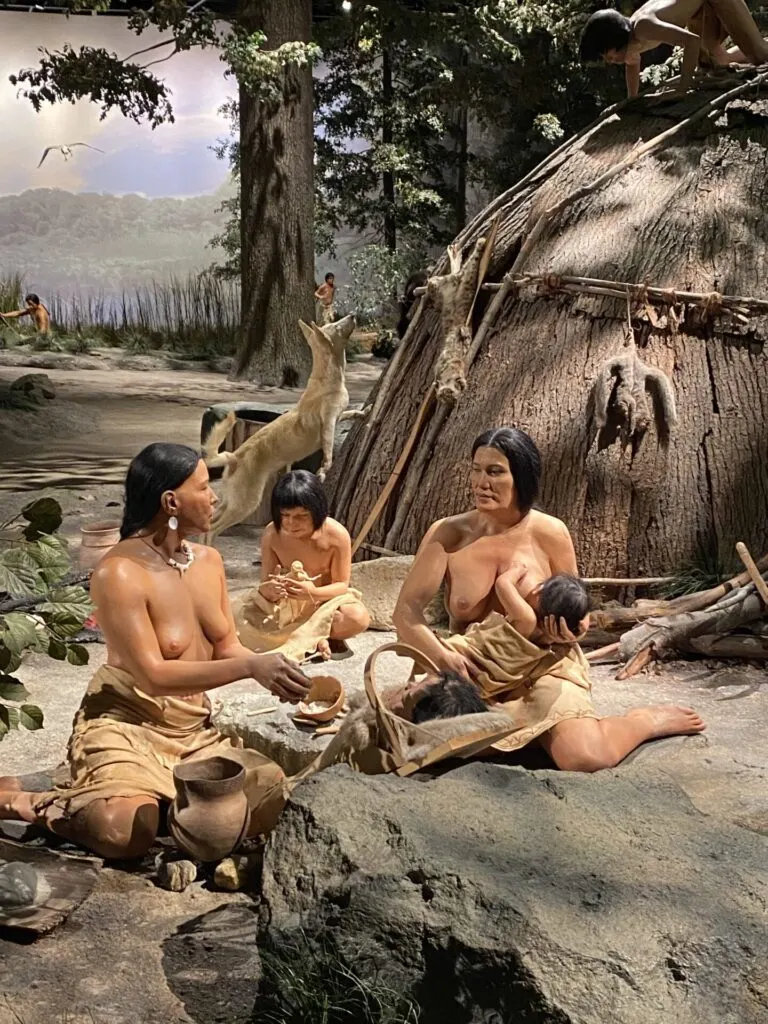 After the Village, you'll learn more about the arrival of the Europeans and the damage and death they caused to the Native Americans.
You can catch a short film about the Pequot War of 1637, but keep in mind it is violent and not suitable for children (showings at 11am, 1pm & 3pm).
As you further walk through the museum, you'll learn more about life on the reservation from the 1600s to the 1980s. On a nice day, you can step outside and take a self-guided tour through a typical Pequot farmstead.
Lastly, there is a beautiful gallery of black and white photographs of tribal members and families taken by David Neel.
There are usually some temporary exhibits to catch as well, so keep an eye out for what's new. Or check their calendar to catch a show in the auditorium.
Before you leave, catch the elevator in the main lobby to the observation tower! However, if you're afraid of heights you may want to skip it; it goes 185 feet high!
There are limits to how many people can go up, so sometimes you have to wait a few minutes, but it is worth the wait because the views are spectacular. You may even catch people coming down the zipline from the Foxwoods Casino.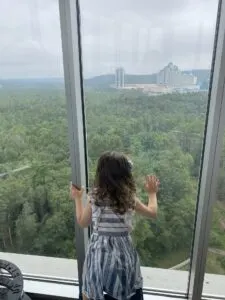 Things to know
The gift shop and café are currently (as of July 2021) closed due to COVID.
Hours: Wednesday-Saturday 9am-5pm.
Admission: Adults $22, Seniors $17, Ages 6-17 $13, children under 5 are free. However, they are included in the 2021 FREE Connecticut Summer At The Museum Program.
110 Pequot Trl, Mashantucket, CT
Website: pequotmuseum.org