Need help organizing a family vacation to Connecticut?
If you're looking for fun family vacation ideas, look no further. We've compiled a list of the best locations to visit in Connecticut with kids to make your vacation planning easier.
Our list of the finest family holidays in Connecticut will provide you with plenty of travel inspiration and tips, ranging from sophisticated cities to beach havens. Let's dive in a check out the top 20 Connecticut vacation spots for families.
The 20 best Connecticut vacation spots for families
Mystic
This historic seaside town has everything you need for a Connecticut family vacation. Enjoy fresh seafood on the water at several award-winning restaurants, stay at a harborside bed and breakfast, or one of the many nearby hotels.
Lovers of the movie Mystic Pizza can visit the historic restaurant featured in Julia Robert's movie with the same name.
Take a trip back to Connecticut's earliest days at Mystic Seaport Museum and learn about maritime trade and walk on historic boats.
Take in all that nearby Mystic Aquarium has to offer, as well.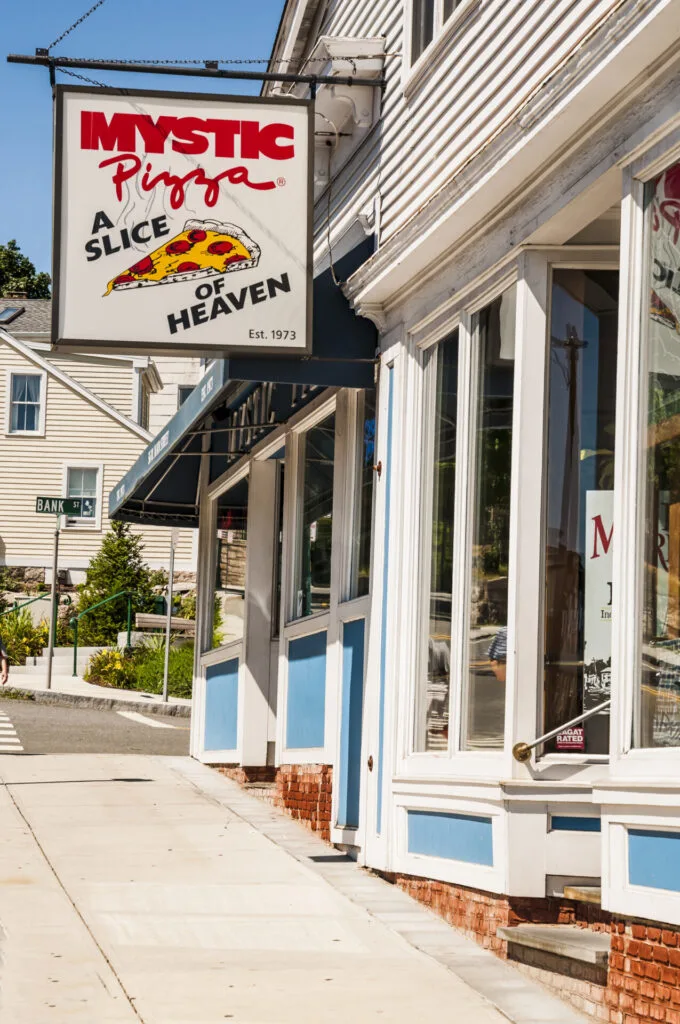 Kent
This is one of those Connecticut vacation spots for families that is great for fall or summer! Visit in the fall to marvel at Connecticut's fall foliage or camp out near Lake Waramaug in the summer.
Either way, you'll find incredible views of the Catskill Mountains. Visit Kent Falls State Park to see the state's only 250-ft drop waterfall.
Nearby Hopkins Vineyard offers views of Connecticut's largest natural lake, Lake Waramaug. Grab a glass and some food for the family and enjoy the view from their sprawling lawn.
With live music and outdoor games, there is plenty of fun to choose from.
Essex
Have young ones interested in trains? Essex is home to the Essex Steam Train & Riverboat, where you can ride along a historic steam train and learn about the state's early industrial history.
The nearby Connecticut River Museum has everything you need to know about the Connecticut River's role in shaping Connecticut today.
Westbrook
Are you looking for a relaxing waterfront getaway with the family? Westbrook is home to Water's Edge Resort & Spa.
Send the kids to the beach or one of two pools with dad while you get a massage in their luxurious spa.
Enjoy the resort's golf course, art gallery, and playground. Or take advantage of one of their water sport rentals or tennis courts.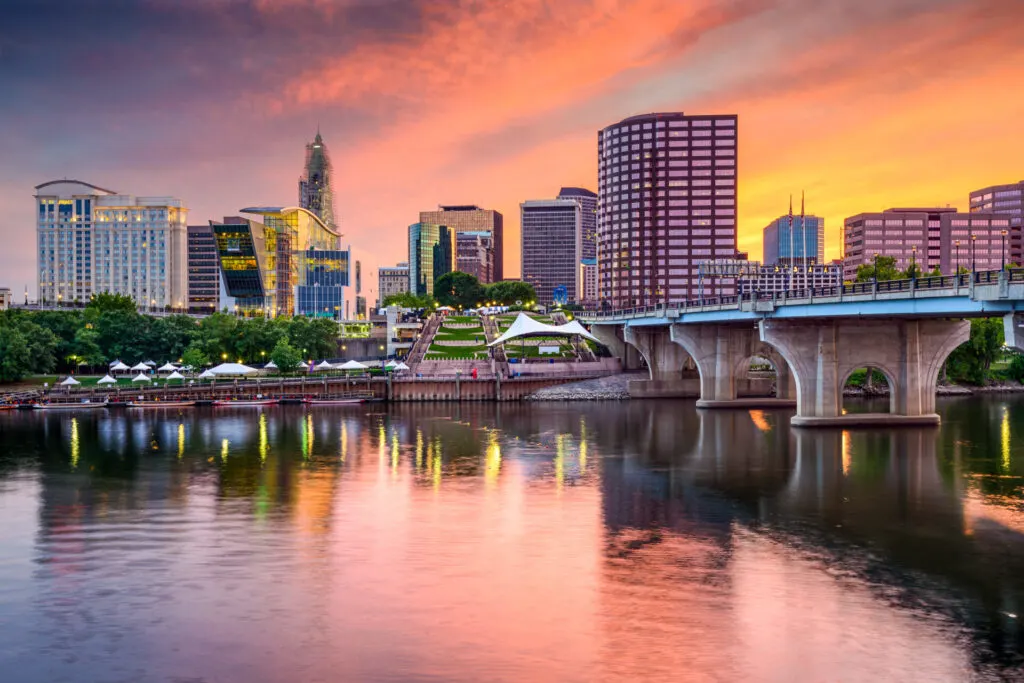 Hartford
Connecticut's capital city has something for everyone. Visit America's oldest continuously operating art museum at the Wadsworth Atheneum, where countless works of art live amongst historic walls once walked by J.P. Morgan.
Nearby museums include the Connecticut Old State House, the CT Historical Society, and the Mark Twain House and Museum.
Have a weekend packed with learning and education, or take a load off and enjoy a ball game at the newly finished Hartford Yard Goats Dunkin' Stadium.
Stonington
Historic Stonington, Connecticut, is packed with beautiful Victorian architecture and beautiful views of the Long Island Sound.
Learn about the history of the maritime industry at the historic Captain Nathaniel B. Palmer House or visit the newly restored Old Lighthouse Museum directly on the water.
Take a break at Saltwater Farm Vineyard, one of the state's top shoreline vineyards.
Bozrah
If your family loves nature, camping, hiking, and swimming – Odetah camping resort is for you! Offering everything from deluxe cabins with air conditioning to the standard RV hookup Odetah offers daily activities for the kids, kayaking, swimming in the nearby lake, or onsite inground pool.
The family will love their time at Odetah, and we guarantee this will be your new yearly getaway tradition!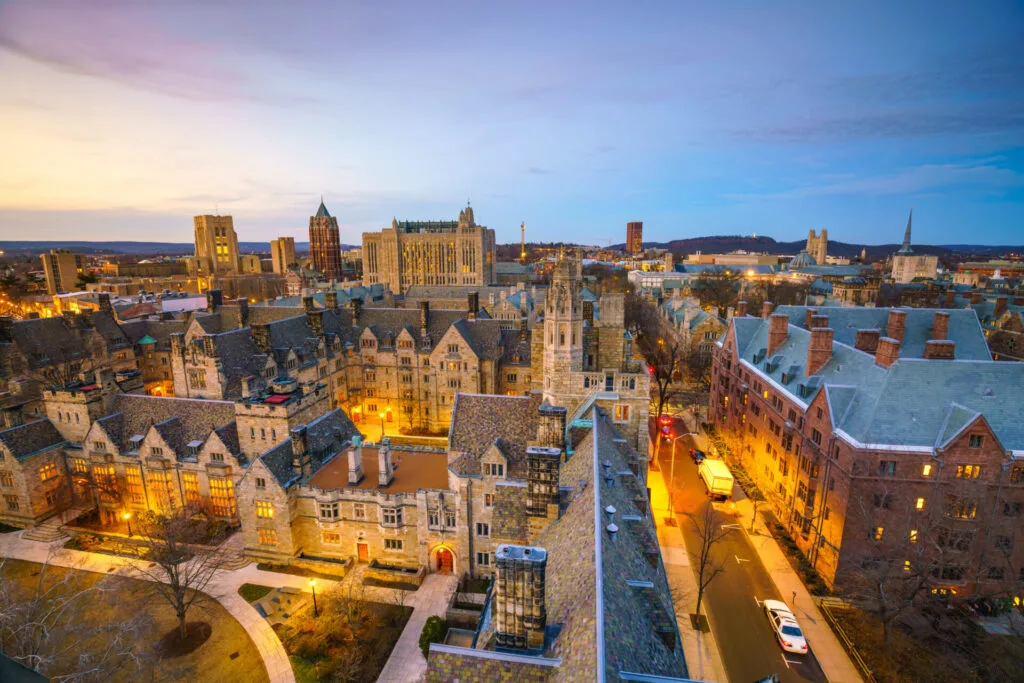 Bristol
Visit America's oldest continuously operating amusement park, Lake Compounce, for thrills, games, and snacks that will have your family talking for weeks. Home to the largest waterpark in the state, Clipper Cove, or take your chance on one of the many roller coasters and rides throughout the park.
Stay for a night or a whole week at their onsite campground, which offers RV hookups, tent sites, and cabins! For all the sports lovers – you'll pass right by ESPN's Bristol headquarters.
New Haven
Give family pizza night a whole new meaning by spending a couple of days in New Haven, Connecticut home to some of the best pizza places in the country!
Fill up on a slice of Sally's Apizza or Frank Pepe's and then visit the historic Peabody Natural History Museum, Yale Art Gallery, or Yale British Art Museum.
New London
Home to the first Naval Submarine Base in the country, New London offers the USS Nautilus & Submarine Force Museum, operated by the U.S. Navy. Parking and admission are FREE.
Visit the first nuclear-powered submarine and learn all about what it takes our brave men and woman in service to power these incredible underwater vessels.
Nearby Fort Trumbull State Park will take you back to the early nineteenth century. Learn all about New London's history during the American Revolution and beyond while viewing historic cannons, living quarters, and artillery.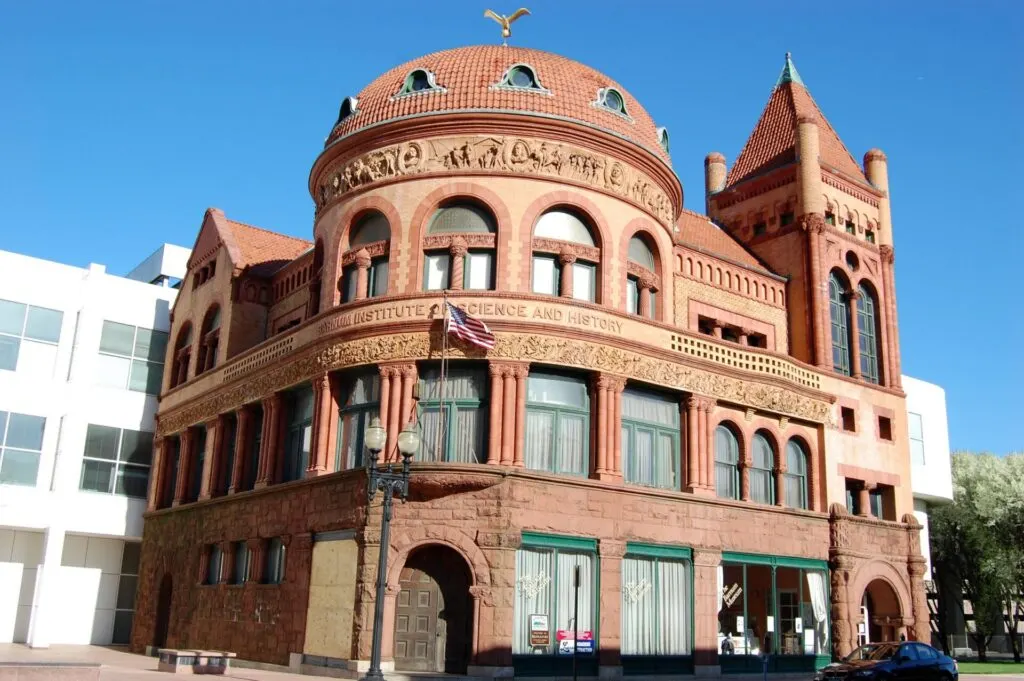 Windsor
Visit the New England Air Museum and wow yourself and the whole family with over 55 aircraft on display. From historic warplanes to modern high-speed jets, there is something for everyone to see and learn about.
While you're there, head just a few miles away for a tour of the first American Revolutionary War prison and copper mine at Old Newgate Prison and Copper mine in East Granby, explore the underground copper mine on a guided tour, and learn all about the history of the site from prison, to the early 20th-century main attraction.
Norwalk
Bring Shark Week to you! The Maritime Aquarium at Norwalk has a 110,000-gallon shark tank where you can view these incredible creatures behind four inches of glass.
Immerse the family in a sensory experience in one of their touch tanks. From otters, jellyfish, turtles to boat rides and a 4D theatre, your family will love their experience.
The Stepping Stone Museum for Children in Norwalk offers exhibits and hands-on learning about all things STEM. Visit the Energy Lab, ColorCoaster, or their Big Adventures: Dinosaurs! Exhibitions for all the hands-on and sensory experience learning your little one's love!
Bridgeport
Look out cause here you come! Fans of the Greatest Showman will love visiting Bridgeport's Barnum Museum for all things related to the early history of P.T. Barnum's famous circus.
Also founded by Barnum in Bridgeport is Connecticut's Beardsley Zoo, home to over 300 animals. The kids can explore the prairie dog exhibit, walk amongst big cats, and ride the historic carousel.
New Hartford
Visit some of the best antique shops in the state at nearby Collinsville Antiques Co. in New Hartford, or spend the day floating down the Farmington River. Farmington River Tubing is one of the top-rated summer activities in the state and makes for a great family vacation spot.
Rent your tube and everything you need right there as you coast down the relaxing Farmington River.
Old Lyme
Hawks Nest Beach Resort has been family-owned and operated since 1895. Choose one of over 40 beachfront cottages to rent with the family along the Long Island Sound.
Offering daily, weekly, and monthly activities for the family, this is the perfect destination for the whole family to relax and have fun!
Relax on the beach or visit the nearby Florence Griswold Museum to see how the surrounding ocean vistas inspired a colony of American artists.
Greenwich
The Bruce Museum offers everything from dinosaur tracks to hands-on science exhibits. The Bruce Museum has interactive children's programs and an art gallery for adults that spark inspiration for the whole family.
The Greenwich Audubon Center is the place to be if your family appreciates outdoors, hiking, and learning about conservation. Seven nature preserves spanning 686 acres provide views of wetland habitats, diversified forestland, coastal ecosystems, and birdlife.
Visitors can also participate in entertaining and instructive activities such as astronomy talks, family yoga, bird walks, and sensory-sensitive Saturdays.
Uncasville
This Connecticut vacation spot for families offers something for kids of all ages, Mohegan Sun is so much more than a casino. Kids Quest Mohegan Sun's 15,000 square-foot childcare space offers rope climbing, a basketball court, the Karaoke Star Stage, and an indoor play area that includes a slide, tunnels, and so much more.
There is never a dull moment at Mohegan Sun where parents can play alongside their children in their full arcade Cyber Quest. Finish off the day with a meal together at one of several award-winning restaurants!
For some outdoor family fun, don't forget to check out The Dinosaur Place at Nature's Art Village.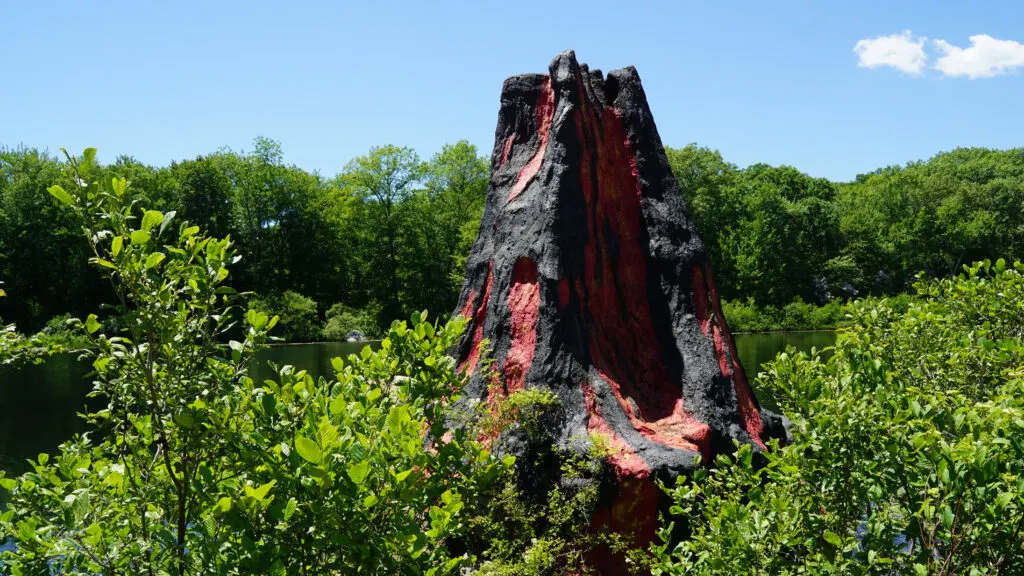 Cornwall
In the winter months, escape to upper northwestern Connecticut to Mohawk Mountain Ski Area. The perfect family-friendly place for your family to learn to ski while taking in the beautiful Litchfield Hills.
One of the largest ski areas in the state, Mohawk has something for the entire family, from the first-time ski lesson to the experienced trails for those seeking a thrill.
Portland
If your family loves a challenge Brownstone, Adventure Sports Park has all the thrills you need. Operating in a historic brownstone quarry offering views of 80-100ft brownstone cliffs, the park features everything from snorkeling to cliff boarding, ziplining, wakeboarding, climbing, and so much more.
Niantic
Rocky Neck State Park in Niantic is the state's most well-loved oceanfront state park. Book their onsite camping ground for the entire week and stay in one of their cabins, a tent, or hitch the RV.
Nearby historic Niantic offers the Book Barn, stacks, and stacks of books winding in and out of landmark barns home to local rescue cats. Just down the road is Gumdrops & Lollipops, a one-of-a-kind experience that will take the kids back to the days of malt milkshakes.
The whole family will feel like they stepped into Willy Wonka!
---
Families in the New England area have been traveling to Connecticut for its amazing vacation spots since forever. Now that you know the top Connecticut vacation spots for families, you can too.