In this article, you will learn what the absolute best nail salons in Danbury, CT are and what to expect when you go there. So, get ready to be pampered and read on!
---
With the COVID-19 pandemic still being in fine form, there are many elements of personal care that people have pushed aside to focus more on their health. This makes sense – safety first – but the pandemic doesn't mean that everything you used to love has to be lost.
Indeed, it can be the small things that bring happiness to your world these days, and for some, small moments of happiness can come in small packages. One such package might be getting your nails professionally done at a nail salon.
If this seems like something that'll rejuvenate you and give you the strength to keep on keeping on, then read on to learn about some of the best nail salons in Danbury, CT.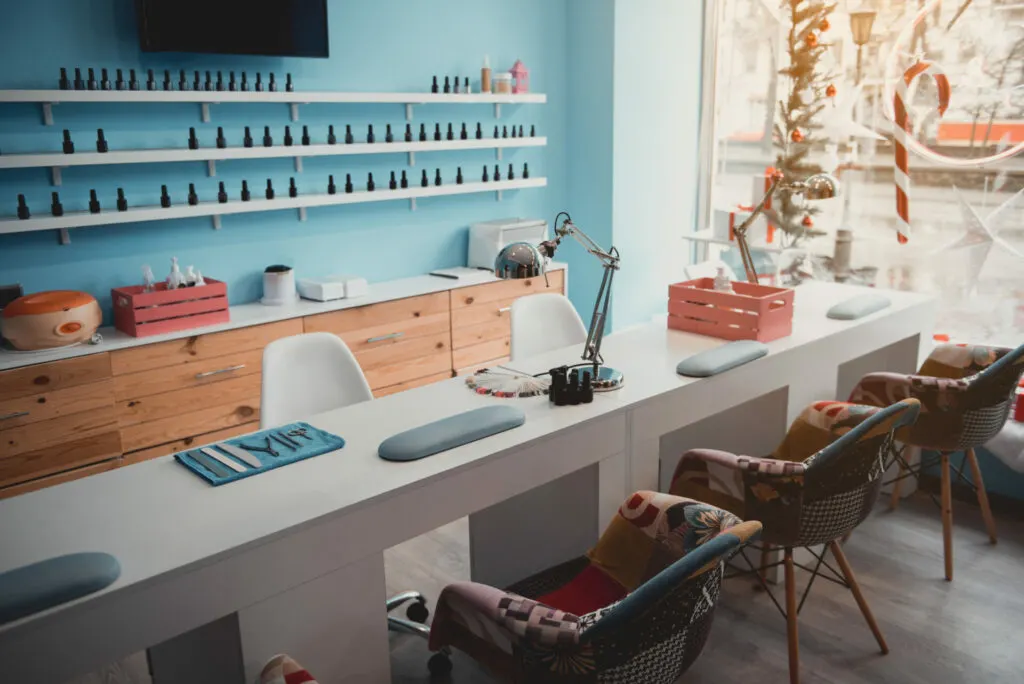 The top 5 nail salons in Danbury, CT in 2023
1. TLC Nails & Spa
If you're looking for a full-service nail salon that offers professional service and cares about the health and safety of all who enter, then look no further than TLC Nails & Spa.
This location was purchased by Zhane, an individual who always wanted to operate her own business.
TLC Nails & Spa was rebranded in 2017, and they offer a full catalog of services at their location. We're talking fake lashes, manicures, pedicures, waxing, massages, and more.
Consider this a one-stop shop for relaxation central. You've been through a lot over the past two years, and you deserve to treat yourself.
Well, at TLC Nails & Spa, you can treat yourself and keep yourself safe as well. Due to COVID-19, TLC Nails & Spa now requires that anyone who enters the premises must be wearing a mask.
Address: 30 Germantown Rd, Danbury, CT 06810
2. Salon Nirvana and Nail Spa
The staff at Salon Nirvana and Nail Spa is made up of some of the most professional people you will ever have the pleasure to meet.
They offer full-service sessions, meaning that you can choose from nail services, facial services, and waxing services… or even do all three!
This salon has been in business for 17 years, meaning that you'll be getting professional and experienced treatment from whoever works with you on the staff.
If you don't want to get a full manicure, there are other options within their list of nail services.
No matter what nail services you're looking for, Salon Nirvana can accommodate your wishes.
They offer nail repair, nail art, acrylic sets, and many more options to give you beautiful nails that'll be the talk of the town.
And you won't have to spend your life savings to get professional results.
Address: 87 Mill Plain Rd, Danbury, CT 06811
3. Stylish Lisa Nails & Spa
Stylish Lisa Nails & Spa is one of the most well-rated salons in the Danbury, CT, area.
Not only do they offer acrylic nails, manicures, pedicures, and the rest of the usual set of full-service procedures, but they go above and beyond by also offering callus removal and body massages.
You'll be able to exit this place looking like an entirely different person from your head to your toes.
Make sure to schedule an appointment ahead of time and know what treatments you'll be getting when you enter.
As with most other nail salons, they offer facials, pedicures, waxing, manicures, and massages.
With unbeatable prices and extremely generous packages, Stylish Lisa Nails & Spa is, hands-down, one of the best nail salons in Danbury, CT.
They will give you the glamourous look you're chasing without breaking the bank. Treat yourself to a relaxing and beautifying experience, and then allow yourself to be pampered with no regrets.
Address: 5 Padanaram Rd, Danbury, CT 06811
4. Delicate Nail and Spa
Another to join the ranks of the protect-the-customers-from-COVID-squad, Delicate Nail and Spa is here to help you stay safe and beautify your nails.
They offer the usual nail salon services at affordable prices, and they ensure your safety by requiring a mask to even enter the premises.
With a professional staff and high-quality service, you won't want to go to any other nail salon place after experiencing an appointment here.
They are strict about timeliness and appointments, and they ensure that everything in their space is clean and ready for the next customer.
Unlike other places where you might find evidence of constant wear and tear in the chairs and tools, this place is professional from the floor to the ceiling.
This staff of friendly professionals will also offer you beverages during your session, so you can relax and refresh on the inside and the outside.
They also offer a loyalty card, so the more you go, the sooner you'll gain access to a free service down the road.
With inexpensive prices and A+ service, this is a nail salon that you'll be returning to month after month.
Address: 143 Federal Rd, Brookfield, CT 06804
5. The One Nail Salon
The newest one to join the roster of nail salons in Danbury, CT, on this list, The One Nail Salon was opened in 2019, and it's become the talk of the town since.
They offer eyebrow services, manicures, pedicures, lip treatments, and other skin care services, as well as full-body waxing services.
This location does it all and strives to make sure that every customer leaves feeling like an individual rather than a paycheck.
In the wake of COVID-19, they also require masks for the entire staff and any customer that walks through those doors.
When it comes to their nail offerings, you'll have your option of acrylic, gel, SNS powder, and many others.
Additionally, if you're trying not to break the bank, this place offers lower-than-standard prices on all of their services.
Not to mention that, if you pay in cash, you'll also receive 10% off your entire service charge.
Even before COVID-19, they were an astonishingly clean location, and they've only doubled down on their cleanliness since 2020.
If you're looking for friendly staff and a manicure/pedicure that will last you ages and look stunning for the entire time you're wearing it, look no further than The One Nail Salon.
Address: 63 Newtown Rd, Danbury, CT 06810
Takeaway
When it comes to nail salons, they are a dime a dozen in Connecticut.
However, if you're looking for professional service, cleanliness, and a prioritization of safety against COVID-19, look no further than the five options on this list.
You'll find yourself impressed and excited to return to these places, which is why they've made it onto this list of the best nail salons in Danbury, CT.