If you're looking for some great Sunday brunch buffets in CT, you've come to the right place.
Whether you're in search of a great Sunday brunch for after church, a holiday like Mother's Day, or you just really like having a nice late breakfast on Sundays, you'll find something on this list.
I definitely enjoy a brunch buffet over a meal with a set menu, especially on the weekend.
I never know how hungry I'm going to be (it's a safe bet I'll be super hungry) and I never know exactly what it is that I'm in the mood for.
Sometimes I want breakfast foods, like French toast and eggs, and sometimes I want salmon and veggies.
Or maybe I want a little of everything.
And dessert.
Luckily we've got some great Sunday brunch buffets in CT.
Some of the restaurants on this list are laid back and some of them offer more of a fine dining experience.
There's something on this list for everyone, though.
So, let's get right to it.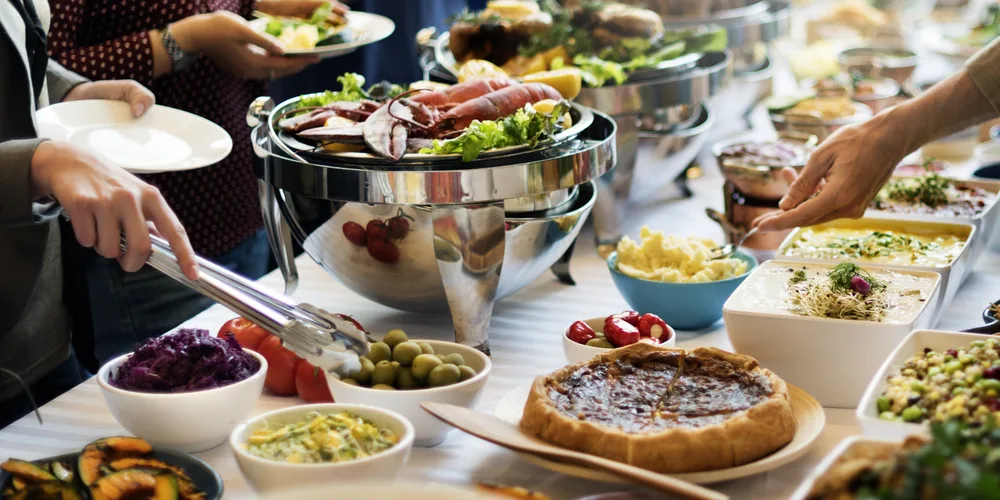 The 9 best Sunday brunch buffets in CT
If you're looking for a great Sunday brunch buffet in Fairfield, CT, you need to check out Hub and Spoke in Bridgeport.
Hub and Spoke has a really nice atmosphere, but it's not at all stuffy and pretentious.
You can choose between indoor and outdoor seating here, which is great for a sunny summer Sunday brunch.
This all-you-can-eat Sunday brunch buffet offers a carving station, raw bar, waffle station, and more.
This is a popular brunch restaurant, so you're going to want to make reservations ahead of time.
Address: 3001 Fairfield Avenue, Bridgeport, CT
Water's Edge in Westbrook is one of my personal favorite Sunday brunch buffets.
Here, you will enjoy made-to-order waffles, fruit, salmon, and other fine meats, eggs benedict, and so much more.
The selection of desserts here is amazing, as well.
One of my favorite things about the dining area here is that there is floor to ceiling windows that provide the absolute best views of the Long Island Sound.
You don't need to be a guest at the resort to enjoy the all-you-can-eat brunch here, but you do need to make a reservation.
Address: 1525 Boston Post Road, Westbrook CT 06498
If you're looking for a real treat, you need to check out the Sunday brunch buffet at The Library in Wallingford.
The atmosphere here is exquisite – you'll feel fancy, but comfortable while you enjoy some of the best brunch food you'll ever taste.
The Library has a chef-manned omelet station, a carving station, plenty of desserts, and an amazing selection of alcoholic and non-alcoholic brunch cocktails.
Address: 60 N. Main Street, Wallingford, CT 06492
If you're looking for an upscale, but comfortable Sunday brunch buffet, La Luna Ristorante in Branford is a great place to check out.
Come for some delicious Belgian waffles, omelets, shrimp cocktails, desserts, and much, much more.
A complimentary cocktail is included with your Sunday brunch, as well.
Address: 168 North Main Street, Branford, CT 06405
Ponza in Norwalk is a beloved Italian restaurant in the area that offers a really great brunch buffet on the weekends.
Here, you will find all your favorite brunch foods, as well as a wonderful selection of breads and pastries.
Made-to-order brunch is served on Saturdays, while the brunch buffet happens every Sunday.
The atmosphere here is friendly and casual and the food is delicious.
Address: 690 Connecticut Ave Norwalk CT, 06854
If you want a lovely Sunday brunch buffet with a waterfront view, Mill on the River in South Windsor is your place.
Enjoy some delicious brunch treats with a spectacular water view here.
Norwegian Salmon Hollandaise and Filet Mignon Benedict are just a couple of the amazing Sunday brunch buffet offerings at Mill on the River.
For the price of the brunch, you also get 2 brunch cocktails.
So, you can enjoy a mimosa or a screwdriver with your yummy food.
Address: 989 Ellington Road, South Windsor, CT
The Simsbury Inn is one of the most popular restaurants in CT for Sunday brunch.
Come for a complimentary Bloody Mary or Mimosa and enjoy an extremely relaxing and delicious Sunday brunch buffet.
The Simsbury Inn offers brunch items like peaches & cream cheese blintzes, baked brie with praline crunch, and bagels and lox.
Yum.
Address: 397 Hopmeadow Street, Simsbury, CT 06070
The Mohegan Sun has some of the best restaurants in CT and at Todd's English Tuscany, Sunday brunch is on the menu.
Come for eggs benedict, breakfast meats, salads, a carving station, an omelet station, and more.
Can't make it on Sunday?
That's no problem – Todd's English Tuscany offers this amazing brunch buffet on both Saturdays and Sundays.
Address: 1 Mohegan Sun Blvd., Uncasville, CT
The Avon Old Farms Hotel is one of the most charming hotels in the area.
They also have one of the best Sunday brunch buffets in the area, at its Seasons Hotel.
Luckily, you don't have to be a guest of the hotel to dine at the Seasons Restaurant.
This is one of the pricier brunch buffets on this list, but the food and presentation are simply amazing.
There's also a live pianist on site during Sunday brunch.
Address: 279 Avon Mountain Road, Avon, CT 06001
---
There you have it – 9 of the best restaurants for Sunday brunch buffets in CT.
Is your favorite spot on this list?
If not, leave a comment below and let us know about it.