Are you looking for some great restaurants with outdoor dining in CT? If so, you've come to the right place.
Connecticut has fairly beautiful springs and fairly mild summers, which makes about 50% of the year great for eating outside.
Also, Connecticut has a beautiful shoreline and plenty of green spaces and rivers that residents get to enjoy.
With all of this natural beauty around, it's no wonder that there are so many great places for outdoor dining in CT.
From waterfront restaurants to igloos to riverfront patios, there are some amazing and unique outdoor eating spaces in CT.
On this list, we've selected the 8 best outdoor dining spots.
So, let's get right to it.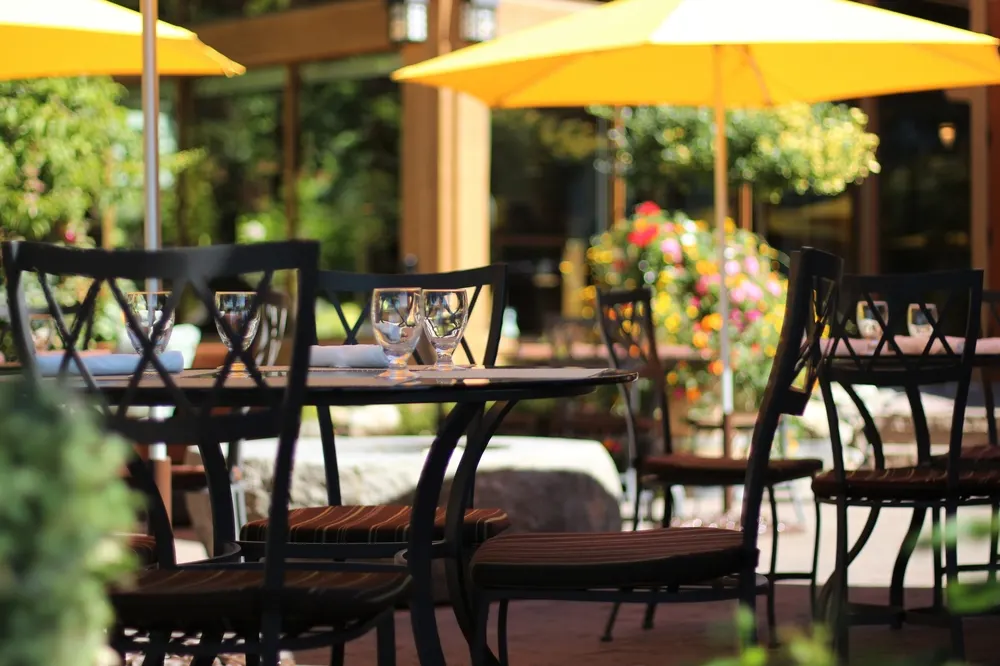 8 top restaurants with outdoor dining in CT
The White Horse Pub in New Preston is one of my personal favorite outdoor dining restaurants on this list.
If you ask any other Connecticut resident, a large percentage of them will likely share the same sentiment.
The White Horse Pub, in fact, has been consistently praised by CT's top magazines for its outstanding outdoor dining.
Tables are available overlooking a beautiful section of the East Aspetuck River, with its lovely little waterfall.
This restaurant boasts 4 patios and 2 fireplaces, which makes it a nice place for dining no matter the season.
Folks go on and on about the great atmosphere here, but the food – it's pretty damn good, too.
Address: Route 202, New Preston, CT
Wood-n-Tap is one of Connecticut's most popular restaurants, and its Farmington location stands out as the location with the best outdoor seating.
Located on the Farmington River, this restaurant has generous outdoor seating with stunning views.
They have a great selection of beer and they make some of the best-mixed drinks you'll ever have.
As far as food, they serve everything from Italian-inspired cuisine to tacos.
The view and the atmosphere are what people come from all over for, though.
They even have igloo seating during the colder months, which gives off a bit of a fine dining vibe.
Perfect for romantic date nights.
Address: 1593 Farmington Avenue, Farmington, CT
LaNotte Waterside Grille in Windsor is another impressive restaurant that offers outdoor dining.
LaNotte is situated on several acres and is one of the state's premier wedding reception venues.
The patio seating here has wonderful views of the water.
If you want great views of the outdoors without sitting outside, there is seating inside with simply stunning outdoor views, as well.
The menu here is upscale-Mediterranean, with a heavy emphasis on seafood.
Address: 1936 Blue Hills Ave. Ext., Windsor, CT 06095
Knapp's Landing in Stratford is a casual dining seafood restaurant with one of the prettiest views of the Long Island Sound.
Whether you order a lobster roll or some of their amazing ribs (really, they're good), you can enjoy your dinner outside in the ocean air.
Come around sunset if you want a real treat – the view from your table will be unforgettable.
Address: 520 Sniffens Lane, Stratford, CT 06615
Millwright's in Simsbury in Simsbury is hands-down the best restaurant for outdoor dining northwest of Hartford.
This amazing restaurant has indoor seating options with waterfall views, which will certainly have you feeling like you're sitting outside.
They also have outdoor seating that's fantastic.
If you have a party of u to 10, there's a Greenhouse available to you, and if it's just you and your special someone, the covered bridge has tables with beautiful views.
Milwright's is a whole experience.
The menu here is Mediterranean influenced.
Address: 77 West Street, Simsbury, CT
If you're looking for outdoor dining that lets you watch the boats come and go from the harbor, you've got to check out Harbor Lights in Norwalk.
This upscale-casual Mediterranean restaurant offers patio dining with picturesque views of the water.
They accept reservations for those coming by boat, as well, if you're looking to take a little lighthouse tour by boat before your outdoor dinner.
Address: 82 Seaview Ave., Norwalk, CT 06855
One of my personal favorite outdoor dining spots on this list is the Gelston House in East Haddam.
The open-air dining options here are great. You can get a table on the lawn or opt for one up on the patio.
I prefer the lawn because it's a great place to watch planes land and take off from the nearby Goodspeed Airport.
If you want a better view of the Connecticut River, though, I recommend eating up on the patio.
The menu is American with a slightly Mediterranean flare.
I go straight for the Short Rib Grilled Cheese every time I go, though – highly recommend it.
Address: 8 Main Street, East Haddam, CT 06423
Last, but certainly not least, on our list is Greenhouse Cafe in Burlington.
This place is all about open-air dining.
Come for fish n' chips, brick oven pizza, or tacos, all with locally-sourced ingredients.
The outdoor patio seating is super casual and relaxed and you'll enjoy views of the pond, greenhouses, and all the beautiful flowers they are growing.
It's also not unusual to have a duck or 2 waddle by your table.
We really love this place.
Address: 511 Spielman Hwy., Burlington, CT 06013
---
There you have it – the 8 restaurants with the best outdoor dining in CT.
If your favorite outdoor dining spot isn't on this list, it might be on our waterfront dining list.
If it didn't make either list, leave a comment below and let us know about it.
Where is it? What do you love about it?
We'd love to hear from you.