If you are in search of some great trampoline parks in CT, you are in luck. We've put a list of Connecticut's most awesome trampoline parks, just for you.
These are great places for birthday parties and other celebrations, as well as for rainy days when you need a fun indoor place to take your kids to burn off some energy.
Let's get right to it!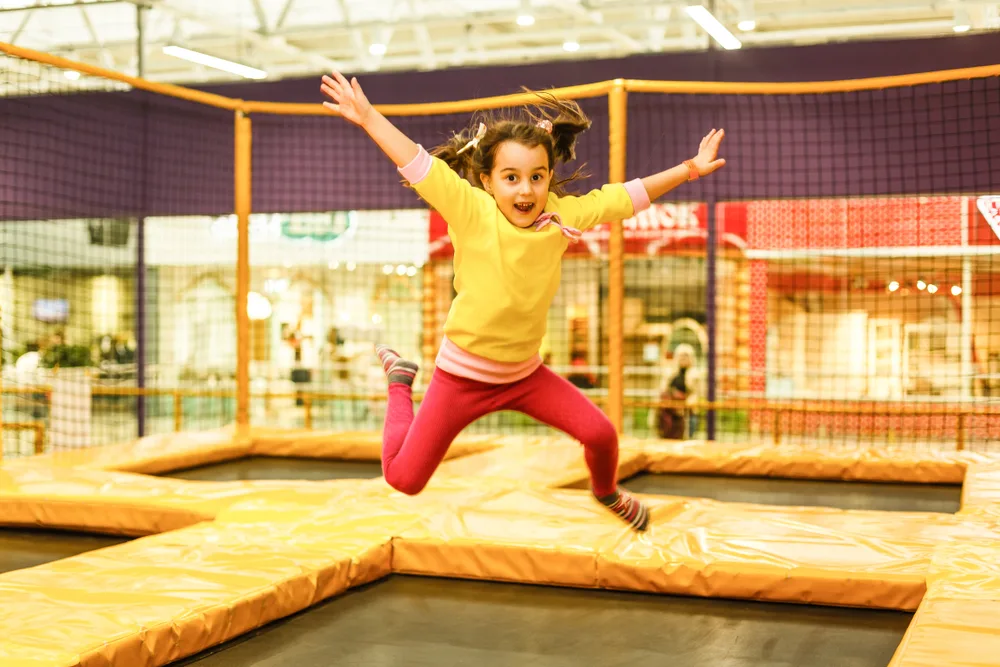 The 9 best trampoline parks in CT
Urban Air is one of Connecticut's ultimate indoor adventure spots. There are plenty of trampolines here for practicing jumps and flips.
One of the main attractions in the trampoline portion of Urban Air is the Drop Zone. It's an enormous inflatable bag that creates a safe place to land for kids when they want to practice some really cool air tricks.
In addition to its trampoline park, Urban Air has lots of other attractions to experience during your visit, like ropes courses, crock climbing walls, and laser tag.
Address: 220 Hale Rd, Manchester, CT 06042
Rockin' Jump is one of the best trampoline parks in Connecticut and offers a wide variety of fun activities for all ages.
This trampoline arena has an awesome space for kids to jump from surface to surface, including a really cool trampoline ramp.
Rockin' Jump even has a special area for kids 4 and under – a rarity in trampoline parks.
Other attractions include a ninja course, rock climbing, and a long, open balance beam that hovers over a giant air cushion.
Address: 25 Trefoil Dr, Trumbull, CT
Funz is a trampoline park that offers something for everyone. This family friendly park has just over 50,00 square feet of different activities to keep you and your kids entertained.
Whether you want to jump on their extensive collection trampolines, play some slam ball, or play in the arcade, Funz really has it all.
Funz also provides all your needs for kids birthday parties, inlcuding jump passes, pizza, and ice cream for your whole crew.
You've got to love a done-for-you birthday party!
Address: 1245 Dixwell Ave, Hamden, CT 06514
Trampolines are a fun way to get exercise and have some great indoor fun with your kids – and what's better exercise than 35,00 square feet of wall-to-wall trampolines?
Flight Adventure Park is one of the best trampoline parks in CT and offers lots of jumping fun, in addition to tons of other fun activities.
A neat thing about this trampoline park is that you can actually drop your teenager off for a few hours to let them burn off a little energy, as long as you pay and sign a waiver.
Address: 145 Spencer St, Manchester, CT 06040
Jumpz Trampoline Park in Danbury, CT is the best place for kids to jump and let off steam in the area.
They offer a wide variety of activities, including trampoline jumping, rock climbing, arcade games, and sliding.
A unique feature of Jumpz is their Adrenaline Airbag Obstacles – lots of fun!
Address: 21 Prindle Ln, Danbury, CT 06811
While Supercharged is not known for being a trampoline park (it's an indoor go-kart racing joint), there is plenty of jumping fun to be had here.
This place has an awesome wall-to-wall trampoline cage and lots of other fun activities. Here you can find axe throwing, as well as a really cool ninja wipe out course!
Address: 1 Sachatello Industrial Dr, Oakdale, CT 06370
Get Air trampoline park in Stamfor, Connecticut delivers on its promise – you will definite get some air here.
Their wall-to-wall trampoline room is absolutely massive and includes lots of bouncy obstacles and trampoline ramps.
Get Air also has lots of other activities like dodgeball, ninja courses, and a foam pit.
Address: 11 Riverbend Dr. S, Stamford, CT 06907
If you are looking for an extreme trampoline park experience, then this is the place for you.
Located in Cheshire, CT, this amazing facility has a massive wall-to-wall trampoline area with a mezzanine located above so parents can watch their kids have a blast.
The atmosphere is awesome here and there are a lot of activities for kids to participate in while they're not jumping, like a rock wall, battle beams, and arcade games.
Address: 540 West Johnson Ave. Cheshire, CT 06410
9. Fun City – New Britain
Fun City in New Britain is more than just a trampoline park, it's the ultimate place for indoor groos motor fun the Hartford area.
There's so much to do here, including jumping on trampolines, playing in foam pits, and climbing rock walls.
Our favorite thing about this Connecticut trampoline park is thier Lego Land area. It's a great place to stop off at to let your kids calm down at before you live the facility.
Address: 50 E Main St, New Britain, CT 06051
Have fun checking out some of these awesome trampoline parks in CT! These are great places for birthday parties or just to help your kids get the wiggles out!