Finding indoor activities for kids in Connecticut for kids to do is always a challenge. With varying interests and attention spans, it can be difficult to entertain them and keep them occupied.
Especially if you also want to give them innovative ways to learn new things, doing everything at home can get monotonous and boring.
Luckily, Connecticut has plenty of places open for kids of many ages to come and have fun! Whether your kid enjoys art, science, or sports, these indoor activities for kids in Connecticut have a lot to offer.
Since the fall season is coming up, unpredictable weather is coming right along with it. You want to have some options to change up daily routines when inclement weather strikes, and being cooped up at home will be no fun.
We hope our selection of 10 indoor activities for kids in Connecticut will spark some interest for you!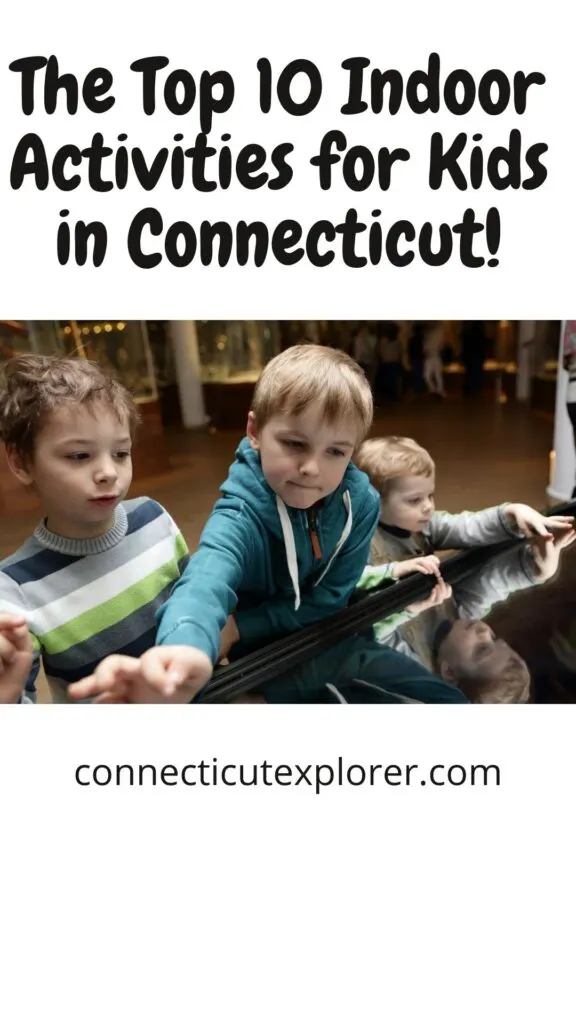 The top 10 indoor activities for kids in Connecticut
1. Enfield Public Library- Enfield, CT
Does your kid love books? Or perhaps you want them to do more reading, but can't seem to get them to enjoy it?
The Enfield Public Library has many weekly and daily events that keep kids in mind!
Their drop-in events throughout the month include a Lego Builders Club, and PJ Storytime, so that will definitely take the load off at home if you're trying to keep the kids entertained every day.
When there is good weather, there's an outdoor play area for when they need a break from reading or doing indoor activities.
If you are not local to the Enfield area, north-central Connecticut, in general, has many libraries that offer the same sort of activities: Windsor Public Library, Dimock Library in Coventry, and the Simsbury Public Library, and many more!
2. Connecticut Science Center- Hartford, CT
This place is definitely popular for the little science buffs! The Connecticut Science Center has day-long activities for the kids to explore.
They have water play, science discoveries, space travel, and engineering demos.
Because they're so kid-friendly, kids of all ages can find something that interests them and can even teach them some new science facts.
3. Kidcity- Middletown, CT
Kidcity is back open and by registration only. Their location is nestled in the heart of downtown Middletown, so you would never guess that so much fun is waiting on the inside of this building!
They have different areas dedicated to kids of different ages, like their babies and crawlers area.
Then, they have activities for older children like the train table, medieval castle, farm area, pirate ship, and more!
4. Lutz Children's Museum- Manchester, CT
If your kids have many interests, then the Lutz Children's Museum is a wonderful place for them to explore their interests while having lots of fun!
The museum is huge and has many different areas like animal exhibits and a play area with a house, farm, post office, and trolley.
Their drop-in classes can be included with the museum admission, so there's no hassle for you to move around the different museum areas.
Their website has a more detailed schedule so you can plan in advance!
5. Imagine Nation, A Museum Early Learning Center- Bristol, CT
This place takes the cake for encouraging kids to explore their interests and curiosities. The Imagine Nation Museum was inspired by the Reggio Emilia Approach.
If you are familiar with the educational philosophy, then you will be happy to know that the Imagine Nation Museum uses cooperative and progressive early childhood education methods.
Their exhibits display support for kids and their natural curiosities, and range from many different interests like arts, science, and space!
They also have the option for pre-school enrollment if you are interested in long-term commitments!
6. Crystal's Fun Spot- Enfield, CT
Calling all fun lovers! This place is for pure excitement and amusement. Crystal's Fun Spot has so many options for kids, and places to relax for the parents!
You can all come as a family to let loose and relax indoors.
There are tons of indoor games and activities to choose from, like mini-golf, arts or crafts, legos, and small toys, bounce houses, pool tables, playhouses, and more!
7. Suffield Gymnastics Academy- Suffield, CT
Think you have a future gold medalist on your hands? Then head over to the Suffield Gymnastics Academy!
No more jumping off furniture and into pillow forts, the Academy is open four days a week for children up to 6 years old.
They can work at their own pace, and try out the gym equipment in a supervised setting.
They have uneven bars, trampolines, balance beams, and the gymnastics floor!
The one-hour open play session is four days a week, otherwise, you're welcome to enroll in lessons and classes!
8. Timber Gyms- Newington, CT
This is the ultimate indoor playhouse! With so many apparatuses and playscapes, the Timber Gyms will keep your kids busy all day–if you want to spend that long here!
Their playhouses, kitchens, wooden boats, and castles give your kids every opportunity to test out their climbing and exploring skills, and maybe even play a game of hide and seek!
They allow unlimited play while they're open, so with low admission costs, this is definitely a good place to come back to!
9. Maritime Aquarium- Norwalk, CT
When the dreary fall weather hits, this is the perfect place to escape.
Especially if your kids love sea creatures and fish, the Maritime Aquarium has tons of cool and beautiful tanks with striking sea animals.
They have a seal exhibit, and an underwater tank with different fish and sharks, even meerkats!
Their daily shows are nice because you can pop in and watch them while the kids explore, or go as a family to their IMAX theater!
10. Ron-A-Roll – Vernon, CT
This place is like a blast from the past! The Ron-A-Roll roller skating rink is a local place that's been around for years, and still satisfies all its visitors!
They have Tiny Tot Skate sessions for the littler kids, and open skate time every day for older kids and adults.
They have 2-hour rentals, so you don't have to bring your own skates, and have other activities like a bounce house and toy area!
Don't know how to skate? That's fine, they offer lessons too!
---
There you go! We hope you've got some ideas in mind and are excited to check some of these places out!
Indoor activities in Connecticut are almost as fun as all the outdoor festivities you've gotten used to.
Your kids will be so glad you took them to any of these places, and will definitely be begging to come back soon!