If you're interested in some high-intensity fun, Connecticut has it. Here, you'll find out the 9 best places for laser tag in CT!
All of the laser tag spots on this list offer something unique and are great for birthday parties or for if you're just looking to have a bit of fun with your family and friends.
Some of these laser tag places are geared toward kids, while others are a bit more intense and are better suited for teenagers and adults.
All of these places, though, are super fun and promise a great time. So, let's get to it!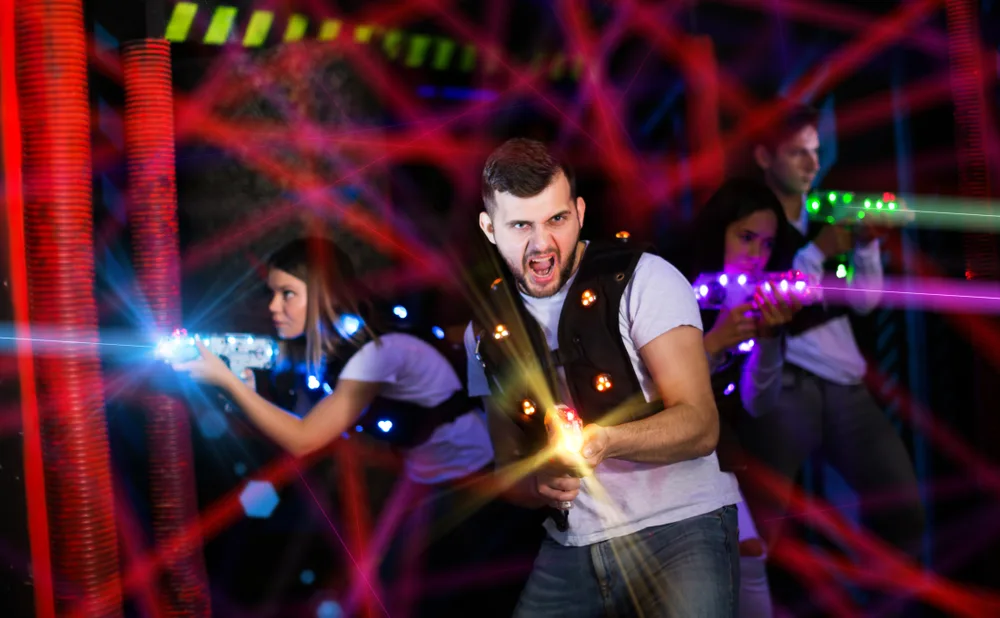 The 9 best places for laser tag in CT
Blast in Waterford, CT is one of the most popular places for laser tag birthday parties for kids.
The party packages here are reasonbly-price for what you get and kids always walk away happy with the experience.
Blast also has ninja warrior courses, a bouncy house, arcade games, and a massive indoor bouncy slide.
Though this Connecticut laser tag spot is geared toward kids, adults are welcome to play, too!
6 Fargo Rd, Waterford, CT 06385
Laser Planet Plus in Waterbury, CT is a unique spot on this list because laser tag is not an additional feature – it's the main event here!
Laser Planet Plus is the largest laser tag arena in the New England and it's one of the most popular spots in Connecticut for laser tag birthday parties.
Prices here are fair for what you get and there are plenty of other fun arcade attractions to enjoy!
2457 E Main St, Waterbury, CT 06705
If you are looking for a Dave N' Busters style place, complete with bowling, food, and laser tage, Spare Time has you covered.
Spare Time has 3 locations in Connecticut and each one has a state-of-the-art laser tag arena!
177 Farmington Ave, Bristol, CT 06010
129 Ella Grasso Turnpike, Windsor Locks, CT 06096
350 Talcottville Road, Vernon, CT 06066
The Sports Center of Connecticut has you covered for your sports-related thrills.
The laser tag arena here is Star Force-themed, can accomidate up to 28 players, and is handicap accessible.
The Sports Center's laser tag center is fairly affordable and is the perfect place for birthday parties!
784 River Rd, Shelton, CT 06484
The Cave in Bethel, CT is absolutely amazing – it's the ultimate place for the ultimate arcade experience.
In the massive 3,000 sqft. laser tag arena, you can have up to 24 players and play over 30 different games.
The arena consists of 2 levels and has blacklights, fog, and music to fuel your exciting laser tag experience!
13 Stony Hill Road, Bethel, CT 06801
Sonny's Place in Somers, CT is a great spot to get geared up for some laser tag fun.
The laser tag course has 2 levels and multiple game options. If you don't want to play a specific game, you can just choose the free-for-all option and have a blast doing whatever you feel like!
349 Main St, Somers, CT 06071
Xtreme Play in Danbury has one of the coolest laser tag courses in CT. The gear at Xtreme Play is ergonomic and the laser guns are safe for folks of all ages.
The prices are great at Xtreme Play compared to some of the other places for laser tag in CT and you can put up to 10 people on each team, which is great if you're organizing a big party.
38 Mill Plain Rd, Danbury, CT 06811
The 2 Urban Air indoor adventure parks are some of Connecticut's most amazing Dave-N-Buster-type spots.
With locations in both Manchester and Orange, CT, Urban Air parks have awesome laser tag courses, complete with super dim lighting and smoke machines.
Urban Air parks are great for kids' birthday parties, sweet 16's, and team-building activities for companies. You can even rent the space out for large private events!
220 Hale Road, Manchester, Connecticut 06042
260 Bull Hill Ln Orange, CT 06477
Is your favorite place for laser tag in CT on this list? If not, drop us a line and let us know!
We love excuses to get out and have fun checking out different places!