If you are looking for some fun beaches in Groton, CT, you've come to the right place.
Groton beaches are in our neck of the woods and we know them well – very well.
In this article, we're going to go over a bit about what you can expect at Groton's 3 awesome public beaches.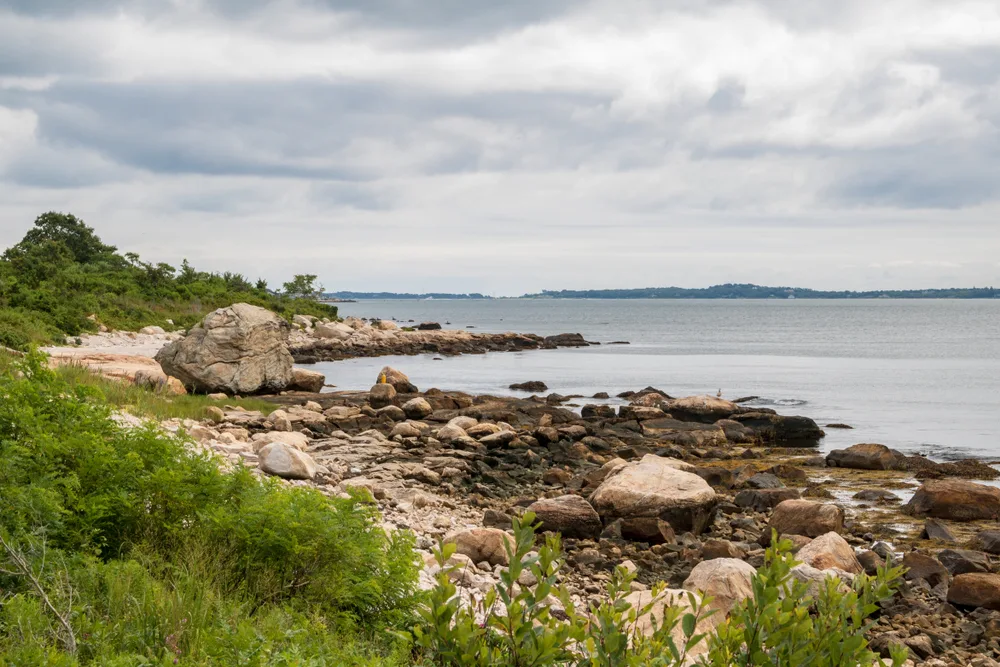 3 great beaches in Groton, CT
Groton is a military town, due to the presence of the submarine base.
The people of Groton take their fun as seriously as they take their patriotism, though – and a trip to the beach is one of the best things to do in Groton.
Esker Point Beach is a small beach located off Groton Long Hill Road, along Esker Bay.
This is a small beach, with free parking year-round.
Esker Point Beach has a shaded, grassy picnic area with grills, which is surrounded by a small walking trail.
There are bathrooms, changing areas, and outdoor showers at this beach, as well.
The beach itself has smooth water and lots of seaweed and pebbles along the shore.
There is no lifeguard at this Groton beach, however, it's a great swimming beach for kids, due to the calmness of the water.
Eastern Point Beach is a popular family beach located at the peninsula end of Beach Pond Road.
What makes Eastern Point Beach great for families is the presence of playscapes and family sports features, like the volleyball court.
The water at this Groton beach is similar to that of the previous beach on this list – generally very calm and smooth and great for children.
During the summer months, there is usually a lifeguard on duty here, as well.
This is a public beach, but it's not free. For locals, though, season passes are priced very reasonably compared to many other nearby Connecticut beaches.
Bluff Point State Park Beach
The beach at Bluff Point State Park is absolutely amazing – it's the most beautiful beach in Groton, CT, hands down.
Bluff Point State Park Beach allows shoreline fishing year-round.
In addition to fishing, Bluff Point Park has plenty of hiking, picnicking, and swimming available for its visitors.
The park is a nature preserve, so you will find plenty of rocky shorelines here, filled with interesting birds and other shoreline wildlife.
The portion of the beach that is sandy and optimal for swimming is down a mile-long trail.
I highly suggest bringing a wagon for your belongings if you are planning of visiting this Groton Beach.
The road leading to the park and beach is really bumpy and there are potholes, which is a sore spot for some visitors.
If you can get past the unkept road and the trek to the beach you should really enjoy this park.
Bluff Point and its beach are free year-round – no pass needed.
---
If you drive down Groton Long Hill Road and some of the other shoreline roads in Groton, you'll see people enjoying several other small beaches that didn't make this list.
There are many small, private beaches in Groton that are reserved for select homeowners or members of certain communities.
Can you surf at the beaches in Groton, CT?
Due to the location of Groton's beaches on the Long Island Sound, the waves aren't generally considered large enough for surfing, even when the Sound is at its roughest.
Eastern Point Beach and the beach at Bluff Point State Park are sometimes wavy enough for boogie boarding, however.
Esker Point Beach does not have waves at all, due to the fact that it's in a bay.