There is nothing like going out to the lake for a day to fish and relax in the sun. It's a favorite outdoor activity for people in Connecticut!
Most of the time, you have to travel pretty far to find a good lake with plenty of fish, modern amenities, and that is easily accessible.
Luckily for us, there are quite a few fishing lakes in CT that are well equipped and there whenever you want to take that day trip or make a weekend trip out of fishing.
You can be new to fishing, or a seasoned pro. It won't matter here in Connecticut, because these 10 best fishing lakes in CT have a range of resources and amenities for you and your family, or group of friends, to enjoy a day of fishing!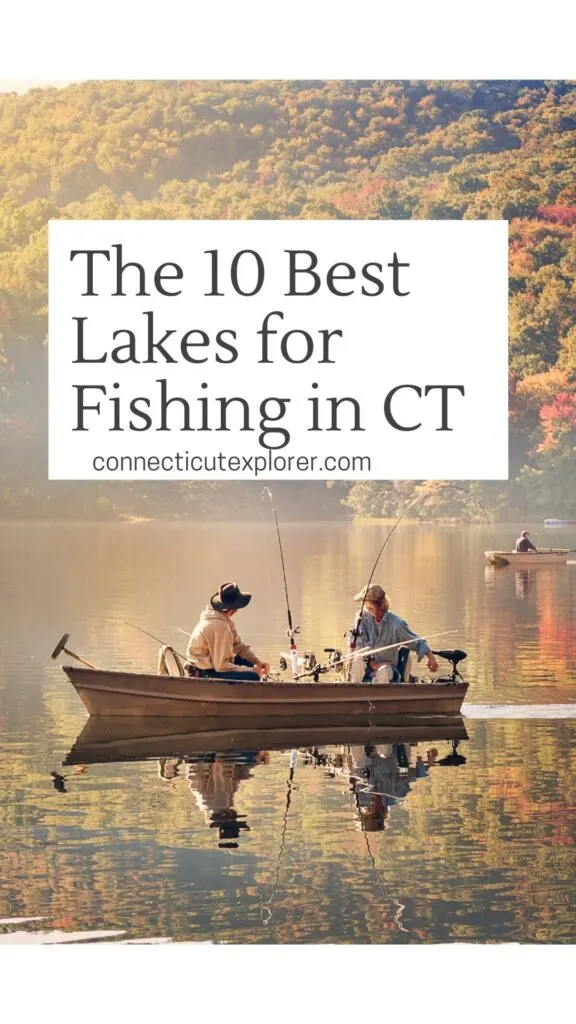 10 best fishing lakes in CT
1. Farmington River- Northwest, Connecticut
The Farmington River flows between northwest Connecticut and southwest Massachusetts so it is an excellent location that makes fishing, boating, and exploring so much easier–and beautiful too!
It flows between a wooded area, so you will get the right amount of sun. With over 81 miles of land and 609 square miles of River, you will have plenty of fish to catch!
Large and smallmouth bass, common carp, northern pike, brook, rainbow, and brown trout, and American Eel can be found in the river if you get lucky!
The Farmington River is maintained by the Farmington River Watershed Association, which is a non-profit organization that preserves and conserves the Farmington River and its surroundings.
The Farmington River offers solidarity and comfort no matter how long you stay!
2. Crescent Lake- Shuttle Meadow Road, Connecticut
For the traditional day of fishing in a beautiful location, you'll definitely want to check out Crescent Lake. They not only have great fish but a beautifully kept outdoors and nature-filled experience.
Right off Shuttle Meadow Road, Crescent Lake is expansive and covers more than 56 acres of land.
The land itself is in the shape of a crescent, hence the name! You might expect some small and largemouth bass, threshers, amberjack, calico bass, and catfish.
There is so much area to cover, so if you have a boat that's even better. But, there are land trails too if you need to get off the water and stretch your legs.
There is a boating and fishing license required, so you know Crescent Lake will be worth the visit!
3. Connecticut River- Central Connecticut
The Connecticut River is massive, spanning over 11,000 square miles and flowing into the Canadian province and through 5 U.S. States!
The Connecticut River produces over 70% of Long Island's freshwater, so you can already guess that you will be kept busy if you visit the Connecticut River for fishing.
It is a truly beautiful sight, and whether you are in Connecticut, New Hampshire, or western Massachusetts, you can partake in all it has to offer.
Your fishing hook might catch some American eel, bluegill, sunfish, northern pike, or common carp, and more! It is by far the largest river in Connecticut, and one of the best fishing locations in Connecticut, of course.
The incredible scenery and organic landscapes make the Connecticut River a national landmark.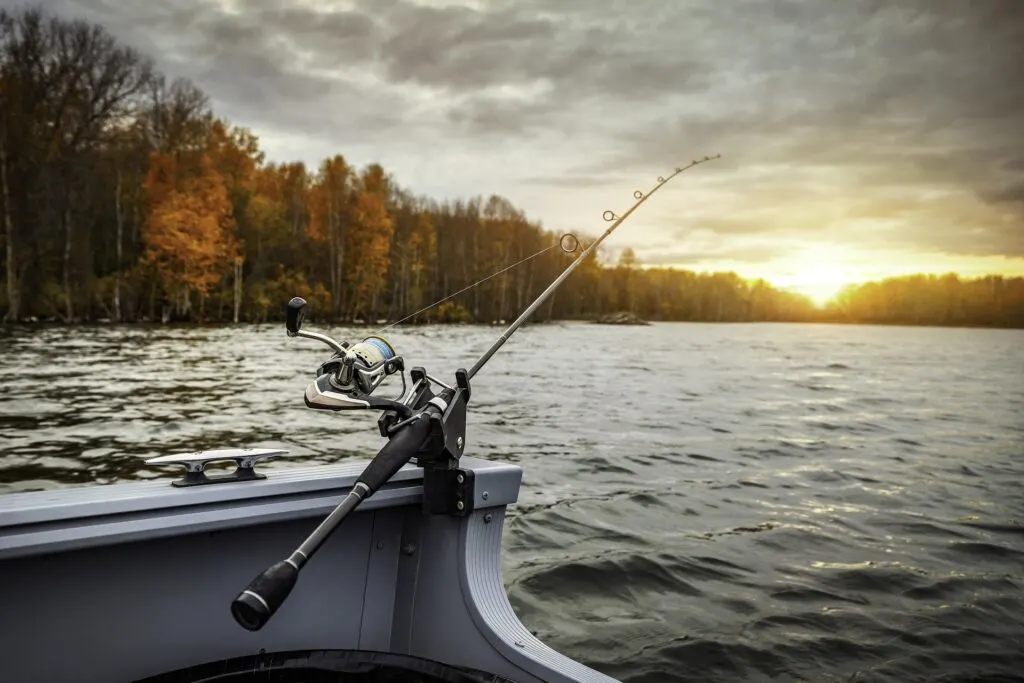 4. Candlewood Lake- Litchfield County, Connecticut
Did you know Candlewood Lake is actually a man-made body of water? The Army Corporation of Engineers came together with a local power company in the 1920s era to design this location for producing hydroelectric energy, and they were successful!
It's amazing that you can still fish in this area. The Candlewood Lake is over 8 square miles, touching Litchfield County and meeting the Appalachian Mountains of western Connecticut.
If you are near New Milford, Sherman, Danbury, New Fairfield, or Brookfield, then you are certainly close enough for a visit!
In this massive lake, you might catch some calico bass, brown bullhead, chain pickerel, or sunfish!
Once named one of the 10 most beautiful lakes in the world, Candlewood Lake is perfect for Connecticut natives who love fishing!
5. Quinnipiac River- Connecticut
The Quinnipiac River is perfect for seasoned fishers, those who love the outdoors, and everyone who loves a good day enjoying nature!
It is very historical because it was formed 21,000 years ago at the end of the ice age, so it's an ecological treasure. With over 40 miles to explore, you might catch some northern pike, rainbow and brown trout, chain pickerel, and American eel.
But, if you aren't all about fishing, you can still have fun at the Quinnipiac River, since there is bird watching, hiking, and paddling to do!
The River is maintained, and has been restored after some pollution, so the non-profit organizations supporting the River have kept it one of the 10 best lakes for fishing in Connecticut!
6. Bantam Lake- Morris and Litchfield, Connecticut
This large lake is actually the widest natural lake that's in Connecticut. With many species in the lake and lots of birds around the area, the Lake is definitely a serene nature escape that you won't want to miss.
There are even campgrounds and places for water sports, so this could easily be your next weekend trip destination. Once you catch some brown bullhead, sunfish, or white and yellow perch, take a break at the Bantam Ski Club nearby and the Sandy Beach!
The Lake also ices up in the winter, so it's beautiful year-round!
7. Ball Pond- New Fairfield, Connecticut
Ball Pond is the culmination of many button springs and surface runoff, it's nestled within a residential area, and the pond goes as deep as 51 feet.
Even though it is not as deep as other lakes, you still have a great chance of catching some yellow perch, brown bullhead, and largemouth and smallmouth bass.
You can find different fish no matter what time of the year it is, and in the summers, the bass is onshore while the trout go offshore.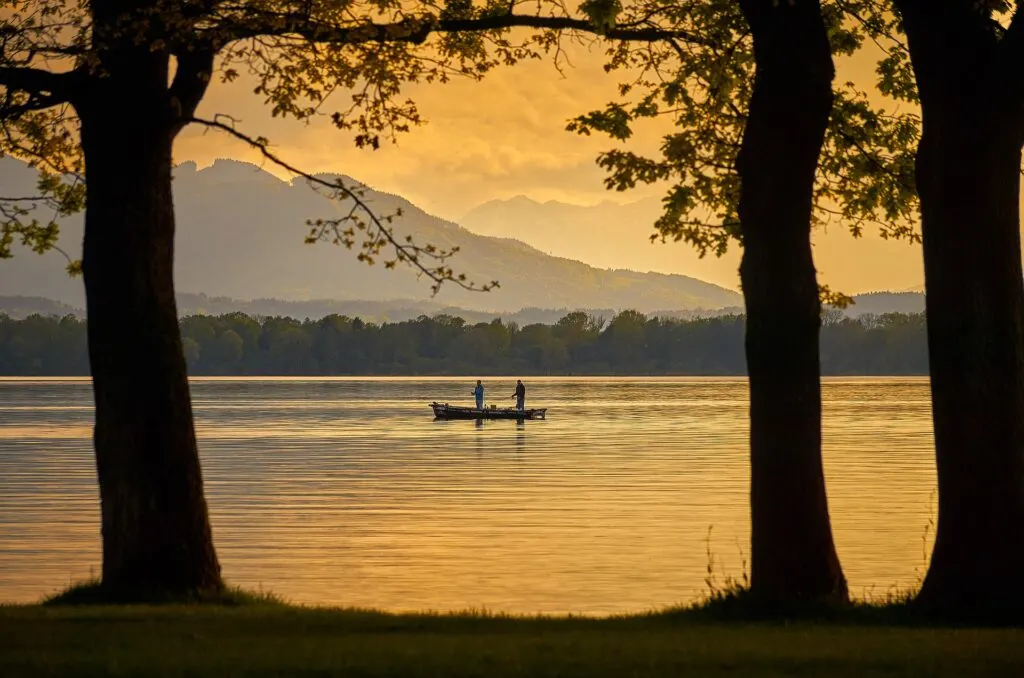 8. Burr Pond- Torrington, Connecticut
Burr Pond is tucked nicely into a recreational area by the Paugnut State Forest.
The pond is man-made, so people can swim, fish, and go boating. No matter what you came to do, the pond has lots of sunfish, largemouth and rock bass, bluegill, and pumpkinseed waiting to be caught!
The most common types of fish are the largemouth bass and pickerel and perch. They don't get that big, but the experience of fishing in a beautiful location is enough!
9. Lake Saltonstall- New Haven, Connecticut
Surround yourself with beautiful mountains and lush forests at the wonderful Lake Saltonstall.
The lake is regulated by the local water company, so they have rentals available to you instead of using a private boat.
Fishing is available from 41 feet to 113 feet deep, and you can almost guarantee you will catch some black crappie, white and yellow perch, brown, brook, or rainbow trout, and sunfish or walleye.
This is a trophy bass management lake, well known for its bass fishing.
*You will need a recreational permit from the RWA to fish here.
10. Bashan Lake- Middlesex, Connecticut
With a whopping 272 acres, Bashan Lake boasts lots of fishing fun and space for you to explore great Connecticut outdoors.
Public fishing is allowed, but only 2 bass over 16 inches are permitted to catch, while there is a 6 catch limit per day.
Nonetheless, from April to February, you are more than welcome to come to check out their array of fish to catch and bask in the high sun and crisp waters!
---
We hope that covers what you're looking for! Fishing in Connecticut is certainly a fun and enjoyable experience for the whole family, your group of friends, or your peaceful time alone.
The top 10 best fishing lakes in CT are all so different, and worthy of exploring!