Connecticut's beaches are located along the Long Island Sound. There are several coastal Connecticut cities with amazing beaches, but none are quite as popular as those in New London, CT.
New England's beaches are a bit different than some other coastal vacation spots in the U.S. with their rocky shorelines, lighthouses, and nearby lobster roll shacks.
New London, being the historical whaling city that it is, captures the New England vibe perfectly with its history and charm.
One of the favorite summer pastimes of residents and visitors of this beautiful city is a trip to New London's amazing beaches.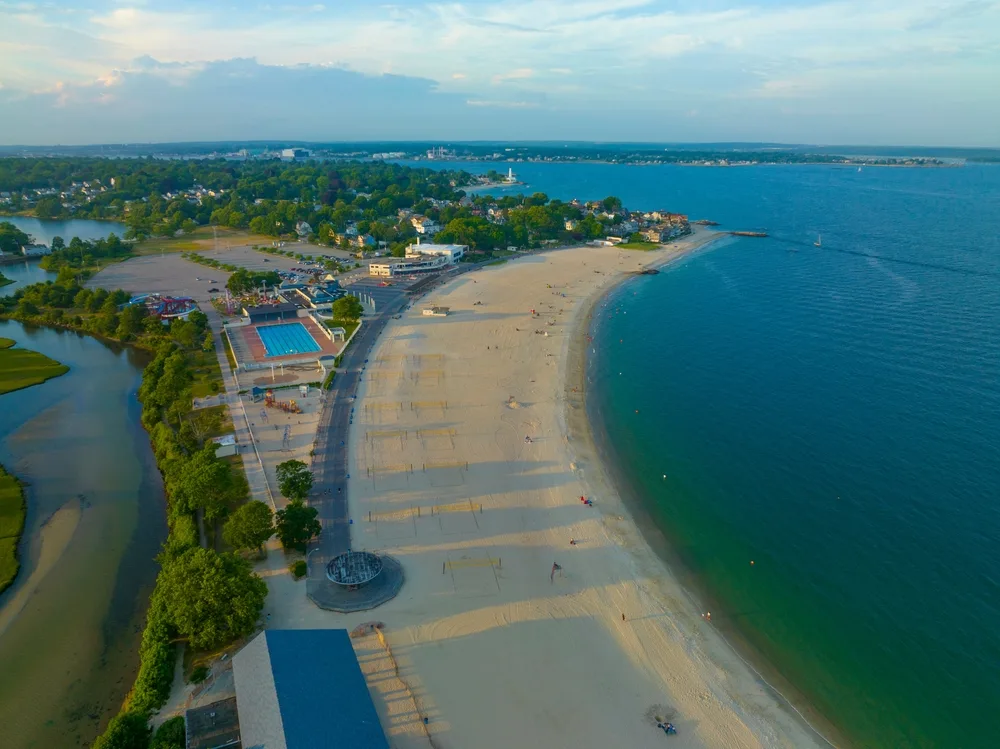 Are there beaches in New London, CT?
New London, CT is located along the Long Island Sound, making it a coastal Connecticut city.
Along with ports, ferries, lighthouses, and beautiful rocky shorelines, New London has some amazing beaches.
Located also along the Thames River, New London has a very nice river beach, as well.
What beaches are in New London, CT?
Ocean Beach is one of the best beaches in Connecticut, and New London residents are happy to call it their own.
Ocean Beach isn't simply a stretch of soft sand, though – it's an amusement park, water park, and beach all rolled into one.
Here, you'll find amusement park rides, waterslides, a humongous pool, walking trails, a snack bar, and so much more.
The beach, though, is the main attraction, and the waterpark and many of the other extras are not included in the price of admission.
The beach has soft sand and multiple lifeguards on duty. It also has a really nice boardwalk for visitors to enjoy.
A word of advice for those looking to enjoy this New London Beach without the large crowds – go early in the day during the peak summer months.
Ocean Beach tends to get very crowded starting at around 11:30 or noon all summer long.
Ocean Beach is not free, and it can get a little pricey depending on the size of your crew, but season passes are very reasonable.
In fact, if you plan on more than one or 2 trips to this New London beach, I recommend crunching the numbers to see if a season's pass could save you money.
Guthrie Beach in New London is a beautiful stretch of beach located along the gorgeous Pequot Avenue.
It is privately owned and operated, but all hope is not lost if you would like to enjoy this beach.
The owners of Guthrie Beach accept applications from acquaintances of Guthrie Beach shareholders.
There is a pretty hefty yearly membership fee, as well. If you live in New London and know members of the beach, it might be worth looking into, though.
Guthrie Beach has many rules against loud music and horseplaying that other New London beaches don't, making it a quiet and relaxing summer hangout.
Greens Harbor Beach in New London, CT is a beautiful stretch of sandy shoreline located at Pequot Avenue and Converse Place, along the Thames River.
Greens Harbor Beach has free parking and no fee for entry, which is really nice.
During the peak season, there is a lifeguard on duty. The water at Greens Harbor provides a safer beach experience for young children, as there are generally no waves.
---
There you have it – New London, CT's best beaches!
Across the Thames River, just a few minutes away, you have your choice of Groton's awesome beaches, as well.
Niantic has some beautiful beaches that are just a hop, skip, and jump away, too.