The great Nutmeg State of Connecticut is right along the coast of the Long Island Sound. This means there are so many beaches strung all through Connecticut that have calm waves, sparkling waters, and sandy shores.
Even without the big waves, swimmers can ride the small tides and water activities are in abundance.
Lots of Connecticut's beaches are within the State system, so there are other attractions and events nearby for you to make your trip to the beach like a little vacation.
Tourists from all around love to visit the best beaches in Connecticut because they each offer something unique and relaxing to do.
With lower admission fees, parking on-site, and stuff like gift shops and surfside rentals, the best beaches in Connecticut are beautiful, and have plenty of room for you and your family!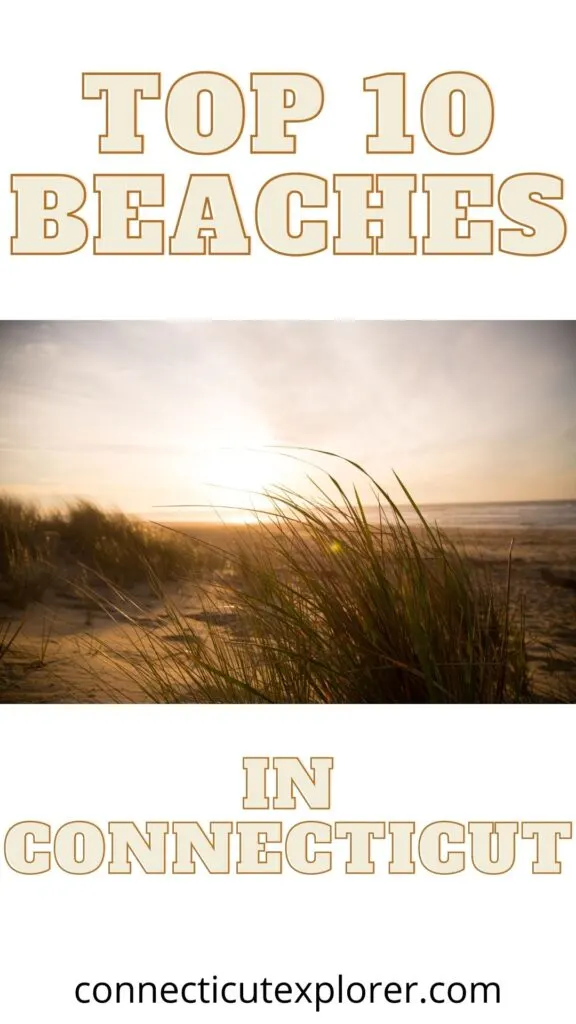 The 10 best beaches in Connecticut
1. Ocean Beach Park – New London, Connecticut
The Ocean Beach Park in Connecticut is a great family destination. The shoreline is a half-mile long and covered with soft sand worth sinking your toes into.
Even if you don't like the salty beach water, the Ocean Beach Park features an Olympic-size swimming pool with a changing area, and lockers on-site so you don't have to worry about anything!
The parking is available on site, and there are modern facilities. With nature trails, a spray park, and a kiddie playground, Ocean Beach Park is a one-stop shop for all things family fun.
If you want to go beyond the beach scene, there is an 18 hole mini golf area and triple waterslide available, and an arcade game area for the kids.
Sometimes, there is live entertainment at the Boardwalk Stage where weekly events and things like magic shows occur.
2. Hammonasset Beach State Park- Madison, Massachusetts
This is the largest beach in the state, and along with it comes a huge boardwalk along the entire 2 mile stretch of the beach.
There is a concession stand on-site, and tables with shelter for picnicking or resting. The beach is also dog friendly and even allows dogs in the shaded picnic area.
You can kayak here, take part in weekly programs like the Hammonasset Safari, Nature Scene Investigators, and canoe trips.
Hammonasset Beach State Park has daily activities as well like nature walks, ocean bird topics, and a presentation of the natural habitat of the area, which includes the native turtles.
Kids are welcome to play in the center's touch tank. With over 500 campsites at the state park close by, the Hammonasset Beach State Park is a stellar destination for family beach fun.
3. Calf Pasture Beach- Norwalk, Connecticut
The Calf Pasture Beach is nearly a mile long and sits right on the coastline. With a range of activities and special events, the beach is a great destination for the perfect beach day.
The parking fee is lower after 5 pm, so you can play a game of volleyball under the setting sun or set out on the hiking trail.
The sailing school is a cool perk that offers boating safety classes and lets you rent kayaks or sailboats.
The park amenities include concessions and the Calfe Mu, where you can get ice cream and ice-cold drinks!
In the summer months, Calf Pasture Beach holds special events like car shows, and live music!
4. Compo Beach- Westport, Connecticut
The 29-acre park on the Long Island Sound facing the Saugatuck River contains Compo Beach. Lifeguards are on site, and there are bathrooms and lockers that you can use to rinse off before you get back in the car!
The boardwalk and pavilion on the beach is a popular attraction at Compo Beach, as well as the beach volleyball courts and softball field.
Younger kids can play at the playground while the older kids can enjoy the open skate areas and the skate park.
5. Harvey's Beach- Old Saybrook, Connecticut
Harvey's Beach is 100 yards of gorgeous shoreline located in the historic town of Old Saybrook.
The soft sand and slight decline make swimming safe for young swimmers. The parking fees are much lower here, so it is very convenient and budget-friendly.
The lifeguards on-site make it super safe for the little ones, and with modern amenities like a bathhouse and foot-rinsing station, you don't have to worry about tracking sand back in the car.
There is a local recreation company that puts on some events during the summer, like sandbar walks, beach yoga, summer movie nights, and an antique sale!
With the town of Old Saybrook being so historic and interesting, a trip to Harvey's Beach fits right in!
6. Jennings Beach- Fairfield, Connecticut
Jennings Beach is easily accessible, has lower parking fees, and lifeguards on duty. The staff is also trained and offers swimming lessons.
The South Benson Boat Marina is nearby, so Jennings Beach is conveniently located near lots of fun activities. You can enjoy the view on the walk to the jetty, and it is wheelchair accessible.
The pavilion hosts special events in the summer months like movie nights and family dance nights.
The Sand Castle Playground is perfect for kids and right near the beach.
7. Sherwood Island State Park- Westport, Connecticut
Sherwood Island State Park is very unique since it has 3-color sand. The red and black sand colors mix with the traditional creamy tan to make for a magnificent view.
The park is over 200 acres and has some nearby woodlands and wetland areas near the sandy shores. Other recreational activities like kite-flying, birdwatching, and volleyball are available.
Since Sherwood Island State Park is a nature center, there are educational lectures and live animal shows that the whole family can enjoy.
8. Silver Sands State Park- Milford, Connecticut
Silver Sands State Park is a unique destination that's super popular amongst nature lovers and treasure hunters.
Charles Island is accessible from here, and it is also known as the 'thrice-cursed island', so if you're into history and a bit of lore, you will find Silver Sands to be an intriguing destination.
The island is also a nesting ground for birds, so the setting is beautiful, with the long boardwalk over the beach, Silver Sands is the ideal beach environment!
9. West Beach at Rocky Neck State Park- Niantic, New York
The beach area of Rocky Neck State Park is surrounded by soft sand and a boardwalk across the beach.
There are facilities on-site and a concession area with a bathhouse and bike rack. The park is over 700 acres and features hiking trails, fishing spots, and camping areas.
The marshlands and natural wildlife at West Beach are sure to give you a memorable beach visit.
10. Clinton Town Beach- Clinton, Connecticut
The Clinton Town Beach is family-friendly, with a fenced playground and activities for all ages.
The recreational facilities are suitable for the whole family, including the bocce court and splash pad. Around Labor Day, the beach is at its highest tide and you can use the lower tides for swimming or sand bars.
The facilities are updated, and there are covered picnic areas where you can take a rest and have a nice picnic.
Connecticut is home to multiple beaches, all offering tons of family fun and picturesque settings that will last a lifetime in your photos.
Once you visit, you will be even more excited about your next trip back!