Are you looking for a quick getaway? If you are a Connecticut resident, then you will be happy to know that there are so many bed and breakfasts in CT ready and waiting to offer you the perfect weekend getaway.
Whether you want coastal, country, or a mix of both, there are so many bed and breakfasts offering relaxation and beautiful scenery.
We found the top 10 bed and breakfasts in CT to help narrow your search.
Some are small and intimate, others have room for multiple guests, but all of them are welcoming and have a piece of that Connecticut charm you are looking for.
A stay at one of the bed and breakfasts in CT is the perfect chance to go out exploring and come back to a more home-like setting than a hotel can offer.
If you like pampering, some of them have spas and jacuzzis, but if you like the cozy vibe, then some have the old-time furniture and pieces of history.
It's the perfect time to spend a weekend away, grab dinner from a local restaurant, then come relax at the bed and breakfast that will feel like home!
Let's get to it – here are the 10 most luxuriously relaxing bed and breakfasts in CT.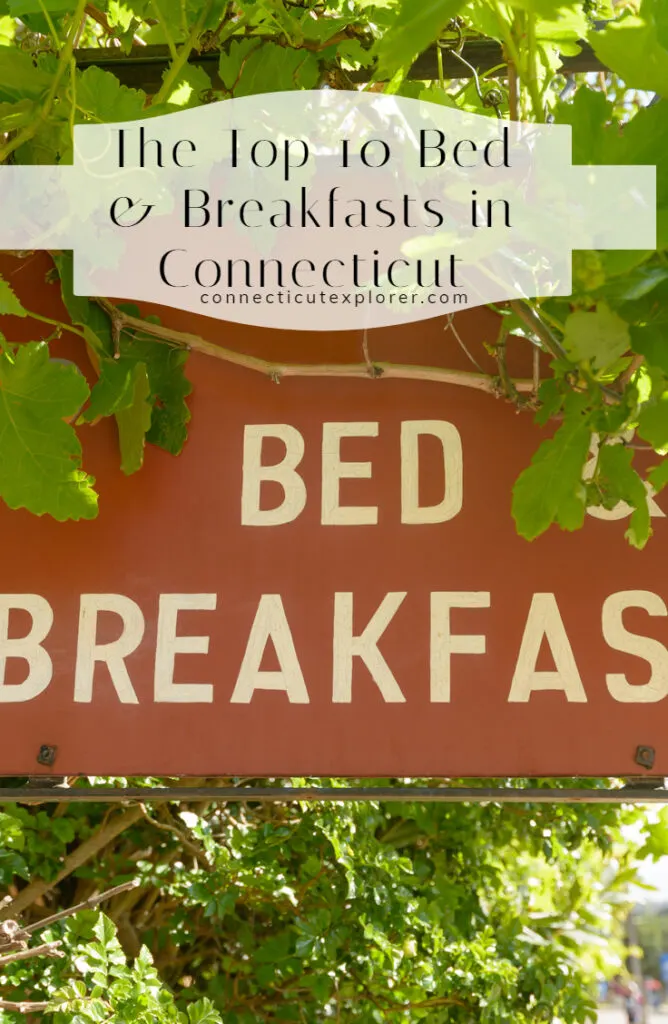 The top 10 bed and breakfasts in CT
1. Steamboat Inn- Mystic, Connecticut
It's no surprise that Mystic has a bed and breakfast worthy of this list. The small town of Mystic, Connecticut is basically all on the waterfront, so the Steamboat Inn is in a prime location on the water.
They have 11 rooms, all have views of the water, and have antique touches too.
Their wood-burning fireplaces and whirlpool tubs give you some luxury, and a bit of history too.
While each room is unique, you can choose to be dockside or have floor-to-ceiling windows.
Their inn is also great for checking out the maritime town's awesome restaurants and shops.
Steamboat Inn makes it easy for their guest to book a ride on the masted schooner, which sails right off the Steamboat Wharf.
The Steamboat Inn is the perfect waterfront getaway!
2. The Whaler's Inn- Mystic, Connecticut
Another Mystic favorite is the Whaler's Inn. Get your fill of hospitality and relaxation at the Whaler's Inn!
The rooms are individually designed, and the Inn serves fresh New England-inspired foods, so if you are coming from out of state, it's the perfect way to try some things native to the area.
You can choose a room with a view of downtown Mystic or the junior suites that have bunk beds, so it's family-friendly! And modern, with Roku-equipped TVs!
The Mystic Seaport Museum and Alice in the Village are nearby, so you have plenty to do nearby and don't have to travel far to fill up your weekend getaway!
3. Stanton House Inn- Greenwich, Connecticut
If you want luxury and tranquility, then you need to head over to the Stanton House Inn. Greenwich is a lovely small town in Connecticut and well worth the visit.
The Stanton House Inn offers you a place to lay your head and relax after the trip down and has great history since it dates back to the mid-19th century.
They have 20 different rooms, so it may not always be booked full. The inn is well-maintained, offers complimentary breakfast every morning, and even has a tea room!
With an outdoor pool and patio, you can get all the best parts of a weekend trip at the Stanton House Inn!
4. Inn at Harbor Hill Marina- Niantic, Connecticut
The Inn at Harbor Hill Marina is the perfect place to stop after a getaway to the lake.
The Inn has 16 remodeled and well-kept rooms for you to stay in right along the Long Island Sound.
Their suites have views of the water, private balconies, fireplaces, and big soaking tubs.
Their breakfast is homemade and served on the porch, with wine and cheese offered at night.
It's nearby the village, where you can take a stroll to enjoy the nice shops, restaurants, and views of the coast!
5. The Spa at Norwich Inn- Norwich, Connecticut
This inviting inn offers day spa services and fine dining. The Spa at Norwich Inn has regular guest suites, and a villa if it's a special occasion.
They have hot stone or Swedish massages, and oatmeal cookie manicures! This is definitely a weekend trip destination for some relaxation and pampering.
Their indoor pool and hot tub make it easy to enjoy swimming year-round or take some time to sit and dine at the restaurant, Kensington's, whose menu is a mix of international and American food.
The Spa at Norwich Inn is the perfect location for traveling and exploring!
6. The Griswold Inn- Essex, Connecticut
The Griswold Inn boasts a mix of hospitality and history, making it a destination seaport inn.
Their amenities are modern and maintained well, so it's a stress-free experience too.
The village of Essex is a historic seaport village, so it has lots of history for you to visit.
The dining rooms at the Griswold Inn are historic, full of charm, and offer a huge wine list.
With 34 rooms to choose from, each one is finely decorated and quiet.
Since you will be so close to Main Street on Essex Harbor, you can enjoy the night out on the town and come back for a quiet night at the Inn!
7. Saybrook Point Resort and Marina- Old Saybrook, Connecticut
With the best coastal flair and elegance, the Saybrook Point Resort has everything you are looking for out of a coastal vacation.
The friendly staff gives you that home away from home feeling and maintains the cozy standard rooms for you to relax in.
There are 2 private Italianate rooms for special occasions, and the inn has a casual waterfront feeling with its Fresh Salt Restaurant, 11 rooms, and a full-service day spa!
You may not even want to leave the whole time you visit!
8. Captain Stannard House Bed and Breakfast Country Inn- Westbrook, Connecticut
Experience the warmest welcome when you stay at the Captain Stannard House Bed and Breakfast Country Inn.
It was once the sea captain's home, so it offers that homey feeling since it has been converted into an inn.
They change sheets and linens daily, maintain the inn well, and the house has been standing since 1872.
There are enough rooms for guests to meet and mingle with each other, and you can play their billiard games or try out the puzzle table.
Their breakfasts are also fresh and made daily, with favorites like lemon cloud pancakes and plum crumble. It's like the perfect Country retreat!
They have golf and river excursions too, so exploring the town of Westbrook is that much easier!
9. The Wallingford Victorian Inn- Wallingford, Connecticut
The Wallingford Victorian Inn boasts a lot of history and a whole lot of charm.
When you walk in, the winding stairs and historical architecture are like a blast to the past.
Since it has been brought up to date, the Inn is easy to relax and make a quick escape to.
The rooms have balconies, porches, and the rooms are equipped with cable.
With heat fireplaces, it is a popular winter mini-vacay.
The guest sitting room is always open so you can grab a snack whenever you want, and the Inn is right by Wallingford's bustling downtown area with restaurants and shops.
You're in close proximity to the best of Wallingford!
10. Old Riverton Inn- Riverton, Connecticut
Back in the day, this was a stagecoach stop on the way to Albany from Hartford.
Now, it is on the National Register of Historic Places and brings people from all around the state and New England Area.
The Old Riverton Inn has 12 guest rooms, so it's small but lets you meet other people.
Each room has a private bath, cable tv, and internet, so you don't have to be 'disconnected' if you don't want to be.
Great outdoor activities like trout fishing, hiking, picnicking, and biking are right nearby, so after you have all your fun, you can come back and relax at the Old Riverton Inn.
---
Your next vacation awaits! These top 10 bed and breakfasts in CT have been around for a while, and are still satisfying happy visitors wanting to take a break, get away, and enjoy the charm and hospitality that comes with a bed and breakfast stay!