If you have a sweet tooth, then you already know how good donuts can be. With so many styles and variations, it is hard to find the perfect donut – perhaps it doesn't even exist!
Well, plenty of donut shops in Connecticut have tons of different donuts for you to try. From classic to loaded, to savory, you will definitely find something that satiates that craving you have!
We found the top 10 picks for the best donuts in Connecticut. Maybe you already have a favorite out of the bunch or were looking for a new place to try, it's much easier now that you know exactly where to go.
We hope you find a new favorite place to get donuts in Connecticut!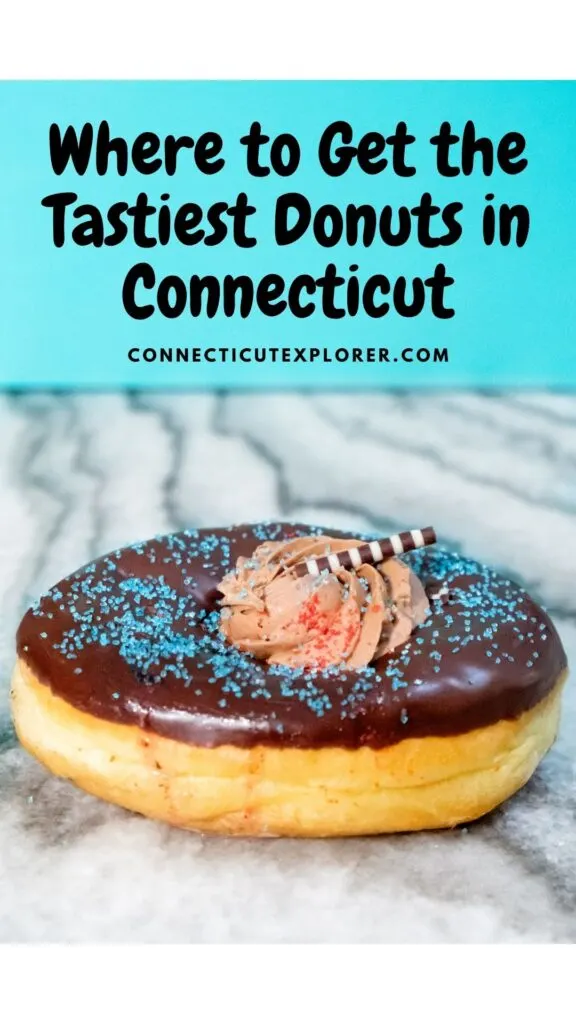 10 picks for the best donuts in Connecticut
1. Donut Crazy- West Hartford, Connecticut
You are in luck with this one, because they have multiple locations! Donut Crazy is a top pick for donuts in Connecticut, because of all their choices and variations.
They not only look good, but they also taste great. Their donuts have lots of different flavors and are made fresh daily, we're almost certain you won't leave with just one donut!
Their flavors are very unique, like the peanut butter cup or apple crumby, the New York Cheesecake is truly one of the best choices!
2. Flanders Bakery- East Lyme, Connecticut
Since this is a bakery, you won't be overwhelmed with the donut choices, but that is certainly their specialty. Flanders Bakery is a nice little shop right off I-95, and opens super early at 4 am!
Commuters or road trippers make this stop to check out their delicious donuts, baked daily, and paired well with a hot coffee.
Their donut flavors are far and wide, but the most common is the crumb donut, which is a cake-style donut that's topped with glaze and sweet crumbs–yum!
3. Dottie's Diner- Woodbury, Connecticut
For many years, Dottie's Diner has been serving loyal Connecticut residents and travelers from near and far.
Their easy access has made them a premier stop for commuters and those traveling, it's hard to come into Connecticut without checking them out!
They serve delectable cream-filled donuts, but if you want a hearty breakfast, they've got that too!
It would be hard not to sit down and enjoy a good, hot breakfast, and even harder not to take home some fresh donuts right after!
4. Beach Donut Shop- Clinton, Connecticut
The Beach Donut Shop is as cool as it sounds. They have a cute cafe and donut bakery offering many donut flavors, and bake all their donuts fresh each day!
They have anything from a simple glazed donut to a chocolate glazed donut. They practically melt in your mouth since they're prepared to perfection, and they aren't too sweet!
The Beach Donut Shop is the perfect stop for a long road trip, or if you just crave donuts like any other person would!
Their signature donut has to be the jelly-filled donut!
5. Whitney Donut Shop- Hamden, Connecticut
The Whitney Donut Shop is a restaurant and a donut bakery, so you can stop in and grab a donut, or take a seat and relax.
They really do have it all, from gluten-free baked goods to a super delicious honey-dipped donut. With a quaint cafe setting, wifi, and friendly staff, the Whitney Donut Shop will have you coming back for more!
Their blueberry-filled crumb donut is a huge favorite, and every ingredient is fresh and well baked.
6. Neil's Donuts- Wallingford, Connecticut
Connecticut residents have made Neil's Donuts a local favorite. Channel 8 even featured them once, so you know that it's good.
They have over 30 different flavor options and their donuts are made fresh each day. With so many options, everyone can find a new favorite.
Their glazed cruller is a huge favorite, as well as the lemon chocolate for that sweet tooth!
7. Coffee An- Westport, Connecticut
Have you ever tried a cinnamon donut? Well, Coffee An is the perfect place to try it for the first time.
They have rolls too, so if you aren't a donut lover you can still partake in the fun. Coffee An is a great place to visit since everyone is so welcoming, and the service is great!
They even have lunch foods like sandwiches and soups, so you won't get too full-on donuts, and can even take some home!
8. Dixie Donuts- Norwich, Connecticut
Dixie Donuts is a must-have on this list since they change up their donut flavors every day!
That's right, when you come back, you can find something different every time. Southeast Connecticut residents flock to Dixie Donuts to check out their unique flavor combos like mocha almond.
Their Boston cream and chocolate chip flavors are pretty popular too, so no matter what kind of flavor you prefer, they've got it here!
9. Tastease- Hartford, Connecticut
The Tastease shop is a Connecticut favorite, serving amazing mini donuts that sell out pretty often, so you'll want to come early!
With the smaller donut size, it's like you can do a tasting of donuts. Sounds fun, right?
They have lots of flavors from plain glazed to filled, or sprinkled!
10. Deviant Craft Coffee and Donuts- Mystic, Connecticut
This place has to take the cake for the most creative donut combos possible!
The Deviant Craft Coffee and Donuts shop is a favorite for many Mystic residents since they have so many elaborate combinations!
Their creativity and innovation have made them long-time favorites, and their themed weeks keep people coming back!
Try their Valentine's themed donuts or Harry Potter-themed menu that has the Hedwig and Butterbeer flavors!
---
If your mouth isn't watering you need to read this again, because the best donut places in Connecticut are a mouth-watering, delicious bunch of delectable baked goods for every pallet!
Even if your sweet tooth isn't that sweet, or you just want to try something new, our 10 picks for the best donuts in Connecticut have something for you!