If you're in the mood for the best salad ever, you've come to the right place. I can tell you all the places where you can find an amazing salad in CT.
I'm a carb-lover, I really am. Give me all the bread and pasta.
Sometimes, though, I want to have a nice restaurant meal that doesn't leave me feeling like I need to run a mile on the treadmill.
Luckily, Connecticut has some decent salad restaurants.
Some of the salad spots on this list specialize in salad and other healthy dishes, while others aren't known for salads, but still serve some great ones.
You'll also find some great salad bars on this list and some places that specialize in soup and salad combos, too.
Let's find out where you can get the best salad in CT!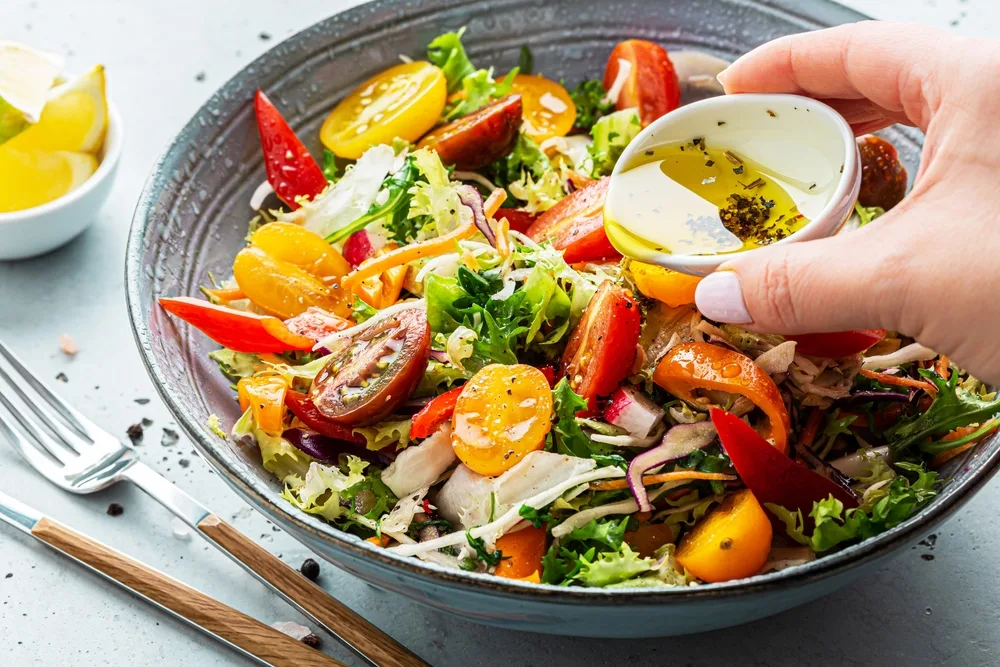 9 restaurants with the best salad in CT
Ask just about anyone in Connecticut where you can get a great salad and a large percentage of them are going to refer you to Chopt in Glastonbury.
This is because Chopt specializes in making creative and unforgettable salads.
From the Sesame Ginger Chicken Salad to the Sweet Apple Orchard Salad, everything is freshly made and absolutely delicious here.
You can even choose the ingredients you want and the chef will make your salad – pretty cool.
Along with all the salads that Chopt offers, you have a great selection of unique dressings to choose from here, as well.
There are other Chopt locations in Connecticut, however, the Glastonbury location is the fan favorite.
Glastonbury address: 2520 Main Street, Glastonbury, CT 06033
If you want to dine on some delicious soup and salad while enjoying a beautiful waterfront view of the Mystic River, I recommend checking out Mystic Salad Company.
You make your own salad here, so you can build it any way you like.
There are so many choices for greens, other veggies, and healthy proteins to choose from here.
The salad portions here are generous for the price (and for being a Mystic restaurant).
Most of the soup and salad offerings here are vegetarian or vegan, but you can get chicken or ahi tuna on your salad.
Address: 12 Cottrell St., Mystic, CT 06355
BMuse Cafe in Wallingford has some of the best salads in the area.
Here, you can choose your own salad fixings or you can choose from one of the creative salads that are served here.
Salad choices here include Mozzarella Burrata Salad, Roasted Beet Salad, and Asian Chicken Salad.
BMuse is definitely the Wallingford area's top salad spot.
Address: 665 North Colony Road, Wallingford, CT
The Salad Shop is easily New Haven's top salad restaurant and arguably one of the best salad places in all of CT.
Here, you can choose from making your own salad at the salad bar or ordering one of The Salad Shop's freshly made menu options.
If you opt for the salad bar, you have a ton of options for greens, toppings, proteins, and dressings.
As far as menu salads, they've got options like The Wasabi Salad and The Avocado All Day Salad.
There are also plenty of delicious soup options here, too.
Address: 9 Whitney Ave, New Haven, CT 06510
Wood n' Tap in Farmington is not a "salad restaurant", but I just had to put it on this list because the salads here are simply amazing.
The Thai Salad is a favorite of patrons, as is the California Cobb Salad.
Of course, you can get all your favorites like burgers and steak here, as well.
The salads, though – if that's all you order, it will be worth the trip.
Address: 1593 Farmington Avenue, Farmington, CT
If you want to treat yourself to a really yummy salad and you're located in the southeast part of Connecticut, Cafe NV & Market in Waterford (everyone says it's in New London) is worth a visit.
All the salads here are just so delicious.
The ingredients taste like they are fresh from the garden and Cafe NV & Market is so creative with the flavor combinations of their salads.
Choose from salads like Bonnie's Pecan Salad and the Seared Scallop Salad – yum.
Address: 40 Boston Post Road, Waterford, CT
Salad Bar has a couple locations around Connecticut, but the Rocky Hill location is definitely the star of the show.
The salads here are absolutely phenomenal.
Here, you can create your own salad or choose from the unique salads on the menu like Roast Beet with Goat Cheese and Tex Mex Taco Salad.
The also serve special seasonal salads that are great.
Address: 856 Cromwell Avenue, Rocky Hill, CT
Bricco is a wonderful restuarant in West Hartford that serves some of the best Italian food you'll ever have.
The salads here are equally as impressive. Everything is fresh and made to order.
With choices like the Warm Pistachio Crusted Goat Cheese Salad, you know you're in for a treat.
Address: 78 LaSalle Road, West Hartford, CT
Fresh Greens and Protiens in Hamden is your one-stop-shop for everything healthy.
From smoothies to acai bowls to wraps, you'll find plenty of healthy eating options here.
Folks from all over the state rave specifically about the salads, though.
Salad options include their very yummy Sweet Beet Salad, the Mediteranian Salad, the protien-filled Fruit and Nut Salad.
Address: 3450 Whitney Avenue, Hamden, CT
---
There you have it – 9 places where you can find the best salad in CT.
I know that everyone's tastes are different, though.
If you're favorite salad spot is not on this list, tell us about it.
Leave a comment below and let us know the name of the restaurant, its location, and what salad on its menu is your absolute favorite!