Are you in search of the best steakhouse in Connecticut? If so, this is where you need to be – I've put together a list of the 10 very best steakhouses in CT.
I consider myself a bit of a connoisseur of quality steaks.
Generally, you'll catch me grilling my own. There are those times, though, when it's really nice to sit at a restaurant and have someone serve me a perfectly cooked steak.
My favorite steak is a medium rare ribeye, more on the rare side, a marbled cut. Marinated to perfection, no sauce.
A good steak doesn't need sauce.
If you're looking for a CT steakhouse that serves up steaks so good that you wouldn't dare put a drop of sauce on them, this is your list right here.
Below are the 10 absolute best steakhouses in CT. Some have a casual atmosphere, and some are fine dining.
Whatever you're in the mood for, this list has something for you.
Just thinking about these places is making me hungry, so let's get right to business.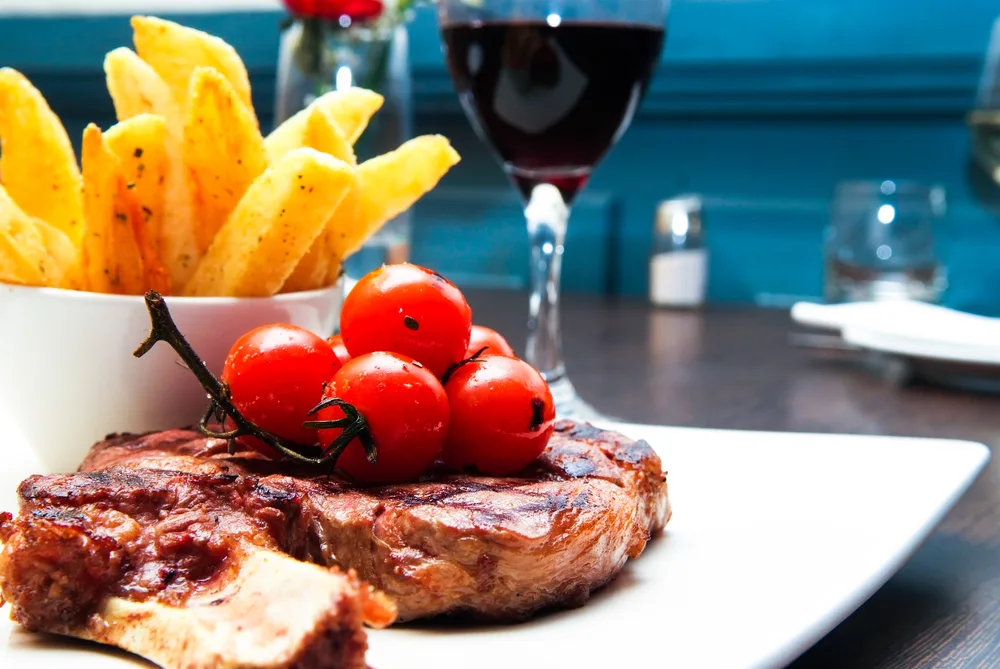 The 10 best steakhouses in CT
J. Gilberts in Glastonbury is likely the first place that comes to mind when most folks in CT think of what they consider to be the best steak house.
The atmosphere here is amazing – it's luxurious but warm and inviting.
The wood-fired steaks are wonderfully marbled and always cooked to perfection.
The steak choices are few, but that's a good thing. The chefs here have had the chance to perfect their techniques with only the best cuts of meat.
Address: 185 Glastonbury Blvd, Glastonbury, CT 06033
Another one of Connecticut's most treasured steak hot spots is Joseph's Steakhouse in Bridgeport.
The menu here is a bit more extensive than J. Gilberts, but oh man – the steak here is top-notch.
Joseph's only buys USDA prime cuts and there's something magical about the way they cook them.
Address: 360 Fairfield Ave., Bridgeport, CT 06604
Mix Prime in Woodbury has 2 of my favorite foods under one roof – sushi and steak.
They do both great, of course, but their steaks are almost beyond words.
Mix Prime serves 40-Day Prime Aged Beef and the way they cook it is out of this world.
It melts in your mouth.
Address: 757 Main St S, Woodbury, CT
David Burke Prime at Foxwoods Casino Resort is where you need to be if you're looking for amazing steaks in an unbeatable atmosphere.
David Burke Prime uses a patented dry aging process for their steaks, which is noticeable from the first bite – so good.
This steak house has won multiple dining awards and you'll know exactly why after your dinner here.
Address: 350 Trolley Line Blvd, Mashantucket, CT 06338
If you are looking for a steakhouse/wine bar combo, Fleming's Steakhouse in West Hartford is your place.
Fleming's serves some of the best steaks in Connecticut in an upscale, fine-dining atmosphere.
The steaks here are all USDA Prime and cooked to perfection.
Address: 44 South Main Street, West Hartford, CT 06107
Mystic, CT has some of the best things going on and you can find some great dining here, as well.
The Steak Loft is one of the best places in Mystic Country to get a great steak.
The Flank Steak Teriyaki is amazing, as is their ribeye.
Address: 27 Coogan Blvd #24, Mystic, CT 06355
I almost never include chain restaurants when I do my "best of" lists, but I feel strongly that Ruth's Chris in Newington is definitely one of the best steak houses in CT.
The steaks are marbled high-quality cuts, and, since it's a chain, the chefs know exactly how to cook them to meet the standard that is linked with the name "Ruth's Chris".
I always enjoy my visits to Ruth's Chris.
Address: 2513 Berlin Turnpike, Newington, CT 06111
Chuck's Steak House in Storrs buys some of the absolute best cuts of meat and seasons and grills them to perfection.
What sets Chuck's apart from the other steakhouses on this list is that it serves Mexican cuisine.
The menu here is fun and there's literally nothing that isn't over-the-top tasty.
Address: 1498 Stafford Rd., Storrs, Ct 06268
Barbarie's Grill at the Danbury Fair Mall is by far the best steakhouse in the area.
The Cowboy Ribeye is my personal favorite, however, every steak on their menu is cooked to perfection – however you like it.
There are plenty of other delicious items on the menu, as well, and Barbarie's happy hour is a favorite of the locals.
Address: 7 Backus Ave Danbury, CT 06810
Tea With Tracy in Oxford is one of 2 TWT restaurants, this one specializing in perfectly cooked, quality steaks.
Whether you enjoy a New York strip, fillet mignon, or ribeye, you can bet that it's going to be delicious here.
Even though this is the last entry on my list, it's still one of the best steakhouses in CT.
Address: 320 Center Rock Green, Oxford, CT 06478
---
There you have it – the 10 best steakhouses in CT.
Is your favorite steakhouse on this list?
If not, send us an email or leave a comment and tell us about it.