Connecticut is a gorgeous coastal state with so much nature, fun attractions, and historic elements that draw people to keep on visiting! If you live here, then you are double lucky because there is so much good cuisine nearby to satisfy your pallets and keep you on your toes – the seafood restaurants in CT attract visitors from all over the U.S., in fact.
For all the foodies, the best seafood restaurants in Connecticut prove just how authentic and delicious seafood from a wonderful coastal town can be.
If you like lobster, shrimp, clams, or all of the above, you have the best of the best right here in Connecticut! The top 10 seafood restaurants in CT have options for every flavor you're craving!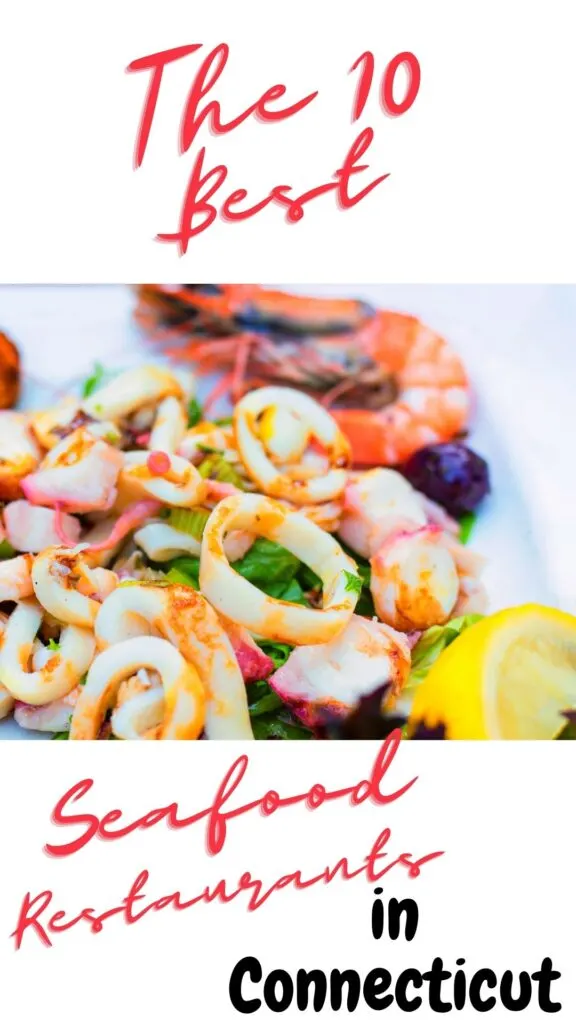 Top 10 seafood restaurants in CT
1. The Whelk- Westport, Connecticut
Have you been looking for a good seafood bar? Your search doesn't have to continue any longer, because The Whelk down in Westport, Connecticut boasts a huge seafood bar and raw bar with tons of options to choose from.
Get your fill of littlenecks, or try out some chilled prawns that are locally sourced from the fisherman nearby in New England and up to eastern Canada.
Now, if you need your seafood cooked, The Whelk has you covered too.
With dishes like crab toast, brook trout, lobster, squid, and mackerel, your plate will be full of more seafood than you could imagine!
2. The Restaurant at Rowayton Seafood- Norwalk, Connecticut
If you are seeking a waterfront dining experience that's as delicious as it is luxurious, then the Restaurant at Rowayton Seafood will fill your needs.
Their plates are handcrafted with only the best seafood that New England has to offer. Their pecan-crusted salmon is buttery and tender, as well as their grilled swordfish steak, and delectable togarashi dusted yellowfin tuna. Is your mouth watering yet?
The Restaurant at Rowayton Seafood is ready to give you the prime, seafood dining experience!
3. S&P Oyster- Mystic, Connecticut
Mystic is a small town that's bursting with a lot of New England charm, and their S&P Oyster restaurant is one of them.
Grab some fresh seafood at their outdoor dining area that's right by the marina, where you can watch the boats go by and bask in the fresh glow of the Mystic River.
Their seafood menu ranges from oysters of course to clam chowder, lobster alfredo, and blue crab ravioli.
No matter what kind of seafood you prefer or how you like it, S&P Oyster is sure to satisfy!
4. Ford's Lobster- Noank, Connecticut
Before the summer months drift away, enjoy some outdoor dining with Ford's Lobster.
Their patio is bright and welcoming, letting you eat some delicious seafood right under the sun. their menu boasts many flavors like coconut curry mussels, roasted cod, or blueberry and lobster salad.
Their combinations are unique and mastered to the best of flavors!
5. Abbott's Lobster in the Rough- Noank, Connecticut
With a slight dose of history and lots of traditional seafood charm, Abbott's Lobster in the Rough has been feeding Connecticut's seafood lovers for over 80 years.
People come from all around the state, and out of state to come to enjoy the hot lobster rolls, crab cakes, and lobster dinners with many combinations for you to customize to your liking.
They have incredible tuna rolls too, and all their seafood is fresh and of the highest quality.
Their outdoor picnic bench seating style is welcoming and relaxing, so Abbott's Lobster in the Rough is definitely one to try!
6. The Place Restaurant- Guilford, Connecticut
To ensure seafood quality, The Place Restaurant is open seasonally and offers great casual dining over amazing food.
Their roasted clams, fish, lobster, and steamers are cooked over 18-ft long fires for a great, unique flavor.
The outdoor dining, the camp-like dining experience is complete with tree stump chairs and a bring your own wine feature!
7. Stowe's Seafood- West Haven, Connecticut
Right on the shoreline, Stowe's Seafood has been serving Connecticut's seafood buffs with seafood rolls and seafood meals that can be customized however you like.
Their fries fish has the right amount of crispiness and fresh, right from the sea flavor.
They have long lines to prove their popularity, too, so head over while you can!
8. Supreme Seafood Restaurant- North Branford, Connecticut
If you are after that classic, New England seafood fare with unique and fresh flavor, then the Supreme Seafood Restaurant should be your next stop.
They have a huge variety of seafood dishes native to the New England area while having their own unique dishes, too.
Their shrimp roasted corn is incredible, and their clam strip rolls, fish sandwiches, and scallops are all made to order!
9. Westville Seafood- New Haven, Connecticut
If you plan to visit Westville Seafood in New Haven, then you should come hungry and ready to eat!
Their seafood platter comes with coleslaw and a huge helping of fries. It can be customized with your choice of fried shrimp, calamari, or clam strips.
But, if you just want a smaller portion to try, they can do that for you too!
With tuna salads and fresh sides of shrimp and clam chowder, there are so many ways you can enjoy some fresh New England Seafood!
10. Lobster Hut- Milford, Connecticut
This once was a seasonal restaurant, but now you can enjoy delectable seafood all year round!
Lobster Hut's hot lobster rolls will warm you up in the winter, while their tender lobster meat will fill you up after a long summer day.
They have great sides so you don't overload on lobster too, like coleslaw and onion rings or fries, so their menu has something for everyone.
Their lobster bisque is a must-try, it's creamy and comes with crunchy oyster crackers served on top!
---
These top 10 seafood restaurants are all over Connecticut, so one is probably nearby you and is waiting for you to come and try them out!
Their mix of indoor and outdoor dining and seasonal openings keep the seafood fresh and a new experience to be had each time.
We hope you've got some places in mind to try one of the top 10 seafood restaurants in CT!