If you are looking for some great fall festivals in CT to add to your fall activities list for this year, we've got you covered.
2023 has ushered out the pandemic and re-welcomed Connecticut's favorite seasonal festivals – and fall is when CT really goes all out with the celebrations!
Consider your weekend plans made for this fall!
Don't forget to also check out some of Connecticut's other fall favorites – apple picking, pumpkin picking, and fall foliage watching while you're at it.
Let's get to the fall festivals.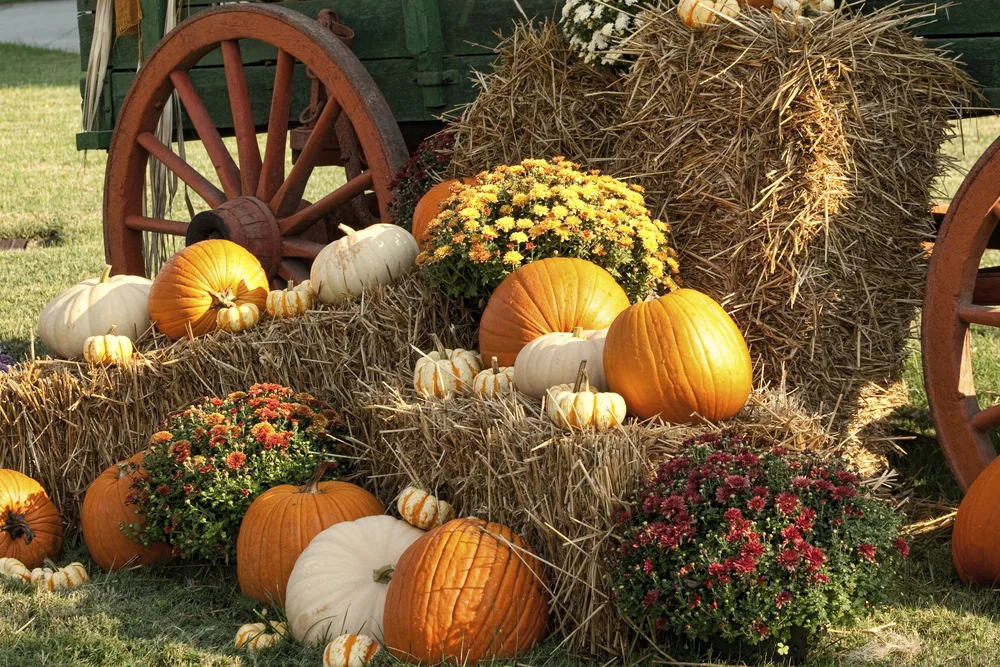 8 fall festivals in CT you don't want to miss in 2023
If you're looking for a fall festival that's packed with fun for the whole family, the Hebron Harvest Fair is for you.
Here, you can enjoy live entertainment including:
racing pigs
BMX Stunt Show
DockDogs canine aquatics and The Flying Cortes Trapeze Spectacular
concerts
midway rides
animal barns
livestock events
truck and tractor pulls
a demolition derby
community exhibits
contests
vendors
Beer & Wine Garden
fair food
and more!
On Dollar Night (Thurs., Sept. 7), admission, parking and rides are just $1 each (10-ride minimum purchase).
Unlimited ride wristbands are $30 Friday or Sunday, $35 Saturday and $23 online in advance.
Date: Friday, Saturday, and Sunday, September 8th, 9th, & 10th, 2023
Time: 12 pm-12 am (Friday), 9 am-12 am (Saturday), 9 am-7:30 pm (Sunday)
Address: 347 Gilead St. Hebron, CT 06248
Cost: $15, free for kids 12 & younger and active military with military ID
All the best events in Connecticut are held on the East Haven Town Green, including the East Haven Fall Festival.
Come this September for a road race, car show, crafts, artisan vendors, rides, music, and more!
This is a great fall festival for the whole family!
Date: Friday, Saturday, & Sunday, September 8th, 9th, & 10th, 2023
Time: 6 pm Friday – 6 pm Sunday
Address: East Haven Green Historic District
Cost: Free
The Watertown Fall Festival, as usual, is set to be one of the biggest fall events of 2023!
Here, you'll find plenty of fall-themed fun for the whole family. From bouncy houses to face painting, there's plenty for kids to do here.
For us grown folk, there will be plenty of live music, food, and lawn games!
Date: Saturday, September 16th, 2023
Time: 10 am – 4 pm
Address: 570 Nova Scotia Hill Road, Watertown, CT
Cost: Free
This fall, come to Bartlem Park on Friday for food trucks and live music, and revisit the park on Saturday for the fall festival.
Come for live music, kids' activities, a car show, food and beverage vendors, and more.
There will also be a fireworks show!
Date: Friday & Saturday, September 8th & 9th, 2023
Time: 10 am – 7 pm
Address: 520 South Main Street, Cheshire, CT
Cost: Free
The Seymore Pumpkin Festival at French Memorial Park has all your favorite fall activities!
Come for some tasty treats, a kids' costume contest, live music, live animal meet and greets, a ceramics booth, and more!
Date: Sunday, September 17th, 2023
Time: 10 am – 5 pm
Address: 62 Spruce St., Seymour, CT 06483
Cost: Free
If you're wondering if there's a Connecticut fall festival that's known and cherished by most everyone in the state, the Southington Apple Harvest Festival is it.
This fall festival attracts 100,00+ people from CT and all over New England.
This, the 54th year of the event, promises to be as spectacular as the years past.
With food, games, live entertainment, crafts, vendors, and more, you want to add this one to your list of CT fall festivals to visit this year!
Date: Friday-Sunday, September 29th & 30th, October 1st, 2023 (2nd weekend is Oct. 6th – 8th, 2023)
Time: TBA
Address: 75 Main St. Southington, CT 06489
Cost: Free
If you've been to Olde Mistick Village, you should definitely make the trip. It's amazing all year round, but it's just spectacular in the fall.
This year is the very first Mystic Apple Festival and it's going to be awesome!
Come celebrate fall with fall foods, cider, and more – all in the beautiful Olde Mistick Village!
Date: Saturday & Sunday, October 21st & 22nd, 2023
Time: 11 am – 6 pm
Address: 27 Coogan Blvd, Mystic, CT
Cost: Free
The Connecticut Garlic & Harvest Festival at the Bethlehem Fairgrounds is one of the most spectacular (and popular) fall festivals in CT.
There will be over 200 vendors at this enormous fall food festival!
Come enjoy live music, garlic cooking demonstrations, and tons of garlic foods, dips, cheeses, and more. This is a fall event foodies will not want to miss!
Date: Saturday & Sunday, October 7th & 8th, 2023
Time: 9 am – 5 pm
Address: 304 Main St N, Bethlehem, CT 06751
Cost: $10-adults, $8-seniors, $1-children under 12
---
There you have it – 9 of the best fall festivals CT has to offer. On your way to one of these festivals, don't forget to check out Connecticut's beautiful fall foliage!