If you're looking for some fun date ideas in CT, you've come to the right place. Connecticut has plenty to offer when it comes to romance.
I love how CT sets us up for success when it comes to dating.
We've got a beautiful shoreline and some of the most beautiful parks.
We've also got a ton of pre-fab fun stuff, too.
There are just some many great places to take someone on a date here.
I'm going to list the top 11 places for you today.
Whether you're looking for ideas for a night or day, we've got you covered here.
It's time to get your romance on – so let's get to it.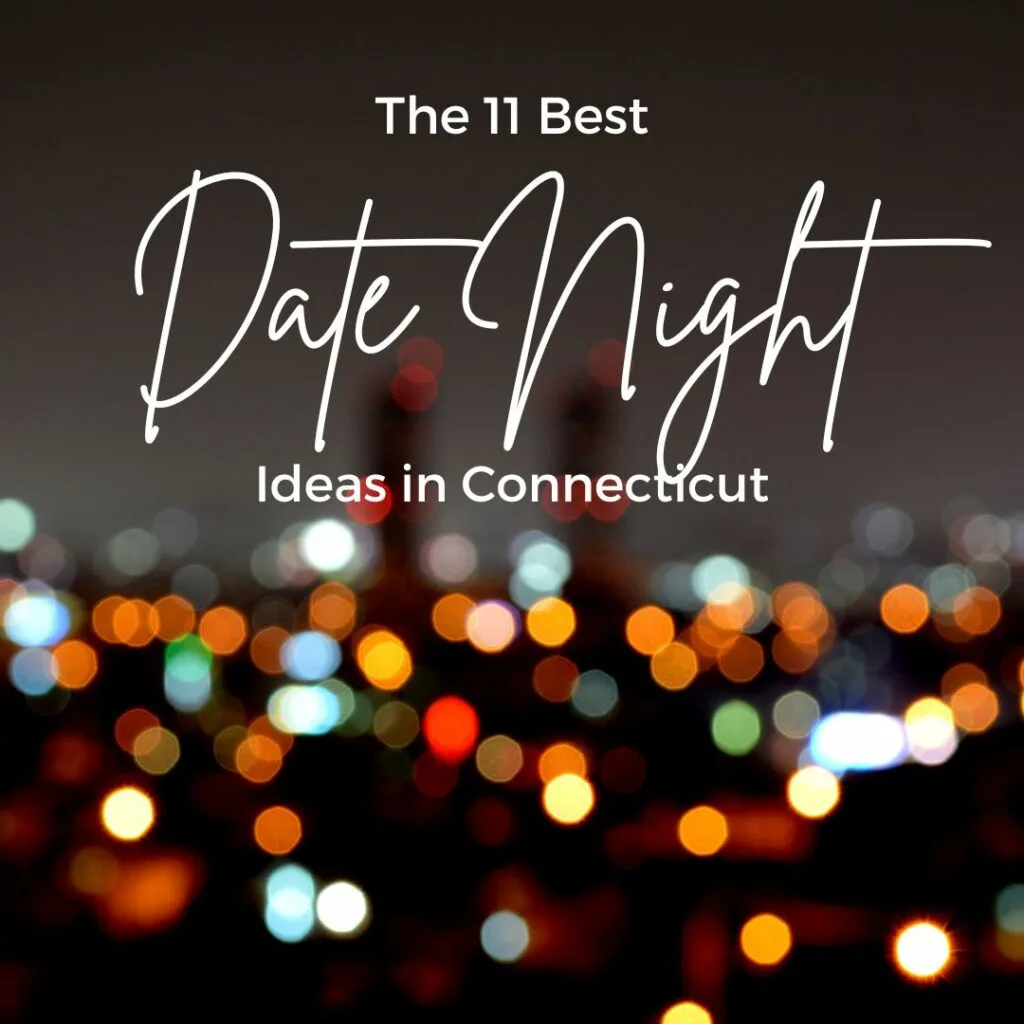 11 date ideas in ct
Comedy clubs are my go-to date idea – and The Stress Factory in Bridgeport is one of the best in CT.
Not only does The Stress Factory host some of the best comedians Connecticut has to offer.
Another thing that makes this place great for a date night is the "date night" package that they offer.
With this package includes a fun night of comedy, a bottle of house wine, 2 dinner entrees, and 1 dessert to share.
It's a whole date night in one package.
Address: 167 State St., Bridgeport, CT 06604
A trip to Back Nine Social in Wallingford is a fun and unique date idea.
Here, you and your date will enjoy delicious food, an amazing bar, and some really fun simulation golf.
The atmosphere here is friendly and casual, but whole facility very, very nice.
I love this place for a date idea.
Address: 805 N Colony Road, Wallingford CT 06492
The Essex Steam Train is one of Connecticut's most popular unique outing.
Booking a trip for 2 on the dinner car here is the first step in showing your special someone a great eveving.
Here, you'll enjoy a trip through the Connecticut Valley while you eat a nice dinner and enjoy tea and dessert.
It will be an unforgettable evening.
Address: 1 Railroad Ave, Essex, CT 06426
The Truck Bar in Berlin is one of the state's go-to venues for a casual fun date idea.
Here, you find arcade games, corn hole, food and drinks, live music, and a great time.
This is the type of place where you can have a great meal and some drinks, talk and get to know someone, and basically just enjoy the heck out of the whole night.
Address: 151 Webster Square Rd., Berlin, CT 06037
Shoreline Alfresco is a pop-up picnic company that will plan, set up, and clean up after your beach picnic.
This is an amazing service for summer dates, but they are flexible and can set up picnics at places other than the beach, as well.
If you've got an idea, shoot them an email and see what ideas you can come up with together.
Contact: andrea@shorelinealfresco.com
If you're looking for an upscale date idea for an anniversary or marriage proposal, or if you are just naturally fancy, you need to book a reservation at The Charles in Wethersfield.
The atmosphere here us high-end and the food is award winning.
This is where to go if you want to really impress your date.
Address: 161 Main Street, Wethersfield, CT
Mohegan Sun's Supercharged is the perfect date idea if you're looking for something sprty and unique.
Here, you'll find axe throwing, go-carts, arcade games, and more.
There's a pizzaria on site, too. So, there's no need to go somewhere else for dinner after you're done having fun.
Your whole date is right in one place.
Address: 1 Sachatello Industrial Dr, Montville, CT
Downtown Essex is one of the most beutiful and quaint places in CT, in my opinion.
Many people probably feel the same.
A great date idea here would be to book a private charter or sunset cruise, then have a nice dinner at Scotch Plains Tavern.
There are plenty of quaint shops and lots of historical beauty to see as you and your date stroll the downtown area, too.
Address: 67 Main Street, Essex, CT 06426
If you're looking for a date idea in CT that is great both day and night and can be either romantic or casual, Aquila's Nest Vineyards in Newtown is your place.
Bring your date for a wine tasting, wine and cheese or chocolate pairings, reserve a gazebo or pergola, or just walk the stunning grounds and sip some of Connecticut's finest wines.
Aquila's Nest also has some fun date ideas like their goat strolls, paint and sip nights, pottery classes, and more.
Just check their schedule in the link above and you'll see what I mean – this is the perfect place for a date.
Address: 56 Pole Bridge Rd., Newtown, CT 06482
Taking your date on a cruise around the Thimble Islands is both romantic and fun. It's also pretty darn unique.
You and your date will board the Sea Mist or Island Time boats at the Stoney Creek Dock or Safe Harbor Marina in Branford and travel around the Thimble Islands for a 45 minute narrated tour.
After your cruise, you'll find a couple of Branford's nicest restaurants right down the road.
If you want a high-end Itialian food dinner, LoManaco's is a great choice.
If you want something more low-key, The Parthenon Diner (my favorite) has a location nearby, as well.
Address: Town Dock, Stony Creek, Branford, CT
If you're looking for a casual date night idea and you're in the southeast CT area, I highly suggest The Barn in Groton.
Here, you'll find some of the best cover bands Connecticut has to offer, as well as a lot of great original bands.
From Pink Floyd and Rolling Stones tribute bands to Connecticut's own Mystic Dead, the band bookings here are top-notch.
The Barn's cover fees are generally pretty low, even for the best bands, and they serve a small menu of bar food and often have Woodfellas food truck on site.
If you're looking for something special to do with your date before catching some live music here, you can check out some of the neat things that Groton has to offer or take a casual stroll on one of Groton's or New London's great beaches.
Address: 13 Fort Hill Road, Groton, CT
---
That's it – 11 awesome date ideas in CT.
Is your favorite date spot on this list?
If not, leave a comment below and let us know all about it?
Where is it? What makes it a great place to take a date?