Are you looking for some awesome dog-friendly restaurants in CT? If so, you're in the right place.
In Connecticut, we love our pups and we appreciate that so many wonderful businesses let us take them with us to dine.
This list of dog-friendly restaurants in CT is the tip of the iceberg as far as pet-friendliness goes for this state.
From breweries to beaches, dogs are allowed at so many places here.
So, let's get right to it and discover 19 restaurants in CT that allow dogs!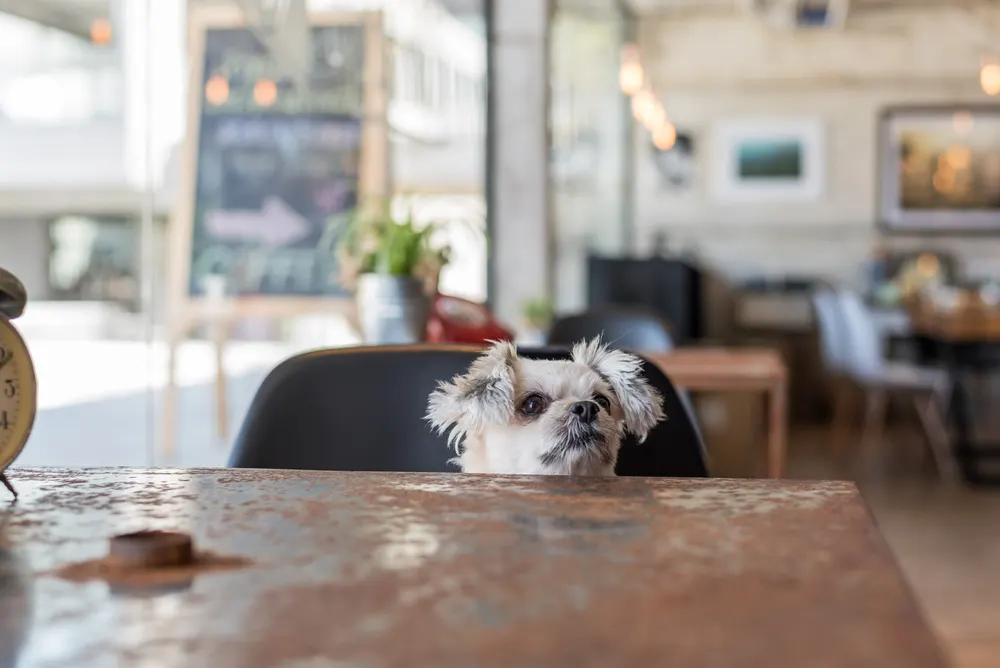 19 awesome dog-friendly restaurants in CT
Captain's Cove – Bridgeport
If you're looking for a casual dining experience, overlooking the water, Captain's Cove in Bridgeport is for you.
Bonus points for this spot – they allow dogs.
Come for fish and chips, lobster rolls, or crab cakes, all while you watch the boats come and go in the Black Rock Harbor.
*This restaurant is seasonal.
Address: 1 Bostwick Ave, Bridgeport, CT 06605
Lucky Lou's – Wethersfield
If you're looking to bring your dog to a restaurant with a decidedly upscale feel, Lucky Lou's in Wethersfield is the place for you.
The food here is amazing and the patio where you'll find the outdoor seating is beautiful.
Address: 222 Main St, Wethersfield, CT 06109
Hindsight Barbeque – Waterbury
"Your friendly neighborhood BBQ joint" is how this restaurant describes itself, and it's true.
Hindsight Barbeque offers delicious food in a friendly, and pet-friendly, atmosphere.
Address: 1503 Thomaston Ave, Waterbury, CT 06704
Lenny & Joe's – Madison
Lenny & Joe's is a nice little seafood place with a laid-back atmosphere and plenty of outdoor, dog-friendly, seating.
This is a nice spot to grab a hot lobster roll and a milkshake on a warm summer day.
Address: 1301 Boston Post Rd, Madison, CT 06443
Hair of the Dog – Milford
Hair of the Dog in Milford, CT is a casual dining restaurant that welcomes dogs.
Here, you'll find burgers and pulled pork sandwiches in a laid-back, pet-friendly atmosphere.
Address: 128 Bridgeport Ave, Milford, CT 06460
Flipside Burgers – Fairfield
Not only does Flipside Burgers in Fairfield offer some of the state's best hamburgers, but they allow dogs at their seasonal outside lounge.
Address: 1125 Post Rd, Fairfield, CT 06824
Bear's Smokehouse – New Haven
If you're looking for some seriously good barbeque or some fancy, meat-topped mac n' cheese, and you want to bring man's best friend along with you for lunch, you've got to check out Bear's Smokehouse in New Haven.
With one of the largest outdoor dining areas in New Haven, Bears is the perfect place for pet-friendly dining.
Address: 470 James St, New Haven, CT 06513
1754 House – Woodbury
The 1754 House in Woodbury is an upscale restaurant that allows dogs to dine along with their owners out on the patio.
Address: 506 Main St S, Woodbury, CT 06798
Fresh Salt – Old Saybrook
Fresh Salt in Old Saybrook is a resort-casual restaurant with breathtaking views of the Long Island Sound.
Whether you're a local or someone traveling with their dog, this restaurant is definitely worth the trip.
Address: 2 Bridge St, Old Saybrook, CT 06475
Mercato Italian Kitchen and Bar – Southbury
If you're looking for some amazing Italian food and you'd like to bring your furry friend along with you, Mercato Italian Kitchen and Bar has what you're looking for.
The food here is incredible and the atmosphere is warm and inviting – and not just for humans.
Address: 690 Main St S, Southbury, CT 06488
Dog Watch – Old Stonington
Dog Watch in Stonington, CT is the ultimate pet-friendly dining experience.
Not only does Dog Watch have great food in a dog-friendly atmosphere, but they also have lawn games and live music, too.
It's almost like being at a home barbeque.
Address: 194 Water St, Stonington, CT 06378
Abbott's Lobster in the Rough – Noank
In the mood for some fresh seafood? Abbott's Lobster in the Rough in Noank has some of the best in Connecticut.
Bring your dog – and your appetite – and come for some lobster deviled eggs or some fresh lobster bisque.
Address: 117 Pearl St, Noank, CT 06340
Via Emilia – Mystic
Mystic is known for being a pretty dog-friendly place, and Via Emilia is one of the dog-friendliest restaurants in the town.
Via Emilia serves high-end Italian cuisine in a beautiful and warm atmosphere.
Address: 24 W Main St, Mystic, CT 06355
Pa's Place – Guilford
Pa's Place is the perfect spot to bring your pooch for a nice outdoor lunch in Guilford.
The food here is excellent and the atmosphere, like most places that allow dogs, is friendly and warm.
Address: 514 Whitfield St, Guilford, CT 06437
Shanks at Harborside – Clinton
Image an outdoor dining experience that's right on a boat, one where you can enjoy the company of your dog while you eat tasty food and enjoy the sea breeze.
This is what you can expect at Shanks at Harborside in Clinton, CT. This is a real treat for both you and your dog!
*This restaurant is seasonal.
Address: 131-c Grove St, Clinton, CT 06413
The Tin Pedlar – North Stonington
The Tin Pedlar in North Stonington is an upscale, but warm and friendly, restaurant where you can bring your pup and enjoy some of the best brunch and lunch menu items in the area.
Come for pancakes and eggs or roast beef. Everything is delicious and served beautifully.
Address: 230 Norwich-Westerly Rd, North Stonington, CT
Skipper's – Niantic
Niantic is a hot summer spot for vacationers from all over New England.
If you're traveling with your dog, don't worry – there are plenty of places around Niantic's beaches where your furry friend is allowed, including restaurants.
Skipper's in Niantic is a casual fish & chips-type restaurant that overlooks the Long Island Sound and the train that runs to and from NYC.
Address: 167 Main St, Niantic, CT 06357
The Place – Guilford
The Place in Guilford has one of the best, most dog-friendly, outdoor seating areas on the Connecticut coast.
Come for lobster, roasted clams, and plenty of other fresh seafood favorites.
*This restaurant is seasonal.
Address: 901 Boston Post Rd, Guilford, CT 06437
Gastropark – West Hartford
Gastropark in West Hartford is one of those dog-friendly restaurants in CT that's worth traveling for if you don't live in the immediate area.
This isn't a normal restaurant, but rather a beautiful outdoor dining spot with a rotating cast of Connecticut's top food trucks.
Address: 637 New Park Ave, West Hartford, CT 06110
There you have it – 19 awesome dog-friendly restaurants in CT.
Connecticut is a pretty dog-friendly state. If you know of any more restaurants or other surprising places dogs are allowed, drop us a line or leave a comment!