Connecticut is a beautiful state with a lot to offer, including some amazing rooftop restaurants. If you're looking for a stunning view to accompany your meal, these 9 rooftop restaurants in CT are sure to please.
There are plenty of restaurants that offer outdoor dining in CT, but restaurants that offer rooftop dining are few and far between.
They are around, though – and the ones we have are pretty great.
Some of the rooftop restaurants on our list are great for those looking for a romantic, fine-dining experience, while others are more laid-back and casual.
We even included a good rooftop bar on the list, in case that's your thing.
So, let's get to it.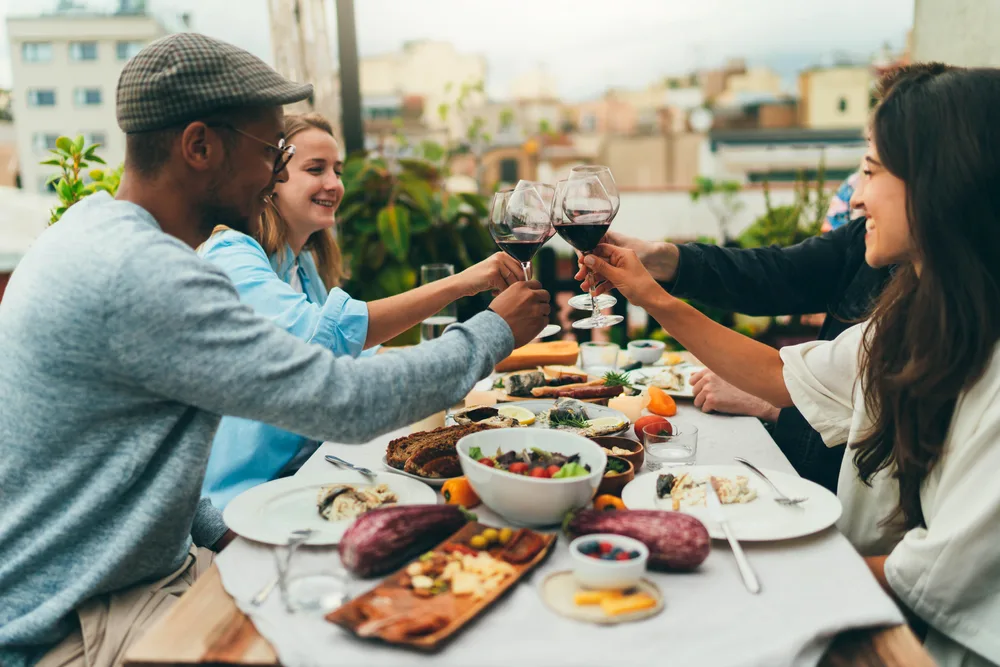 9 rooftop restaurants in CT
Rooftop 120 in Glastonbury is one of the best and most popular rooftop restaurants in CT.
This restaurant has a fun and novel atmosphere, which is great for adult birthdays and other special events.
This rooftop restaurant and bar has heaters, couches, and fire pits, which create a comfortable and trendy ambiance.
The cocktail menu here is extensive and, as far as food, they serve things like fried calamari, wings, burgers, and flatbreads.
Address: 120 Hebron Ave., Glastonbury, CT 06033
If you're looking to treat yourself and your dinner guests to great drinks and a great rooftop view, I recommend checking out the High George at the Blake Hotel.
This New Haven rooftop dining hot spot is one of the top-rated spots in Connecticut.
While the wine and cocktails here are the main features of High George, you'll also find a great selection of high-end lounge food here, too.
Dishes like Lobster Roll Bites and Crispy Duck Drumettes are examples of what you'll find here.
Address: 9 High St., New Haven, CT 06510
If you're looking for a trendy, contemporary rooftop bar and restaurant in the western part of Connecticut, you need to check out Sono Sky Bar in Norwalk.
The views at Sono are of coastal Norwalk and of the Norwalk Harbor.
The cocktails here are amazing and you can get plenty of good seafood dishes here, as well as flatbreads and other appetizer-stye foods.
Address: 45 South Main Street, Norwalk, CT
If you are looking for a rooftop restaurant that has a luxurious fine-dining feel, Cava Restaurant in Southington is what you're looking for.
From the fireplace to the crystal chandeliers, everything is just so beautiful here.
You'll feel like you're on vacation here as you look out over Southington Mountain.
The menu here has a heavy Mediterranean influence and everything is prepared just beautifully.
Address: 1615 West St., Southington, CT
Elm City Social is one of New Haven's favorite rooftop hangout spots.
The cocktails here are top-notch and they've got a great selection of beers, as well.
As far as food goes, the chef here takes great pride in serving fresh, quality foods like unique sliders, salads, rice bowls, and more.
The rooftop here is available for private events and parties, which makes this a great place for a fun outdoor celebration.
Address: 266 College Street, New Haven, CT 06510
Located just above La Zingara, Vesta Rooftop Kitchen in Bethel offers a casual and fun rooftop dining experience.
The retractable glass roof here means a little rain shower won't ruin your rooftop meal.
This rooftop bar and grill partners with local craft breweries, so it's a great place to come with friends and enjoy a nice beer or maybe a cocktail or two.
As far as food here goes, this is one of the best places for a woodfired pizza in the area.
Address: 8 PT Barnum Square, Bethel, CT 06801
Goodfellas in New Haven is not only one of Connecticut's best Italian restaurants but it's got one of the best rooftop dining options in CT, as well.
The atmosphere inside Goodfellas is very unique – old mobster and gangster movies play on all of the walls.
Outside, on the rooftop, you'll feel like a bit of an old fashion gangster yourself as you look out at the tops of New Haven's buildings and eat some of the best Italian food you've ever had.
Address: 702 State St, New Haven, CT 06511
If you love German food and a comfortable, laid-back atmosphere, you've got to check out East Side Restaurant in New Britain.
At this fun rooftop restaurant, you can dine on Bavarian pretzels, brats, and beer in the open air on the rooftop patio.
If you sign up for the Mug Club here, you'll get updates on fun East Side events including Oktoberfest, beer tastings, and Wurst Night.
Address: 131 Dwight St., New Britain, CT 06051
Mystic is known for its fun activities and its amazing restaurants.
One of its most popular eateries is the Oyster Club.
If you visit the Oyster Club on nice days in the spring or summer, you will have the option of eating at The Tree House on the rooftop.
Here, you'll get to enjoy the amazing seafood offerings of The Oyster Club while enjoying beautiful views of the famous Mystic River.
Address: 13 Water Street, Mystic, CT, 06355
---
Whether you're looking for a romantic dinner with a view or a casual meal with friends, these 9 rooftop restaurants in CT are sure to please.
Is your favorite rooftop restaurant on this list?
If not, let us know about it in the comments.