There's always room for ice cream, and New Haven knows that. For a town that's nestled along the Long Island Sound, with multiple beaches just a short drive away, having great ice cream places nearby is a must.
With the summer months on the horizon, you definitely want to have places in mind to enjoy a great cup or cone of ice cream.
We found the top-rated places for ice cream in New Haven so that it is easy for you to pick one!
Our list is not all inconclusive, but we found the best places that have great flavor combinations, farm-to-table ingredients, and awesome settings for friends and family to hang out.
Our top choices for the best ice cream in New Haven are all unique in their own way.
Some are open late, others have unique cone choices, but all are made with top-quality ingredients and have been around for many years.
So, if you're looking for a great place to stop for ice cream in New Haven, or to try out a couple of different combinations, then read on for our list of best places for ice cream in New Haven.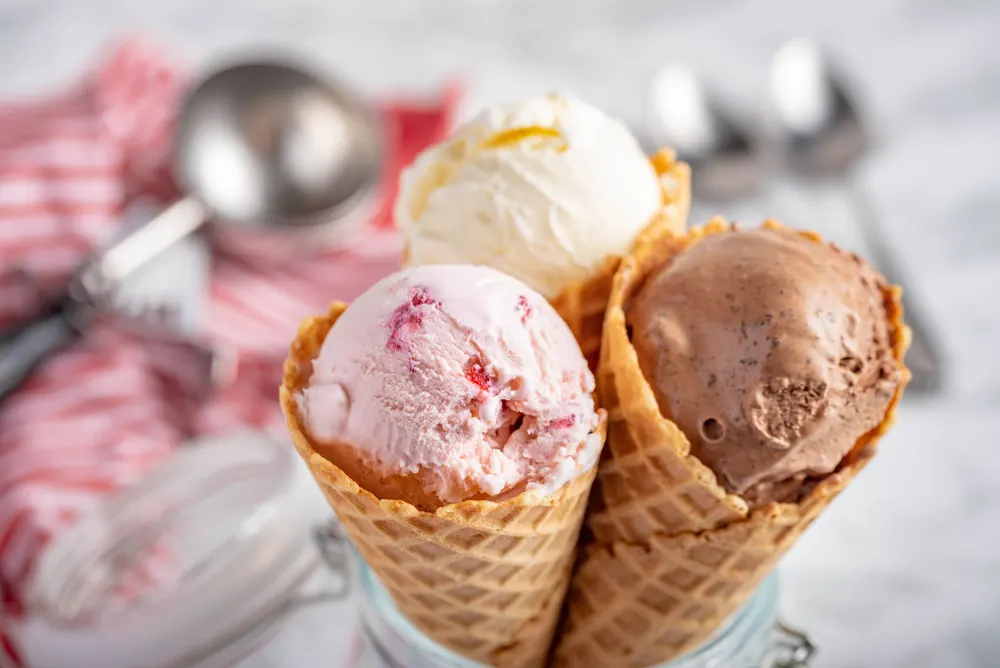 The top 5 places for ice cream in New Haven
We know the debate of Gelato and Italian ice being ice cream is still ongoing, but this place is worth a spot on our best ice cream in New Haven list.
Libby's Gelato and Italian Ice is a cute little pastry shop that also has incredible ice cream flavors – Sorry, Gelato and Italian ice.
We're starting off the list with this place because we think it's a great place to stop and try creamy, fresh gelato and Italian Ice.
Libby's Gelato and Italian Ice is small but ready to welcome the crowd. Their frozen cappuccino is made with gelato and definitely makes the visit worth it.
The flavors and gelato combinations are like an oasis of ice cream desserts.
Nestled in New Haven's Little Italy area, Libby's Gelato and Italian Ice has a large selection of gelato, Italian Ice, and luckily, some of the best pizza in the world. Libby's Gelato and Italian Ice should definitely be on your list of places to try!
Address:139 Wooster St., New Haven, CT
Milkcraft is legendary for its fried waffle and ice cream combination.
They've got the traditional ice cream and waffle cone combinations, but they took it a step further with their fried, crispy yet soft waffles with little bubbles called their 'bubble cone.'
Their first-ever location was in Fairfield, but they made the smart choice to open another branch in New Haven.
It's very close to notable Yale spots and awesome places to hang out for a night out on the town with friends.
Their bubble cone creations are definitely Instagramable – colorful and unique combinations of over a dozen ice creams.
Their ice cream is made with a liquid nitrogen infusion that makes their fresh ice cream super creamy and has a unique flavor.
Customer favorites are their Blue Cookie Butter, which yes, will leave your tongue blue.
Their Milk and Cereal and S'mores flavors are also some of their most popular flavors. Their pricing is around $8 per scoop, but it is more than enough to share.
Address: 80 Crown St ste 100, New Haven, CT
Ever wanted a late-night snack like ice cream, but everyone else was closed?
With Bill's Carousel, you don't need to worry about the late-night craving because they are open super late.
Bill's Carousel, in the Westville suburb of New Haven, is open past 11 pm, and even until 1 am.
They even have a drive-through, so if you roll off the couch in your jammies and don't want to be seen, they've got you covered.
Their chocolate and vanilla swirl is a super popular flavor, and the shop is unique and retro-looking, so it's a cute place to stop and enjoy a couple of scoops of great ice cream.
Address:1185 Whalley Ave, New Haven, CT
It's all in the name! Ashley's Ice Cream is a quaint ice cream shop in the heart of downtown New Haven.
Popular to Yale students, Albertus Magnus Students, and working professionals in the area, Ashley's Ice Cream has been around for 30 years and is definitely a staple in great ice cream here in New Haven!
The place is named after the famous dog Ashley Whippet and has won Best Ice Cream in the Best of New Haven Poll many times before.
What's great is that Ashley's also has ice cream for dogs, better than Starbucks' pup cup, their dog-friendly ice cream is great for bringing along your furry friends.
The Ashley's Ice Cream parlor is a unique and fun place to hang out with the whole family, your friends, and yes–your dogs!
Address: 280 York St., New Haven, CT
Arethusa Dairy Farm often graces the top of best ice cream places both in New Haven and in Connecticut.
Their customers love the consistent, high quality, and generous portions of ice cream for pretty great prices.
The inside is like you have walked right onto the dairy farm where they get their ingredients from to make the creamiest and dreamiest ice cream flavors.
Even their one scoop of ice cream is equal to 2 or 3 somewhere else.
We can attest to the great flavors and the tons of combinations that you can try. There's no wonder that there is always a line out the door.
George Malkemus and Anthony Yurgaitis are co-owners of Arethusa and all their locations, including one in West Hartford, they started right here in New Haven and have been creating amazing ice cream combos ever since.
Address: 1020 Chapel St., New Haven, CT
---
If your mouth isn't watering yet, you definitely need to go back and read our list of the best ice cream places in New Haven one more time.
There are lots of great places, but these make the top of the list with their great prices, unique flavors, and favorable portions – all right here in New Haven!