Beach day anyone? The time is near for short summer days and cool nights on the beach. New Haven is a beautiful quaint town nestled along the coast of the Long Island Sound. As such, there are so many different beaches that are perfect for any occasion.
A few are close by to some really popular restaurants in the area with great cuisine. If you prefer to bring your own picnic, a couple of places allow that, too!
Even if you want to bring your pets, you can definitely do that too at some of these beaches.
The most popular towns and neighborhoods like Little Italy are close to some beaches with hiking trails and some organized activities for the family and your group of friends!
Summer is coming up, so you will definitely want to lock down your beach day plans, get tickets in advance if needed, and get ready to have fun!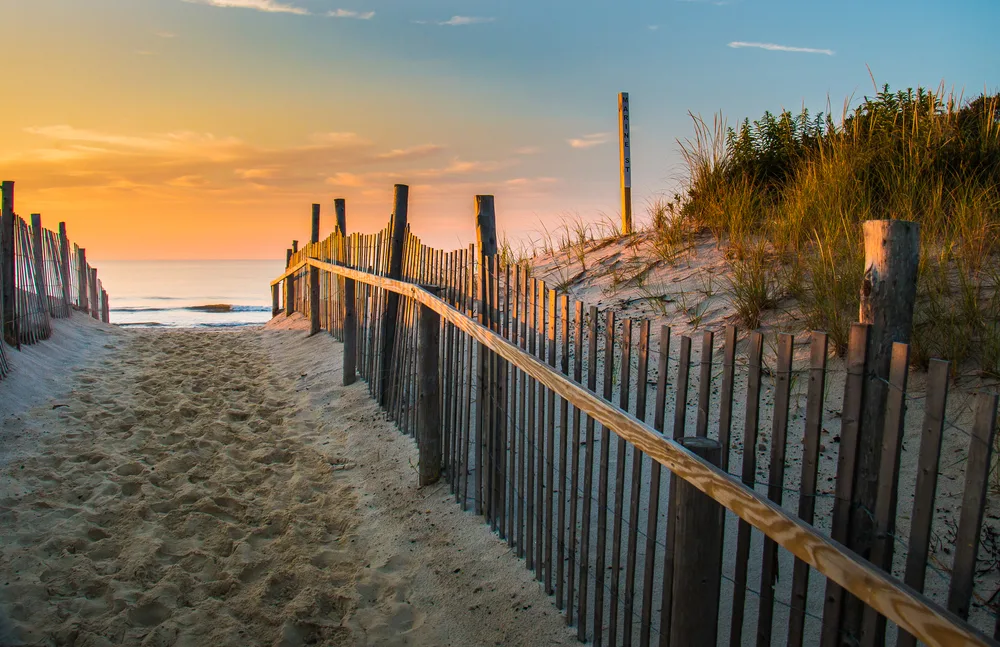 The 5 Best beaches in and near New Haven, CT
West Haven is an awesome suburb that is part of the Greater New Haven area. West Haven is also super close to the Long Island Sound, making it very easy to find a couple of nice beaches to visit during the day.
Some are even open at night!
West Haven beaches are a little different because the boardwalk connects a string of many beaches that are independent of each other.
So, if you like long walks on the beach, you've got one waiting for you here! The boardwalk is well maintained, and the landscaping is absolutely beautiful.
Plus, the incredible Stowe's Seafood is very close to the boardwalk, so you can walk on over once the sunset hits or start your beach day with a curated seafood lunch.
The low tides can go out pretty deep, so if you have young kids you should definitely watch out for that. Other than that, West Haven beaches are the perfect place to explore.
Milford is another suburb nestled in the Greater New Haven area. It is one of the best, completely free beaches in the New Haven area!
Silver Sands is a very popular beach and very easy to access, just off the quieter side of I-95. The crowd is very diverse, and you will find a lot of people to make new friends with, even when you bring your own.
Silver Sands has the perfect friends and family sort of environment going on, so you can definitely take advantage of that.
The tide at Silver Sands gets really low, so if you want to hike or walk along the beach that's completely possible.
Silver Sands is also adding standing bathrooms, so you don't have to do the porta-potty thing if that's not your vibe.
The low tide makes it easy to walk across to Charles Island, and you won't get stuck when the tide comes back.
East Haven is very close to Greater New Haven. Again, most beaches share the coast of the Long Island Sound that New Haven sits on.
Cosey Beach is perfect for a chill beach day. You can park your car anywhere on Cosey Ave for free, then walk on down to the beach and set up your picnic.
If you love to swim, then Cosey Beach offers a great beach swimming setting. The water can get pretty deep before you know it, so you will want to look out for that.
The low tide isn't too bad for the area, since it's a fairly rocky space. If you love to meet new people and chat with strangers, then the friendly people in East Haven are here waiting for you.
It's a great plus that you will be able to find parking nearby.
Great East Haven restaurants are just down the way, so once you get hungry you can just walk right over. The beach is also on the smaller side, which is great if you prefer a more quaint setting.
Lighthouse Point Park is one of the most popular New Haven beaches. New Haven residents have the pleasure of parking and entering the beach for free.
You can just walk right over to the beach, enjoy the sun, or take shade under the boardwalk and walk along the shoreline.
There is a designated picnic area, for you to bring all your own foods or charcuterie trays. The chairs and grill offer a great BBQ setting, too, plus, you can't miss the lighthouse and the carousel.
If you don't want to carry in your own snacks, you can purchase some at their snack bar for a few bucks.
Lighthouse Point Park is easy to enter, free for New Haven residents, and has some pretty stunning views.
With lots of places to lay down a towel and hang out, plus the snack bar and BBQ area, Lighthouse Point Park is the perfect beach day destination!
A little out of the way, but very worth the mention, is Hammonasset Beach in Madison, CT.
The Passport to Parks program has made Hammonasset Beach free to anyone with a Connecticut license plate!
That draws in people from all across the state, making Hammonasset Beach a premiere destination for beach-lovers around the way.
With the Passport to Parks program, it's now more accessible than ever.
With recent upgrades to all the facilities, the sand is well maintained and bathrooms are inviting to use. Hammonasset Beach has the best sand in New Haven, and the water is a bit cooler – perfect for the summer days!
The beach itself has more length than sand space, so perfect for long walks and taking a break from the swimming.
What's great and unique about Hammonasset Beach is that there is a campground for great prices, so if you want your beach weekend to also be a camping weekend, this is the place for you.
Hammonasset Beach also has bio-luminescent lights, so the nights won't be so dark.
Also, The Place is not too far, a great restaurant located in Guilford, Connecticut. Where you can grab a quick bite, and wait out the traffic to exit the beach.
Clam Castle is also another great choice to check out near Hammonasset Beach.
---
There you have it! The best beaches in New Haven are ready and waiting for you to check them out.
They aren't ranked in any particular order, so you can try them out and decide what your own favorite is!