Ready to find out what the 3 undisputed Mexican places in New Haven are? Get ready for some delicious Mexican food, because you're about to find out!
---
Mexican food is a fan favorite no matter where you are. If you are an avid traveler, then you likely go with a great Mexican place for lunch or dinner because you know you'll be getting great food, and good margaritas too!
Here in New Haven, there are many cultures and varieties of foods available.
Thanks to the world-class universities and museums, amazing hospitals, and innovative companies, people from around the world take up residence in New Haven.
With them, comes incredible and unique cuisines. We found the best Mexican restaurants in New Haven, and while we're certain there are many more great ones, our top Mexican places in New Haven have the most to offer in terms of variety and taste.
So, if you're looking for a place to go for great cocktails and a good enchilada or trio of tacos, then look no further.
This list of the best places for Mexican food in New Haven is all you need to plan a fun night out for dinner!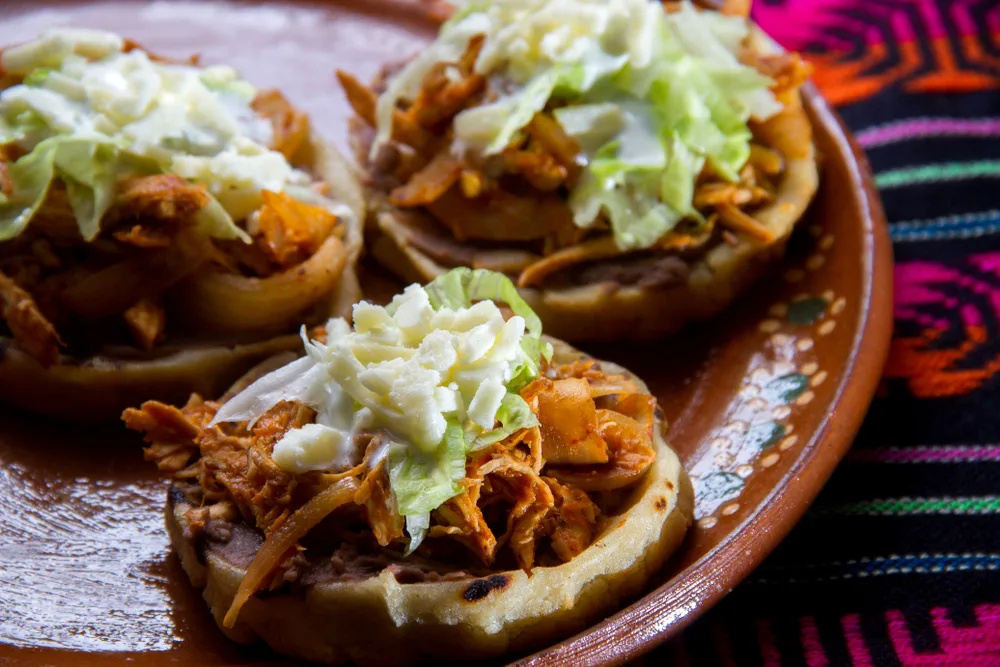 The 3 best Mexican places in New Haven
The inside of Geronimo Tequila Bar is like stepping into a genuine cantina. The setting is calm and relaxing, while the drinks are even better.
Their Southwestern food and tasty tequilas keep their large customer base coming back.
Only 2 minutes from the Yale Center for British Art, Geronimo brings Yale students and New Haven workers to their dinner scene with ease.
The flavors of the chef-curated menu are inspired by the flavors of Santa Fe, New Mexico, and we can have a taste of them right here in Connecticut.
Geronimo Tequila Bar and Southwest Grill has won many awards and graced many 'Best' lists, especially for their cocktails.
Geronimo is also one of only 40 businesses that have gotten the CRT Award T Certification from the Mexican government's Tequila Regulatory Council.
That's just a fancy way of saying that Geronimo basically has the Mexican stamp of approval for their 40+ varieties of Mezcal.
They also have tons of draft and bottled brews of beer available, not to mention plenty of top-shelf liquor for their adventurous cocktails.
Geronimo is one of the best Mexican places in New Haven because their Southwestern cuisine is top-notch, even their chile peppers are sourced right from New Mexico.
It doesn't get more authentic than that! No matter what your favorite Mexican food is, they have it–tacos, quesadillas, and signature dishes like Navajo frybread.
Geronimo is open for lunch and dinner every day of the week, and they even have brunch on Saturdays and Sundays.
If you plan to check Geronimo out, their customer favorites are the housemade salsa, Tres Leches for dessert, chicken tortilla soup, and their Geronimo burger.
Address: 271 Crown St., New Haven, CT
Mezcal is one of the few, authentic Mexican places in New Haven, even in Connecticut. Their cantina-style decor makes you feel like you're dining right there in Mexico.
They are a trendy restaurant that's happy to serve the best of Mexican classics like margaritas and burritos.
For lunch, they have lighter portions and a couple of lighter fares, so you don't feel sluggish on the way back to work.
The Mezcal staff is experienced, friendly, and knows the food very well. If you like to try new things, their staff knows the menu inside and out, and their tasty foods never disappoint.
The chef knows firsthand how important it is to cook with fresh ingredients. If you are a fan of Mexican food, then you know that the drinks are just as important.
Luckily, Mezcal has quite the selection of Mexican beer, many non-alcoholic beverages, but also Mexican wines.
Mezcal is a great place to check out with your friends, but also if you want to plan a romantic and cozy date.
Their Mexican meals come in a wide variety, and for a night in, they have take-out and online ordering available.
Their customer favorites are the chicken and beef enchiladas, their beef or steak quesadillas, and the cocktails, of course.
If you want to try Mezcal out, they are open Monday evenings, or Tuesday through Sunday from 11:30 am to 9:30 pm.
Address: 14 Mechanic St., New Haven, CT
We couldn't talk about the Mexican food in New Haven without mentioning Te Amo. this hip Mexican place is popular for the night crowds, but it's also just as great for lunch and dinner.
Te Amo Tequila Bar and Tacos is all in the name, their Tequila is top shelf and the taco selections are absolutely delectable.
The environment is quaint but sophisticated, and their fully stocked bar setting is great for open conversation.
The lounge area is super popular and fills up quickly, especially for the night crowd.
The bar and bartenders are always serving up unique drinks and cocktails, with the extensive options, you definitely need to come back to keep trying new things.
Their indoor eatery is nice and cozy, while the patio opens up in the summer and has outside tables for your comfort.
For a bigger crowd or celebration, you can reserve the party rooms, or hang out at the bar during happy hour.
Te Amo Tequila Bar and Tacos is perfect for date night, but also great for bar hopping and casual nights out. They have gift cards, which make great last-minute gifts.
Customer favorites and must-tries are their fried oyster tacos, platos pequenos, plantains, quesadillas, taco salad, and honey sriracha tacos.
It's also very family-friendly, offering things like family packs and sides, and sweet plantain nachos and tacos.
Address:182 Temple St., New Haven, CT
Our list of the best Mexican places in New Haven is all you need to find the perfect new dinner spot.
Whether you have a celebration coming up, or just deserve a night out, then you definitely want to check out Te Amo Tequila Bar and Tacos, Mezcal, or Geronimo Tequila Bar and Southwest Grill!