Whether you are looking for indoor swimming pools in CT because you want swimming lessons for your kids, aquatics classes for yourself, or just some free-swim time, I've got you covered.
We are a family of swimmers – if there's a lake in CT, we've swum in it. On the days when it's just too cold or yucky, though, we've got a nice list of indoor pools to choose from, as well.
I've gone ahead and put together a list of 11 of the best indoor pools in CT.
I didn't include local high school aquatics centers, simply because there are so many of them – hundreds, probably.
So, if you don't find any indoor swimming places that interest you on this list, you should definitely check out your local high school's aquatic center.
Typically, they allow town residents to use the pools during set hours each day.
Let's get right to the list, though, because there are some great indoor pool options outside of high schools.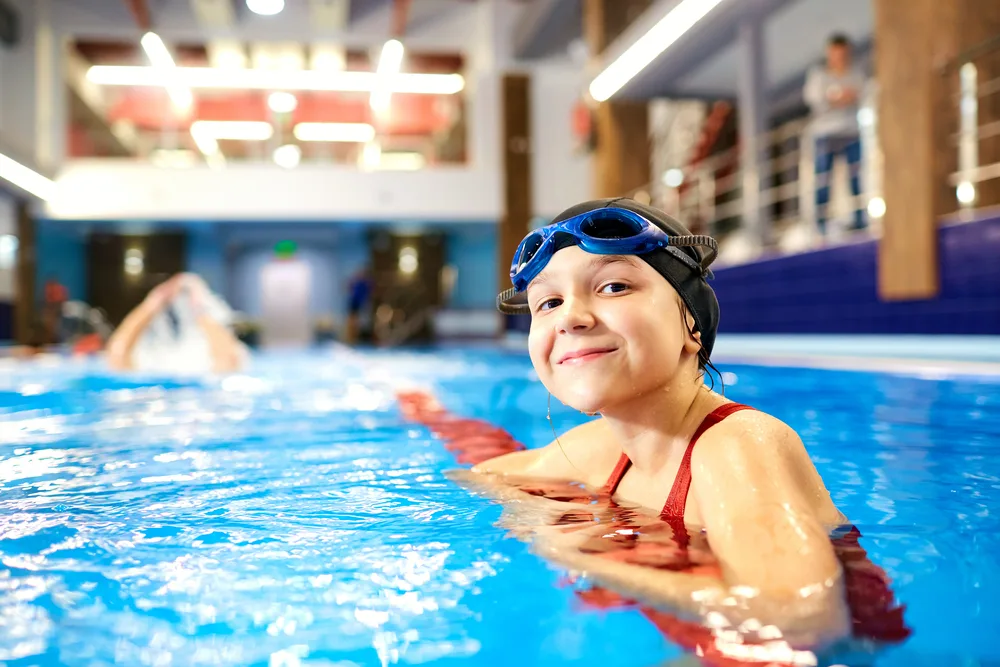 11 awesome indoor swimming pools in ct
Hospital for Special Care in New Britain is the area's premier fitness and wellness center.
Here, you can swim laps in the 20-yard pool while the 84-degree water soothes you and eases your aches and pains.
The Aquatic and Fitness Center at Hospital for Special Care offers a variety of exercise classes, swimming classes, and is wheelchair accessible.
Address: 2150 Corbin Avenue, New Britain, Connecticut 06053
YMCA – Multiple locations
If you haven't been to a YMCA in recent years, you owe it to yourself to revisit the place.
YMCAs in Connecticut offer state-of-the-art equipment and a variety of fitness classes.
Many of Connecticut's YMCAs also have pools that are open for both laps and family swims, and many of them offer swimming lessons.
If you're wanting to take a solo dip in the pool (without the kids), some of the YMCAs have childcare included in the monthly fee.
Just Google "YMCA near me" to find your nearest facility and check the website or call to find out about the pool hours, etc.
If you're in the Shelton area and you're looking for an indoor pool, you're in luck.
The Shelton Community Center has one of the best indoor pools west of New Haven.
They offer adult swims, family swims, and lap swimming.
Address: 41 Church Street, Shelton, CT 06484
Healthtrax is Bristol, CT's finest health and wellness club, and its indoor pool is awesome.
Come join an aquatics class, get a workout in the lap pool, or relax in the whirlpool or sauna.
Address: 842 Clark Avenue, Bristol, CT 06010
The pools at the Newtown Community Center are the ultimate indoor pools in CT for families with little kids.
They offer a lap pool and a "zero entry" (walk-in) pool, which is perfect for young children.
They offer swimming lessons here as well as a variety of aquatics classes for adults and children.
Address: 8 Simpson Street, Newtown, CT 06470
The Cheshire Town Pool offers open swims, family swims, as well as lap swimming – all year round.
The super cool thing about the Cheshire Town Pool is that you don't need to be a Cheshire resident to swim.
The rates for out-of-towners are listed on the website.
Address: 84 South Main Street, Cheshire, CT 06410
If you're looking for a high-end wellness center in CT, Riverwalk Athletic Club might be for you.
This place is amazing.
There are both indoor and outdoor saltwater pools here, which are all heated to a perfectly soothing temperature.
There is also a hot tub, steam room, and sauna here – pretty luxurious.
Address: 522 Heritage Road, Southbury, CT 06488
Not every town hall in Connecticut offers something cool for the community, like an indoor swimming pool.
Plainfield residents have something good going on, though.
Come to the Plainfield Town Hall for lap swimming, open swims, and adult swims.
You can pay per visit or purchase a quarterly pass to the pool.
Address: 8 Community Avenue, Plainfield, CT 06374
JCC of Greater New Haven has everything you need to get in shape and feel your best, including a wellness spa.
Their aquatics offerings here are plentiful, as well.
JCC offers swim classes for all levels of swimmers from beginner to expert. (Youth and adult classes are available.)
They also have a swim team for kids and uniquely tailored aquatics classes for children with special needs.
Address: 360 Amity Rd., Woodbridge, CT 06525
Big Sky in Farmington has a 5-lane pool with some of the best pool hours in Connecticut.
The pool opens at 5 am here!
Big Sky offers swimming lessons and they also have an outdoor pool, as well.
The fitness offering at Big Sky is great for both individuals and families.
Address: 94 Brickyard Rd, Farmington, CT 06032
LA Fitness in Newington, CT has everything you need if you're looking to get in shape.
In addition to all of the cutting-edge exercise equipment, they offer a wide variety of aquatics classes, such as water aerobics.
LA Fitness has fair prices and also offers childcare.
Address: 3563 Berlin Turnpike, Newington, CT 06111
---
There you have it – 11 awesome indoor swimming pools in CT!
Again, if you don't see anything near you on this list, check out your local high school.