If you are in Bristol, you are in luck. There are so many amazing things to do in Bristol, CT.
In this article, you'll learn a bit about the city of Bristol and get some ideas on things to do in Bristol, CT in 2022.
---
Bristol, Connecticut, located off of Interstate 84 between Hartford and Waterbury, is best known as the headquarters of ESPN.
In the 19th and early 20th centuries, however, Bristol was well known as a major clock manufacturing center. From 1821 to World War II, clockmakers like Elias Ingraham, John Birge, Joseph Ives, and William Sessions operated factories throughout the city.
Today, the American Clock & Watch Museum pays tribute to Bristol's clock-making heritage.
Today, Bristol is a family-friendly suburb of Hartford that celebrates its manufacturing heritage while preserving the land with several city and non-profit-maintained parks and nature reserves.
Bristol is also the home of America's oldest operating amusement park, Lake Compounce; the corporate headquarters of the Barnes Group; and a 29-story, 383-foot tall tower where Otis Elevator tests their products.
While ESPN's headquarters and the Otis Elevator tower are not open to the public, there are many things to do in Bristol.
Besides Lake Compounce and the American Clock & Watch Museum, there are other museums and nature preserves to visit.
In the summer, the Bristol Blues bring America's pastime to a stadium where baseball legends played.
An annual festival celebrates Bristol's history as a chrysanthemum grower.
Food connoisseurs will discover a restaurant that has received media attention for their chicken.
Here are the top 10 things to do in Bristol, CT. Many of the sites and activities on this list have limited hours, as noted.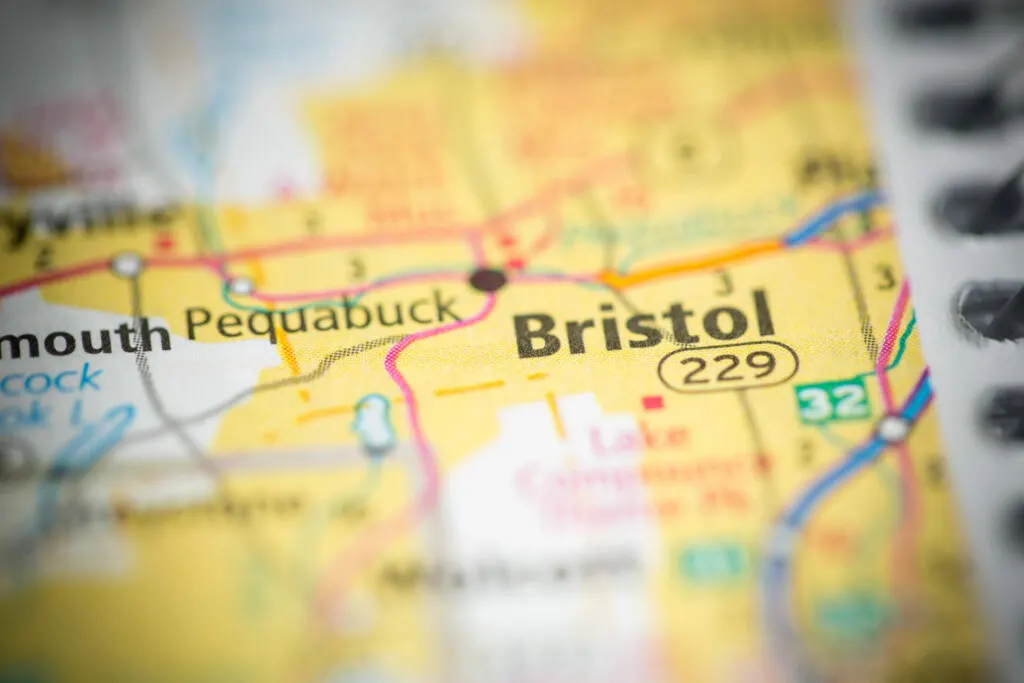 The 10 best things to do in Bristol, CT in 2023
1. Lake Compounce
Lake Compounce tops the list of the things to do in Bristol, CT for good reason.
Lake Compounce is the oldest operating amusement park in the United States, having opened in 1846 when Gad Norton built a path around what was known at the time as Compound's Lake.
Norton opened the lake to swimming and boating, set up picnic areas, and installed a concert gazebo.
Today, Lake Compounce is home to a dozen roller coasters and thrill rides, including Boulder Dash, named one of the top wooden roller coasters in the country by Amusement Today magazine.
The park also features fifteen kid-friendly rides. Lake Compounce's Crocodile Cove, located within the park, is Connecticut's largest water park with eight waterslides, pools, rides, and water playgrounds.
Besides the amusement rides and water slides, Lake Compounce hosts a variety of special events during the year.
On June weekends, the park features the Bites and Pints Food & Drink Festival, with live entertainment and food from local restaurant chefs.
In October, Lake Compounce celebrates fall and Halloween with Happy Hauntings, which incorporates kid-friendly Halloween events with gourmet food, live entertainment, and seasonal activities.
In December, the park's Holiday Lights program celebrates the holidays with over 300,000 Christmas lights, the lighting of Connecticut's tallest Christmas tree, holiday foods and beverages, live entertainment, Santa visits, an ugly holiday sweater party, and two days where visitors may bring their dogs to the park.
Lake Compounce is open from May through September and on select days from October through December.
Season passes and single-day tickets may be purchased through the park's website.
185 Enterprise Drive, (860) 583-3300
2. New England Carousel Museum
The New England Carousel Museum, in downtown Bristol, maintains a collection of over 200 restored carousel figures and an operating carousel in a 33,000 square-foot building.
The carousel figures date from the early 1800s to the present.
​​The Carousel Museum's carousel pieces include Coney Island, Philadelphia, and Country Fair carving-style horses, lions, tigers, swans, and frogs.
More contemporary carousel animals include a full-size dolphin and a University of Connecticut Husky dog.
Special exhibits celebrate famed carousel designers and artists. The museum also has an area where artists and carvers restore carnival pieces.
Inside the same building as the Carousel Museum is the Museum of Fire History.
The Museum of Fire History exhibits the antique firefighting equipment and memorabilia of Bristol philanthropist Carlyle "Hap" Barnes while teaching visitors about fire safety and firefighting technology.
A third museum inside the Carousel Museum building is the Museum of Greek Culture. The museum celebrates Greek art and culture and Bristol's Greek community.
The New England Carousel Museum, the Museum of Fire History, and the Museum of Greek Culture are open Wednesday-Sunday.
Tours are held Wednesday-Friday. Group tours may be arranged. Admission includes one carousel ride.
95 Riverside Avenue, (860) 585-5411
3. American Clock & Watch Museum
Bristol was a major clock manufacturing center. One of the clock manufacturers making Bristol its home was the Ingraham Clock Company. In 1952, Edward Ingraham developed the idea of building a museum to preserve Bristol's clock heritage.
In 1954, the Bristol Clock Museum, now the American Clock & Watch Museum, opened its doors.
One of the few museums in the United States devoted to the history of timekeeping, the American Clock & Watch Museum specializes in American clocks of the 19th and early 20th centuries.
Originally opened with 300 clocks on display, the museum currently has over 1,500 clocks and watches in its collection. The collection includes advertising clocks, punch clocks, grandfather clocks, railroad watches, and character watches.
The museum invites visitors to use their small reference library. A more extensive library is available to the public by appointment.
For a fee, the museum staff will research, but not appraise, any clock or watch you may have.
The American Clock & Watch Museum is open Wednesday-Sunday. Special arrangements may be made for Monday or Tuesday visits.
100 Maple Street, (860) 583-6070
4. Imagine Nation
Bristol's Imagine Nation is a museum geared to kids aged 2-8. Inspired by Italy's Reggio Emilia approach to post-World War II early childhood education, this children's museum has eleven distinct studios.
Each studio is designed so that kids can experiment with sound, air, and motion, using critical thinking, creativity, confidence, and their own curiosity as they learn.
Instead of self-exploration, Imagine Nation offers a series of workshops that utilize one or more of the studios.
The studios, spread throughout the museum's three levels, focus on nature, outdoor learning, art, wildlife, water, science and energy, light and reflection, multicultural studies, wellness, kinetic construction, and theater arts.
One Imagine Nation workshop allows kids to learn about and care for the museum's animals, while another workshop teaches kids how to paint works of art.
A list of available workshops can be found on the museum's website. Advance registration is required for a child to participate in one of Imagine Nation's workshops.
If you've got little ones and are looking for things to do in Bristol, CT, look no further – this is your place.
One Pleasant Street, (860) 314-1400
5. Bristol Historical Society
Established in 1971, the Bristol Historical Society maintains a collection of historical artifacts and documents pertaining to Bristol's history and heritage.
The Society hosts events, special exhibits, and lectures on the city and region's history. Previous exhibits focused on postal history and 100 years of fashion.
A unique Historical Society project is called The Time Frames of Bristol. The Historical Society worked with the City of Bristol to install sixteen double-paned window frames at landmarks throughout downtown Bristol.
One pane features a historical photograph that shows what the landmark originally was. The other pane is blank, allowing visitors and locals to see what the landmark looks like today at the same angle.
This gives everyone a chance to see how the landmark evolved over time.
The Bristol Historical Society is also the home of the Memorial Military Museum and the Bristol Sports Hall of Fame.
The Memorial Military Museum exhibits wartime uniforms, letters, weapons, and photographs. An exhibit is devoted to the World War I Battle of Seicheprey.
Soldiers from Bristol fought in that battle as part of Company D of the 102nd Infantry, 26th Yankee Division. Eight Bristol soldiers lost their lives in that battle.
The Bristol Sports Hall of Fame was founded in 1997 to honor Bristol athletes who made positive contributions to sports life in Bristol.
The Hall of Fame's John Fortunato Room at the Historical Society features trophies, photographs, and other memorabilia from Bristol's sports teams and athletes.
Some Hall of Fame inductee plaques are found here. Other inductee plaques can be found at the Dennis Malone Aquatic Center and online.
The Bristol Historical Society is open on Wednesdays and Saturdays.
98 Summer Street, (860) 583-6309
6. Harry C. Barnes Memorial Nature Center
The Harry C. Barnes Memorial Nature Center sits on 68 acres of land in north Bristol held by the non-profit Environmental Learning Centers of Connecticut.
The center's goal is to be a community center where everyone can learn about the natural world and its importance.
The Center's exhibits focus on animals, plants, and Native American artifacts, Hikers can enjoy four different woodland trails.
Each trail covers a different part of the Nature Center and is less than a mile. A mile-long trail under construction will be wheelchair accessible.
Special events held during the year include artist and photographer receptions, guest workshops and lectures, apple cider-making demonstrations, goat strolls, a turkey meet and greet, baby chick adoptions, and a spring fair.
The Nature Center's trails are open every day, from sunrise to sunset. The remainder of the nature center is open on weekends.
There is no charge to use the trails. An admission fee is charged to visit the rest of the Center.
175 Shrub Road, (860) 583-1234
7. Hoppers-Birge Pond Nature Preserve
The Hoppers-Birge Pond Nature Preserve was purchased by the City of Bristol in 1973 and became part of Bristol's Parks and Recreation System.
Located in northern Bristol, Hoppers-Birge Pond sits on 200 acres and features walking and hiking trails, picnic areas, and a pond for fishing and boating.
The Nature Preserve has been featured on Channel 3 and in the Hartford Courant.
The land that the Nature Preserve sits on dates back 20,000 years to the Laurentide Ice Sheet. When the Ice Sheet melted, a ridge of stratified sand and gravel was left behind as streams flowed around the melting ice.
These ridges formed craters, which are called kettle holes, or hoppers.
The preserve's trails, especially the Glacial Trail, have many hoppers. The Glacial Trail leads to a spot called Lookout Point, where visitors can see Farmington Mountain and most of Bristol, Plymouth, and Terryville.
Some of the trails were Colonial-era and Native American roads and paths.
The trails have markers to indicate historical places of interest. The places of interest include glacial formation sites and the sites of a former charcoal manufacturing plant and the former Southern New England Ice House.
The Nature Preserve is open daily during daylight hours. Due to the presence of wildlife, no motorized boats or bikes are allowed. Admission is free.
112 Ambler Road, (860) 584-6160
8. Bristol Blues Baseball
The New England Collegiate Baseball League fields fourteen teams, including the Bristol Blues. The players on each team are college student-athletes.
The Bristol Blues play a 44-game schedule during June and July, with playoff games in August.
The Blues run a variety of promotions and events during the season.
Previous promotions included fan, first responder and healthcare worker appreciation nights, post-game fireworks, a Hawaiian night, giveaways, and a bring your dog to the game night.
Bristol Blues games are played at Muzzy Field, which first opened in 1914. Muzzy Field was the home field for a couple of minor league teams, the Bristol Owls and the Bristol Red Sox.
The field also hosted barnstorming major league baseball teams, Negro League teams, and professional football teams.
Babe Ruth, Jimmie Foxx, Warren Spahn, and Casey Stengel all played games at Muzzy Field.
Both season and individual game tickets may be purchased online. Individual game tickets are also available at the Muzzy Field ticket booth.
Muzzy Street, (860) 582-2583
9. Bristol Mum Festival
Held annually since 1962, the Bristol Mum Festival celebrates chrysanthemums, which, up until 1986, were grown in abundance in Bristol.
The city's nurseries grew 80,000 mums each year, attracting 10,000 visitors.
Today, hosted by the Bristol Exchange Club, the Mum Festival is a multi-day event celebrating Bristol and the people who live there.
The festivities at the Bristol Mum Festival include a parade through downtown Bristol, fireworks, games, live music and entertainment, a classic car show, an 8k road race and one-mile walk, arts and crafts shows, vendor booths, a beer and wine garden, and food booths and trucks featuring local restaurants and chefs.
The Bristol Mum Festival is held in late September. Admission is free. Both on-site and off-site parking is available, with shuttle service between some off-site lots and the Festival.
Additional information is available through the Festival's Facebook page.
10. Greer's Chicken
Greer's Chicken is Bristol's best-known takeout restaurant. The restaurant has been featured in Connecticut Magazine and the Hartford Courant, on Channel 3, and in Food Network Magazine.
Greer's got its start in the 1930s as a poultry farm. In 1963, the poultry farm closed and was converted to a restaurant.
Greer's specializes in Southern-style fried chicken, which is available in pieces, nuggets, and chunks.
Roasted whole and half chickens are also on the menu, as are deep-fried chicken livers and gizzards.
Side dishes, all made from scratch, include coleslaw, potato salad, macaroni salad, mac and cheese, sauteed green beans and onions, and mashed potatoes with gravy.
The restaurant has no inside seating. There are a couple of tables outside in front of the restaurant.
The meals are ideal for a picnic at one of Bristol's parks or to eat at home or at your hotel or vacation rental.
Greer's often hosts fundraisers where a portion of the day's profits are donated to a local school or kids' sports team.
64 Matthews Street, (860) 583-3191
Bristol has something for the entire family to see, do, and enjoy.
Visitors and locals should take the time to explore these top 10 things to do in Bristol, CT.