Winter in Connecticut attracts people from across the New England area and even other neighboring states. That is probably because Connecticut has a lot to offer in terms of fun winter activities.
From ice skating to ski resorts, you can find something in Connecticut no matter what part of the state you live in.
If you are looking for some ski places to visit in Connecticut, then now is the right time to start. Some of these places to ski in CT fill up quickly and now have smaller capacities.
The months are flying by, and winter will be here before we know it!
So, if you are looking for some recommendations, we have done all the hard work and have the top 10 places for skiing in Connecticut here for you!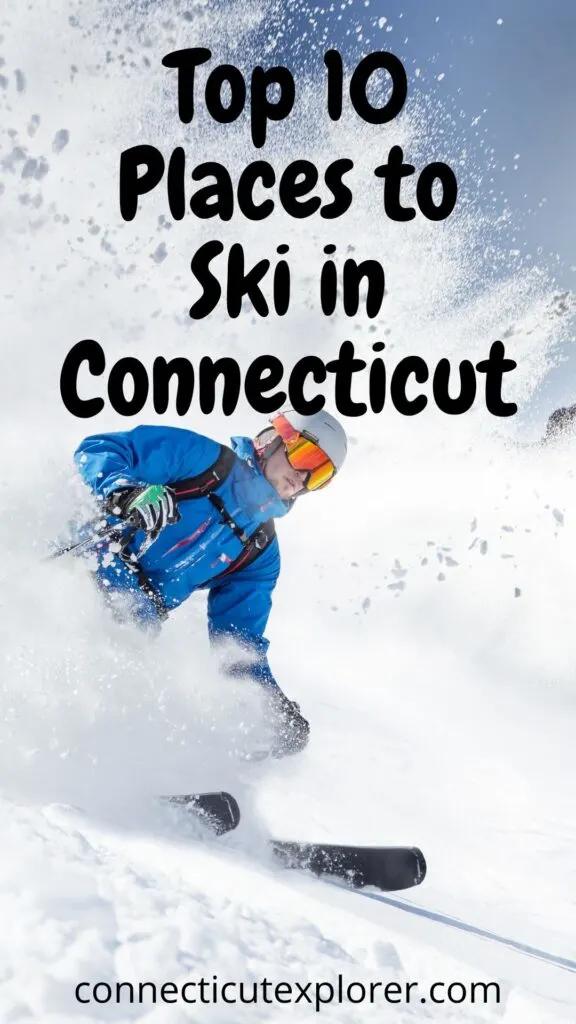 The top 10 places for skiing in Connecticut
If you are a regular at winter skiing, then you will find Mohawk Mountain to be the perfect winter skiing place in Connecticut for you.
This is a downhill skiing location, with many places for runs and ledges. The entire downhill summit is 3,000 feet and they also have ski lifts, in case you come with family or younger kids who aren't skiing buffs.
The Mohawk Mountain staff are also trained to teach lessons on skiing and conduct classes you can register for. Even if you don't have your own gear, you can rent or purchase ski gear either on their website or in-store.
It's basically full service, and a beautiful place to ski!
This is a beautiful place for skiing in the early evening, or even at night since the trails are lit at night. Ski Sundown has downhill skiing slopes, lessons, and even racing for adult guests.
If you want to opt-in for the membership, they offer discounts for members. With well-maintained trails and controlled skiing conditions, Ski Sundown has your best interests and your plans for fun in mind.
They have some jumps, quarter pipes, and ramps if you are used to skiing.
Ski Sundown is unique because they took time to create some terrain aspects by hand, while also maintaining the natural terrain on the downhill slopes.
If you are not new to skiing, then this is the place for you. Mount Southington is definitely a great choice for experienced skiers.
They have their own racing championship and racing trail, but if you are just into skiing for leisure or want to learn this winter, then they have beginner trails and easier slopes.
With over 20 trails to choose from, Mount Southington has plenty to offer for your winter ski trip!
This place has a plethora of winter activities. Snowboarding, tubing, and skiing–no matter what you want to do, the Powder Ridge Mountain Park & Resort is perfect for you and your family.
They have 19 trails, so no matter what level of skier you are, something will match your skill level. Their website has a guide for new skiers with a wealth of information you can read up on before your visit.
On-site, they have trained staff to give lessons for beginners and children under five.
This ski park is over 1,500 acres and offers trails for cross-country skiing and leisure skiing.
The trails are not over groomed, so you can do some exploring and check out the nearby mill town and historical buildings. Get a dose of fun skiing and some cultural history at Gay City State Park.
They have detailed maps on their website and you have the option of combining trails, so you don't have to do it all in one day, it could be a weekend trip!
If cross-country skiing is your thing, then Chatfield Hollow State Park is waiting for you!
They have shorter trials as well, in case you are visiting with people who are not as big on skiing.
Their trails can be combined into loops as short as one mile and up to 10 miles.
Get a piece of history with your visit to Air Line State Park Trail. The trail was built on the old railroad that connected New York and Boston.
It has now been turned into biking, hiking, and skiing locations throughout Connecticut.
They do not maintain the trails, but they can be reached by many starting points including East Hampton, Thompson, Putnam, and Colchester, Connecticut.
This place is the winter fun destination of Litchfield. They have events, speakers, and a nature education center to attract visitors from across Connecticut.
Their ungroomed trails are for cross country skiing and snowshoeing. With over 40 trail options, the White Memorial Foundation offers maps and trained staff to help you along your fun day!
This is a top destination for skiing in Connecticut. The Winding Trails Cross Country Ski Center offers over 350 acres of groomed skiing trails and ski equipment rentals.
With over 20 kilometers of trails, the Ski Center is not short on places for you and your family or friends to work out your skiing skills. They even have sleds for pulling the kids and little ones too small for skiing.
They even have a warm ski lodge and ice skating!
The Woodbury Ski Area offers skiing, tubing, and snowboarding at their trails.
They are also one of the first ski areas to stay open later in winter, if not closer to spring. They have many trails to choose from, including downhill and wooded ski areas.
If you're a beginner, don't worry! They offer lessons and ski equipment rentals.
There you have it! The top 10 places for skiing in Connecticut definitely have something for you.
Visit one, or visit all, you won't run out of fun skiing trails and activities this winter. Skiing is a fun, outdoor, family-friendly activity that's very popular, especially in Connecticut.
So, we hope you're getting ready for some fun winter skiing time!