If you're looking for some amazing Mexican restaurants in CT, ones that serve fresh, delicious, and authentic Mexican food, you're in the right place.
As I was gathering my maseca and my tortilla press, all ready to make some yummy Mexican food, I looked over at my sink full of dishes and thought to myself, "Nah, I'm going out to eat tonight".
Sometimes you just want to sit down and be served. Do you know what I mean?
And there's nothing better than eating at a Mexican restaurant.
Fresh margaritas, authentic tacos, homemade tortilla chips, delicious sopes – get in my belly.
I just had to put together a list of great Mexican restaurants in CT for you all.
A couple of these spots are my personal favorites, but all of them are the best in Connecticut.
So, let's get to it.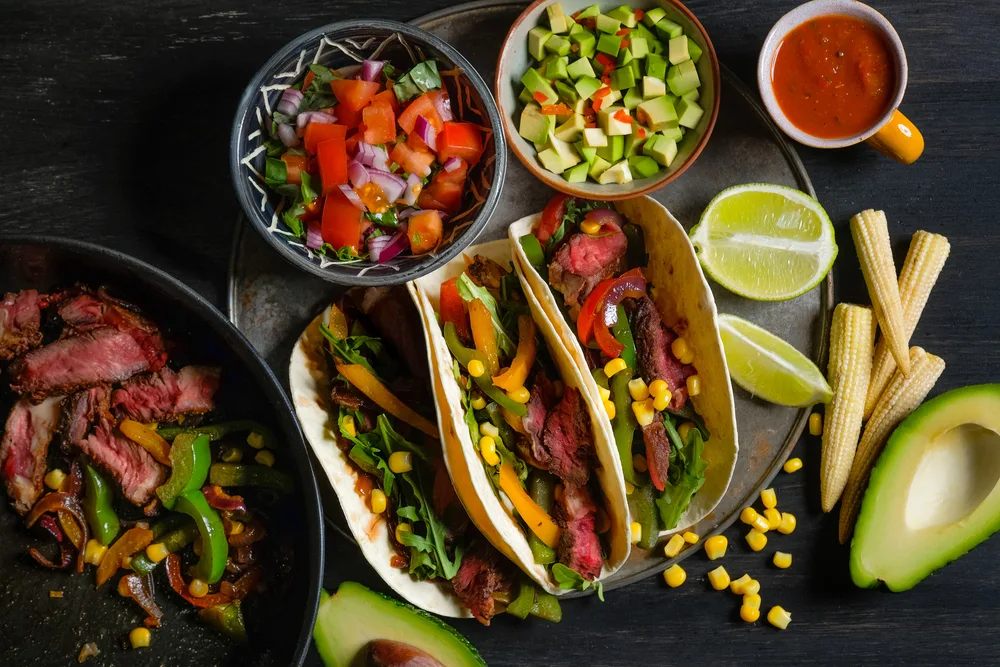 The 9 best Mexican restaurants in CT
Long Wharf Food Trucks – New Haven
Ok, so this isn't actually a Mexican Restaurant in the literal sense.
It's actually more like 20+ Mexican restaurants all in one place.
The strip of food trucks on the Long Wharf Waterfront off 95 in New Haven is one of the most popular spots for authentic Mexican food in CT.
Not all of the food trucks on the Long Wharf Waterfront serve Mexican food.
Whatever you're in the mood for – street tacos, sopes, barbacoa, albondigas – you'll find it made fresh here.
There's plenty of Puerto Rican, Guatemalan and Cuban food served here, as well.
So, whether you're in the mood for Latin American food or specifically Mexican food, you will leave this food truck strip full and happy.
Address: 398 Long Wharf Rd., New Haven, CT
One of the best and most recommended Mexican restaurants in CT is Baja's Mexican Restaurant in Orange.
Everything served here is authentic and made to order using only the freshest ingredients.
With dishes like Pollo Mole and Ceviche Tostada, the selection here is great.
One of the most popular items on the menu here is the Huevos Rancheros – delicious!
Baja's also offers a really great Sunday brunch.
Address: 63 Boston Post Road, Orange, CT 06477
South Glastonbury has some of the best overall restaurants in Connecticut.
So, it's no surprise that a Mexican restaurant located here has ended up on this list.
Menu items here include birria quesadillas, lobster enchiladas, and tons of unique and delicious taco options.
Anyone who's been here will warn you, though, to expect a wait.
This restaurant is no hidden gem – it's very popular.
Address: 865 Main Street, So. Glastonbury, CT
La Llorna is Niantic is one of my favorite Mexican restaurants.
Here, you can get street tacos, fajitas, a variety of unique burritos, and more.
This popular Niantic restaurant serves some of the best Carne Asada that I've ever had.
And the fried plantains here – just delicious.
The atmosphere here is casual but still nice enough for a date night or business lunch.
Address: 13 Hope St, Niantic, CT
Jalapeno Heaven in Branford is a hidden gem among CT's Mexican restaurants.
Here, you'll find authentic homemade Mexican food, generous portions, and some of the best margaritas you'll ever taste.
Menu items here include huevos rancheros, fish tacos, chili rellanos, and so much more.
Address: 40 N. Main Street, Branford, CT 06405
Tacos Mi Nacho – Southington
If you're ready to be impressed by authenticity, portion size, and price, then Tacos Mi Nacho in Southington is your Mexican restaurant.
The birria tacos here are amazing and I highly recommend the pork tamales are official.
This is one of the most underrated Mexican restaurants in CT and it's earned its spot on this list for sure.
Address: 1796 Meriden-Waterbury Turnpike, Southington, CT 06467
Bar Taco is a national Mexican restaurant chain with 3 locations in Connecticut.
The location in West Hartford is definitely the most popular.
From the seared chorizo tacos to the black beans with sofrito, everything here is just amazing.
Bar Taco has just the right mix of authentic and contemporary Mexican food.
If you decide to visit Bar Taco, don't forget to finish your meal with the churros – they're so good.
Address: 971 Farmington Avenue, West Hartford, CT
If you can get past the name Mr. Taco, you'll be pleasantly surprised by this amazing Mexican restaurant.
Everything here is just so delicious.
They serve lots of tacos, of course, like fish tacos, shrimp tacos, and arrachera tacos.
Other authentic Mexican dishes here include tostadas, sopes, and beef tortas.
Address: 69 Miller St., Meriden, CT 06450
If you're in the West Haven area and you're in the mood for some delicious authentic Mexican food in a really laid-back atmosphere, you need to check out Orale Tacos.
Orale serves delicous tacos, Mexican street corn, fresh made guacemole, tostones, and more.
The type of food served here is just as good when it's taken to-go as when it's served at a table, too.
So, dine in or get it to go, but you'll be back for another visit.
Address: 551 Main Street, West Haven, CT 06516
---
There you have it – the 9 best Mexican restaurants in CT.
Is your favorite Connecticut spot for Mexican food on this list?
If not, let us know in the comments – share it with the world!
We love checking out new restaurants. So, if you've got a good recommendation, don't keep it to yourself.
Where is it? What do you love about it? What's the best dish on their menu?