If you are looking for some great German restaurants in CT, you have come to the right place.
I've put together a list of some restaurants where you can find the best German food in Connecticut.
Whether you're looking for a fine-dining or causal atmosphere, there's something for you on this list.
If you're looking for some great German beer, we've got you covered, as well.
Let's get right to it.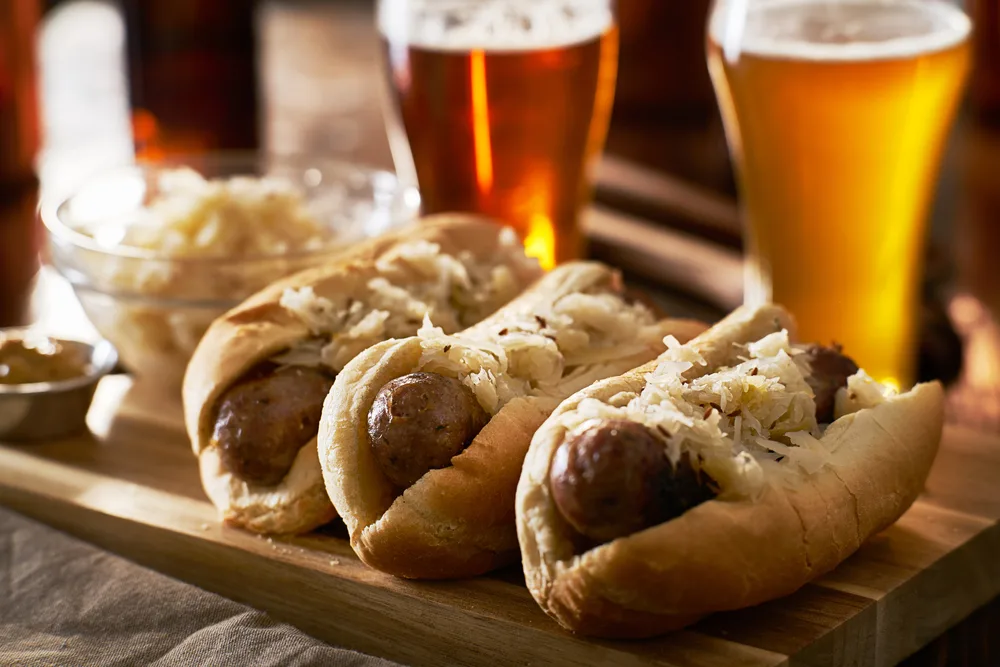 5 amazing German restaurants in CT
East Side Restaurant in New Britain is likely the most popular German restaurant in CT.
The atmosphere is phenomenal and the food – it's delicious and authentic.
Here, you can find potato pancakes, goat cheese balls, bratwurst, knockwurst, spaetzle, Bavarian pretzels, and so much more – and these are just the appetizers.
Some of the German entrees here include German meatballs and wiener schnitzel.
If you're in the mood for Hungarian food, you're in luck because you can find Hungarian goulash here, as well. (My favorite!)
East Side Restaurant is also a great German restaurant for group events, banquets, and catering.
Address: 131 Dwight St, New Britain, CT 06051
Wurst House in West Hartford hands-down serves the best German food in Connecticut.
Seriously, if you're in the area and you're looking for a good German restaurant, you've got to check this place out.
Heck, no matter where you are in the state, come check it out – it's worth the drive.
German appetizers here include Belgian fries, potato pancakes, and Bavarian pretzels.
Sausage dishes here include:
Brat wurst
Frankfurter
Duck wurst
Chicken wurst
Wurst House even serves a plant-based sausage option.
The atmosphere here can't be beat and they have a great selection of German beers to choose from.
Address: 37 LaSalle Rd, West Hartford, CT
The Hopkins Inn in Warren, Connecticut is one of the most beautiful, luxurious places in the state.
Not only can you stay at one of the cozy villas and enjoy a stunning Lake Waramaug sunset, but you can dine on some delcious German food at the restaurant.
The Hopkins Inn serves delicous German favorites like melon and schinkenspeck, bundnerteller, and Rahmschnitzel in a comfortable, but luxurious atmosphere.
The Hopkins Inn is seasonal, so make sure you check the website before you head over for dinner.
Reservations are strongly recommended anyway.
Address: 22 Hopkins Rd, Warren, CT 06777
Old Heidelburg in New Haven is located right near the Yale Universiry Campus.
It's more of a bar than a restaurant, however, you can find some German favorites, here. So, we decided to include it on our list.
At this upscale watering hole, you'll find plenty of delicous beer, wine, and cocktails.
Along with your tasty beverage, you can enjoy a warm Bavarian pretzel or a delicious Bratwurst.
Not exacty a German restaurant, but the appetizers are decidedly German.
The hours at Old Heidelberg are super select – this bar opens at 4 pm and closes at 10 pm on Monday thru Wednesday.
On Thursday thru Saturday, it's open till midnight.
Address: 1151 Chapel St, New Haven, CT 06511
The Jealous Monk in Mystic is often overlooked as a place where you can find German food.
The burgers, beer, and atmosphere at the Jealous Monk are hard to beat.
German lunch and dinner favorites can be found here, too, though!
Come for a delicious appetizer of Bavarian pretzel or an order of Belgian frites.
As far as German main courses, you'll find the Bavarian bratwurst and Schinkennudeln are hard to beat.
Address: 27 Coogan Blvd Bldg 20 Mystic, CT
---
There you have it – 5 awesome German restaurants in CT to choose from.
German food is so unique and delicious, and the culture really appreciates comfort and enjoyment with its meals.
Enjoy!