If you are looking for a fun Halloween activity in Connecticut this year that is suitable for even babies and toddlers, you need to check out Pumpkintown USA in East Hampton, CT.
Pumpkintown is not scary in the least. If you are looking for some wholesome family Halloween and fall-themed fun, this place is definitely worth the trip.
Our kids had an absolute blast and we were surrounded by dozens of kids who were having an equally great time.
Owned by Paul's and Sandy's Too Garden Center, this adorable fall family attraction is made especially for Connecticut's local families.
Oh, and it's afforable, too!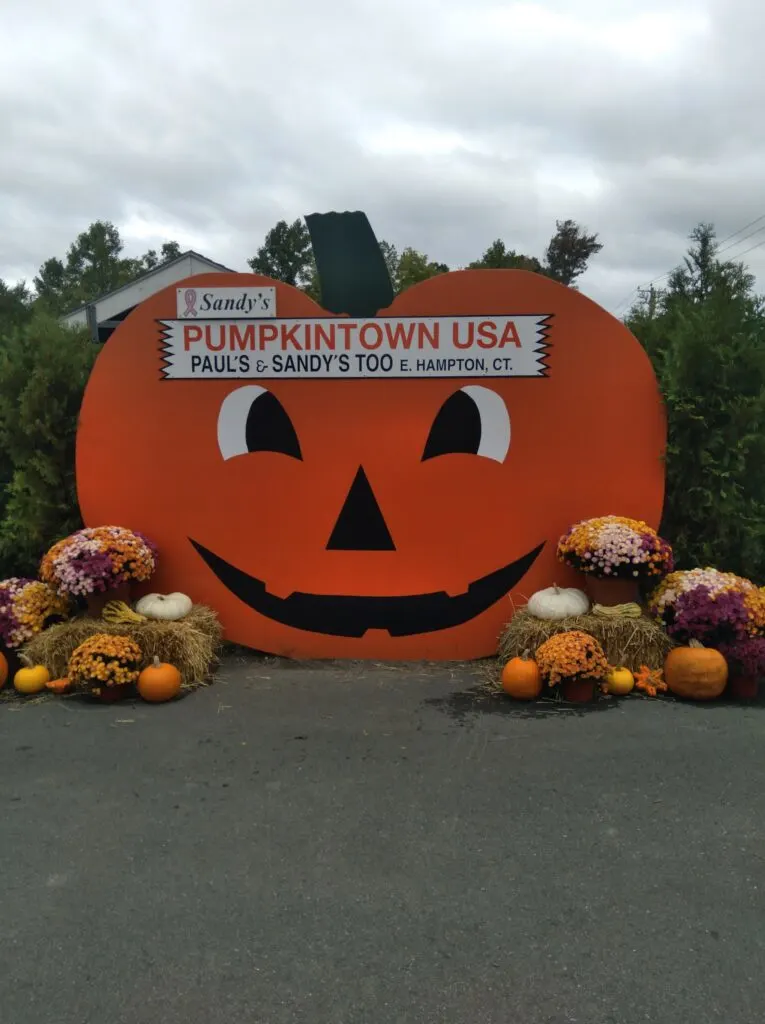 Where is Pumpkintown USA in CT?
Pumpkintown USA is located in East Hampton, CT, on High Street, also known as CT-66.
It's just west of the Salmon River Forest near the Pocotopaug Lake.
The location of Pumpkintown is essentially central Connecticut, just southeast of Hartford, making it just a short drive for CT families, no matter where they live.
Address for the Village: 93 East High Street, East Hampton, CT
Address for the Ride: 100 East High Street, East Hampton, CT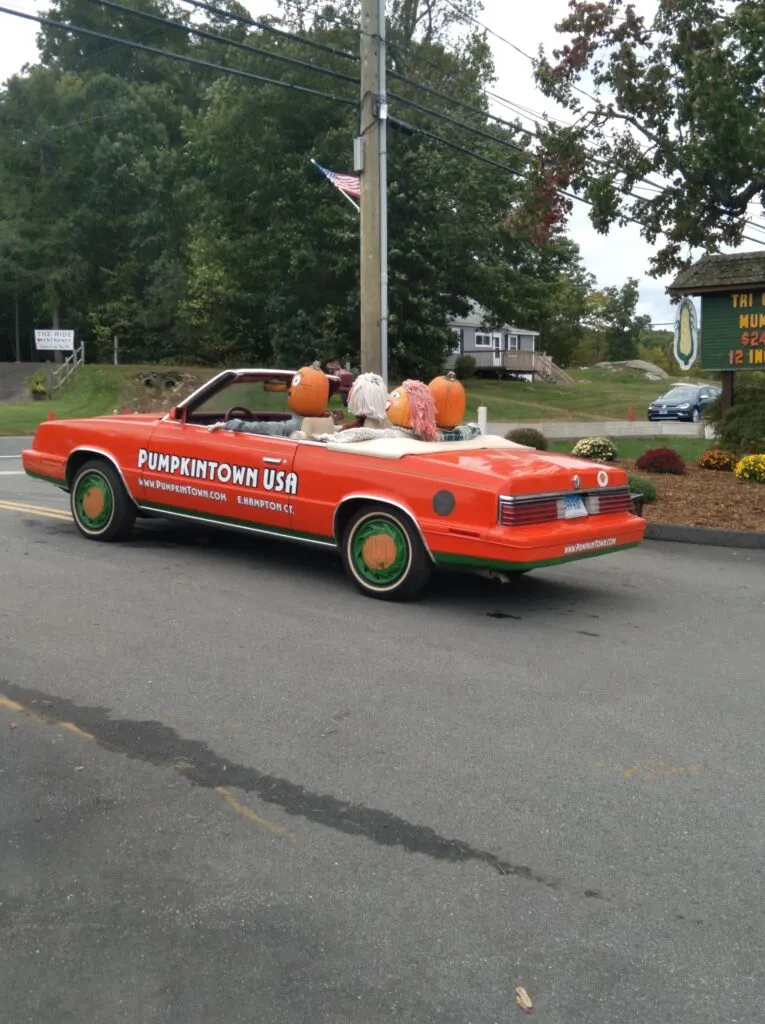 What is there to do at Pumpkintown USA?
There's plenty to do at Pumpkintown USA in East Hampton, CT. This is one of our newly favorited Halloween spots.
Folks from all over Connecticut have been enjoying Pumpkintown for years, though!
There's plenty of enjoyment on both side of the street, so make sure you don't miss anything during your visit.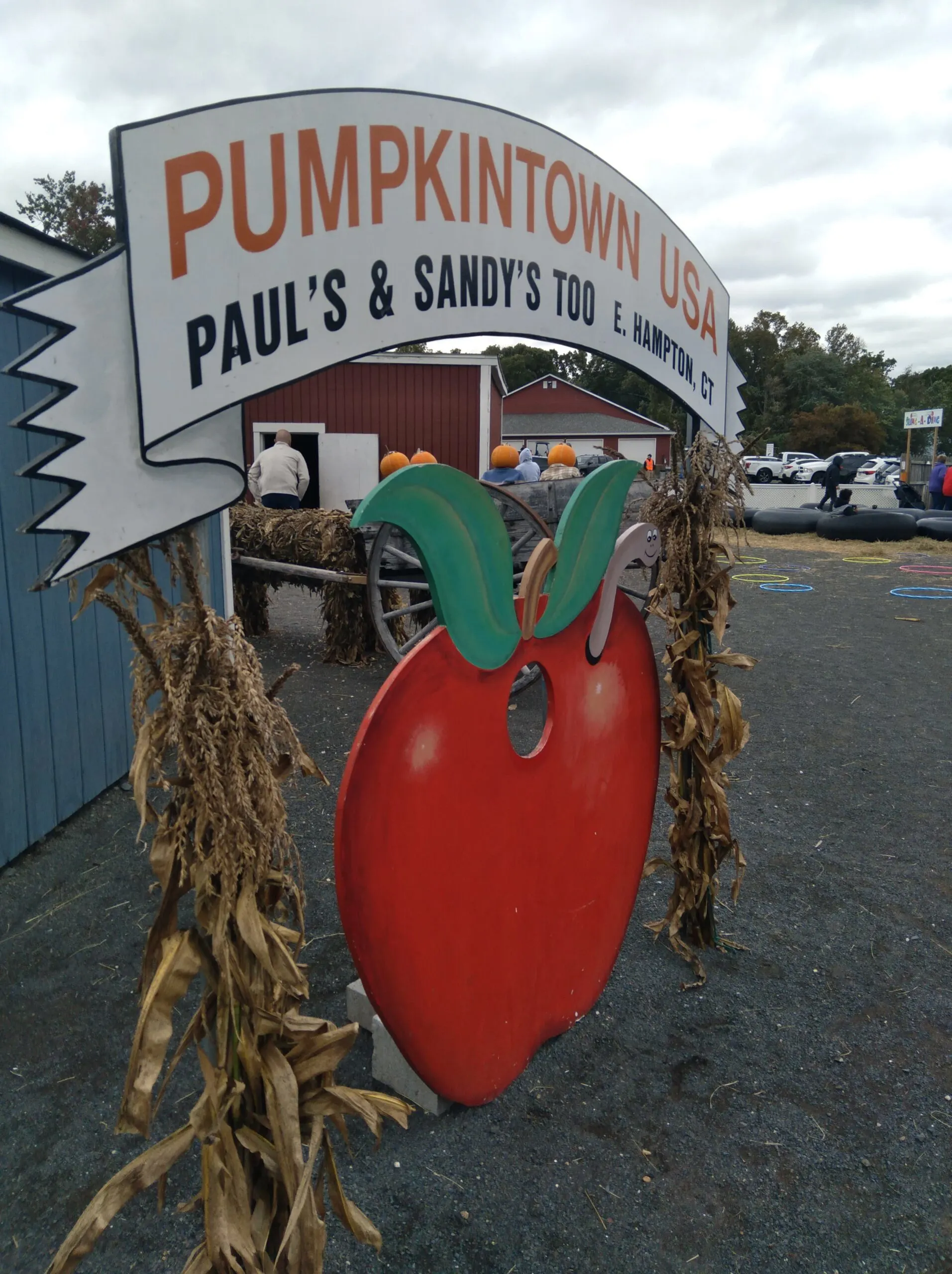 The Pumpkintown USA shop
Before you enter the Pumpkintown Villaige, you'll pass through a quaint little shop that sells lots of souvenirs, as well as homemade treats, drinks, and more.
The Town
The Pumpkintown Village is absolutely adorable. There are stuffed "people" with pumpkins for heads performing all sorts of Pumpkintown duties.
Kids can go inside many of the buildings and use their imaginations as they explore.
There are also plenty of family photo opportunites in the Village, like the giant inflatable pumpkin that's right in the middle of Pumpkintown.
Entry into the town is $6 per person for ages 3 and over. Kids under 3 years old get in free.
A portion of the admission cost goes to the Sandy Peszynski Breast Cancer Foundation.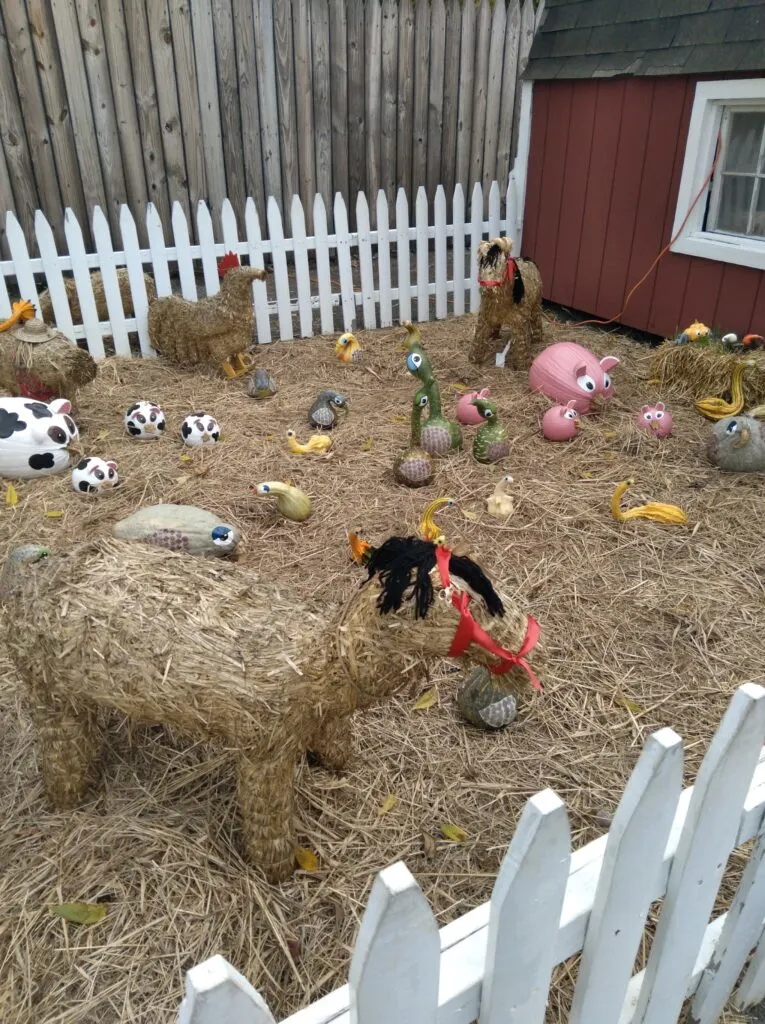 Hay maze
The hay maze at Pumpkintown is small and is perfect for toddlers and younger kids. There is no additional fee for entry.
Slingshot game
For $5/per basket, you can try to slingshot balls into a target that's floating on a small pond.
Prizes are given for winners and I even got a neat little finger trap just for trying. (I got really close to winning, I swear!)
The Slingading slingshot game is only open on the weekends.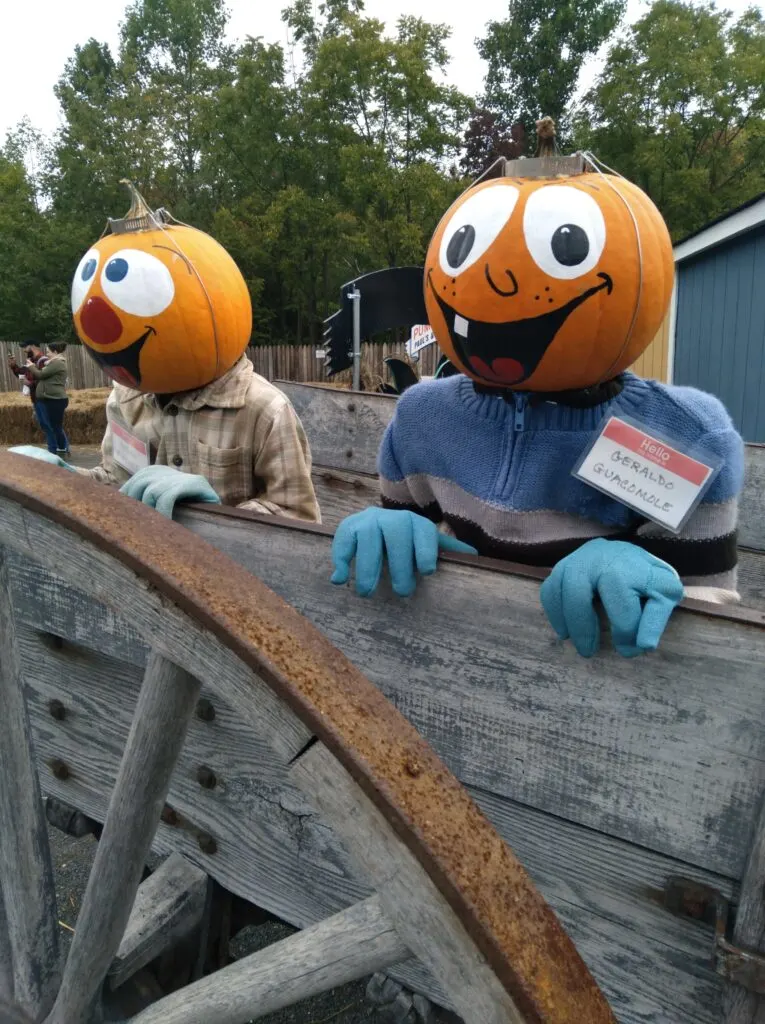 Bouncy tubes
I'm not going to lie – I don't know what these bouncy tubes are actually supposed to be called, or what they are supposed to be used for, but my kids had a blast jumping on them.
There is no fee for kids to jump on the tubes and they are surrounded by soft hay.
I promise you these will be the highlight of your child's visit to Pumpkintown.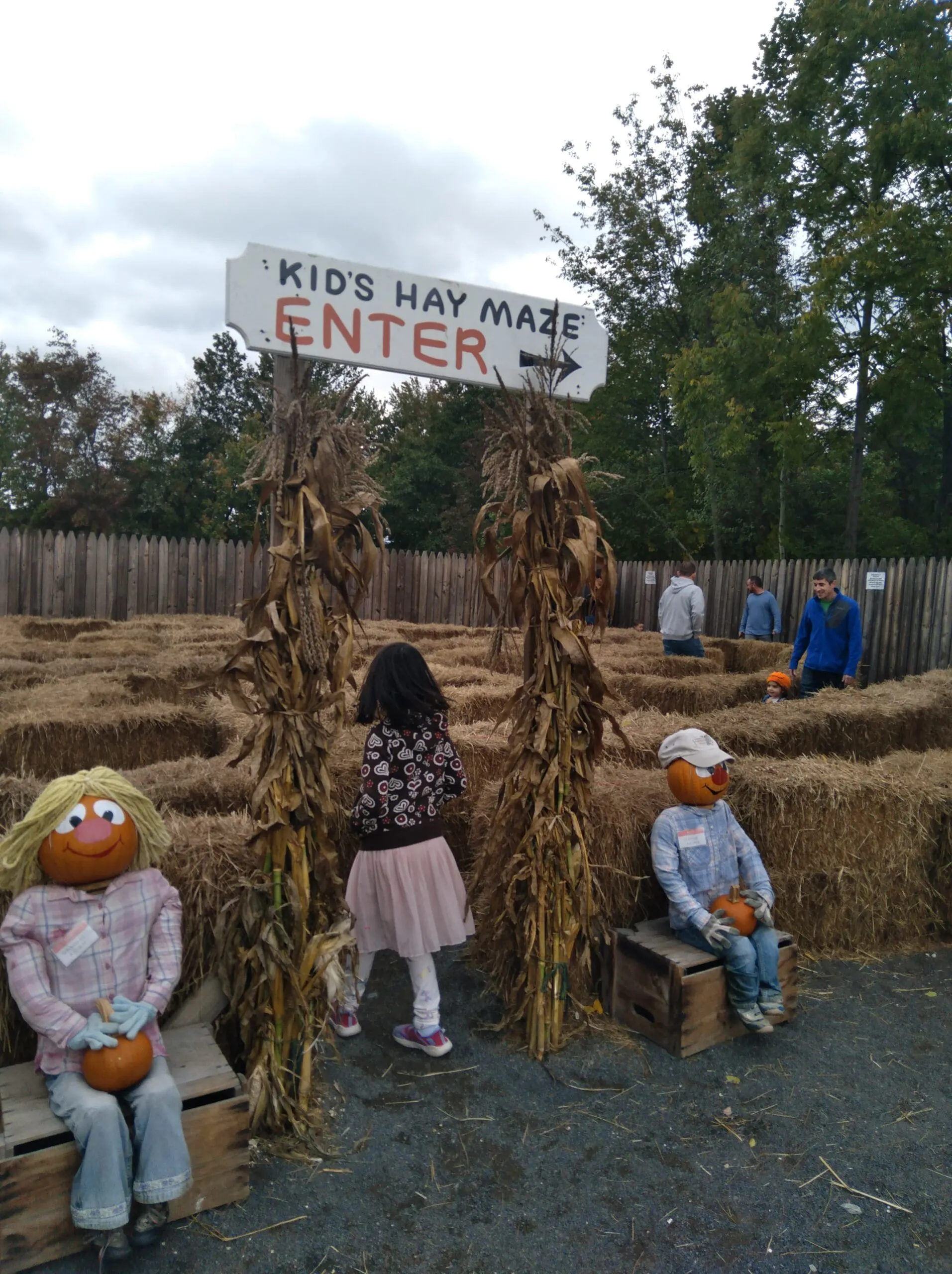 The Pumpkintown USA Ride
Accross the street from the fun town of pumpkin people, there is another attraction you should definitely visit – The Pumpkintown USA Ride.
It's a mile stretch of scneic roadway where you'll pass by pumpkinhead people enjoying all sorts of jobs and recreational activities, including skiing!
Be sure to reserve your tickets online before your visit. The cost is $25 per car load.
There are a few options for cash upsell packages, as well.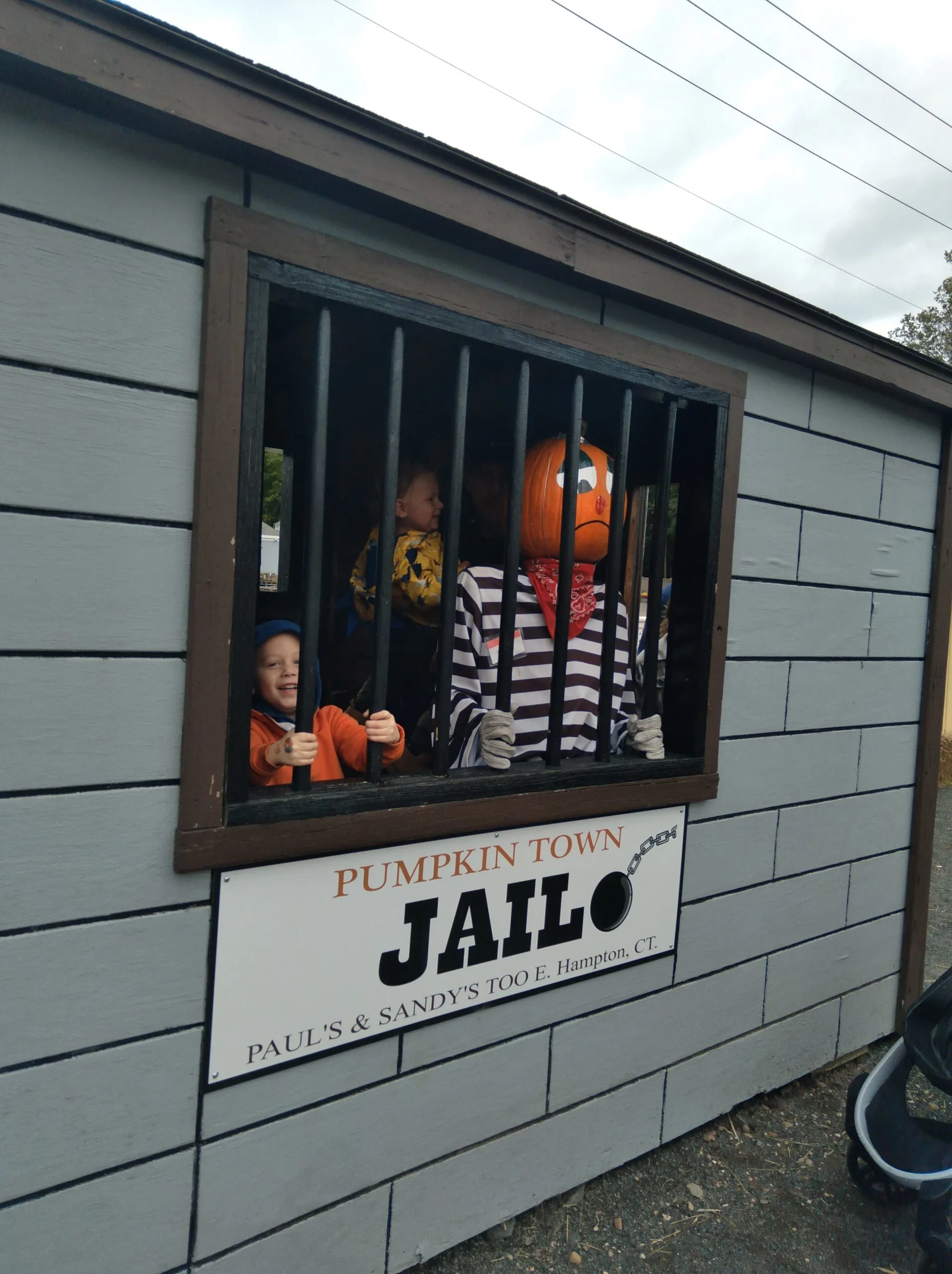 ---
My family found Pumpkintown USA in East Hampton, CT to be an extrememly enjoyable fall/Halloween experience.
We appreciated the helpful staff, fun activities, and the fact that we weren't pressured to spend an arm and a leg with a bunch of upsells everywhere, which seems like the new normal these days.
Fresh made apple cider donuts are sold just outside of the village, but they are not overpriced and are well worth the cost. Very delicious!
I recommend doing the ride first because it takes the pressure off – you can enjoy the village fully this way.