With the summer months in Connecticut continuing, it's the perfect time to find new family-oriented places to spend the long days. Alpacas may seem like they can only be seen in exotic zoos or in their natural habitat, but there are actually some really fun alpaca farms in Connecticut where you can check out the fun and interesting animals.
Some places have other family activities or options for food, so it can really be a fun, summer day plan.
Some Alpaca farms also have llamas, as most places see the two as a sort of package deal for all things cool and rare.
Some places have tours of the farms, up-close viewings of the animals, and a trained and educated professional that is there through each step. It's like a lesson on alpacas, but fun!
So, if you're looking for something new and fun to do this summer, then check out these alpaca farms in Connecticut to visit with your kids.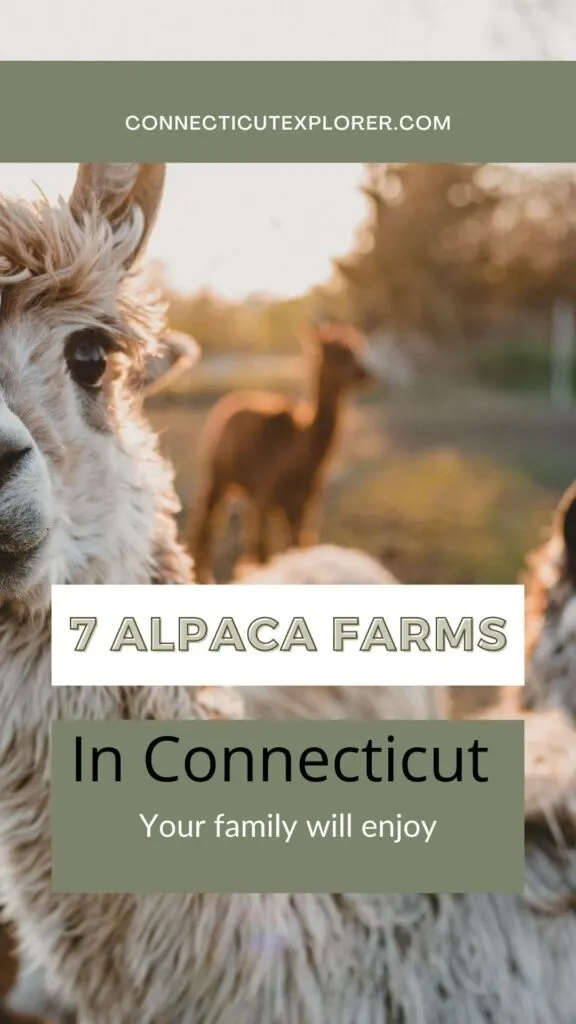 7 awesome Alpaca farms In Connecticut
1. Bella Alpacas Farm and Sanctuary- New Milford, CT
The Bella Alpacas Farm and Sanctuary in New Milford, CT is a great destination for the family.
With low admission and appointment-only viewing, beautiful farmland, and plenty of alpacas to see, the farm is sure to offer many happy and safe memories for you and your family.
What's great about the Bella Alpacas Farm is that you can book a room to spend the night. It's the perfect, quick weekend getaway for you and your family!
2. Rowanwood Farm- Newtown, CT
Once you get to Rowanwood Farm, you'll feel like you stepped into a grassland oasis.
The Rowanwood Farm is well maintained and has been around for quite some time. Their website offers more information on advanced booking, and their hours for guided tours and hiking.
Their hiking adventures have levels, from 1-2, and range from slow hiking alongside the llama, to riding the llama through the hike.
They offer hiking trails and tours so that you can see the llamas in their element and have some fun exploring the farm.
3. Country Quilt Llama Farm- Cornwall, CT
The Country Quilt Llama Farm is a country escape. Their guided tours to walk with llamas give you the perfect chance to explore the animal sanctuary and learn how llamas interact with each other.
Their llama walks can be scheduled all year round, and their trails are up to 35 miles long! So obviously you can't do that all in one day, Country Quilt Llama Farm is the kind of place you come back to!
Take it as a teaching opportunity or just time away to have some fun. Either way, you won't be disappointed.
4. New England Alpacas- Killingworth, CT
The New England Alpacas farm is one of a kind. They are nestled in a quiet town and open the farm to the public for tours, viewing the alpacas, and you can check out the gift shop they have where you can buy alpaca products.
It's the perfect way to immerse your day in all things alpacas! They are still limiting guests on their farm, but have opened their website up completely to shop and still support their farm efforts.
5. One Hump Farm- Ridgefield, CT
The One Hump Farm is a special alpaca farm. They have one alpaca and one camel for you to visit.
The farm is well maintained, on open land, and has trained employees to answer any questions and interests you have.
They take special care to rehome alpacas and give them safe environments to thrive in. This is a wonderful place to bring the whole family to, the website has more information on booking and hours.
What are you waiting for? Plan your summer day at One Hump Farm today!
6. Southwind Farms- Watertown, CT
The Southwind Farms are a family-owned farm that's nestled in the heart of Watertown.
With many acres of land and a few alpacas, the farm is open for public viewing and guided tours of the alpaca farm and the property.
Their website suggests you call ahead to schedule the perfect time for going to visit so that you and the alpacas are safe and ready for some fun!
They also have a gift shop and alpaca products for you to take home a keepsake from your fun day!
7. Stone Bridge Alpacas- Griswold, CT
The Stone Bridge Alpacas are a nice group of alpacas on a beautiful farm in Griswold, Connecticut.
Griswold is a beautiful quiet town in Connecticut, and the Stone Bridge Alpacas farm is a show of the town's fun and relaxing atmosphere.
They also have a gift shop where you can buy alpaca products! They breed some alpacas, with trained vets and experts, so that their alpacas are healthy and have great lives ahead of them. T
hey have farm-knitted items made humanely from the soft animal fibers of their alpacas. It's a one-stop-shop for all things alpaca, farms, and fun!
We hope these alpaca farms in Connecticut have given you some idea of where you can take your family for a one-of-a-kind, memorable day.
The farmlands are beautiful, safe, and open for your family to come to look at alpacas, a few llamas, and take home some memorable keepsakes.