Visiting the zoo with your kids is a must-do at least once in your life. It's educational and fun for everyone that goes. Not all of the zoos in Connecticut are created equal, though.
That's why we've done the (very fun) leg work to give you the 9 very best zoos that your kids will love visiting in Connecticut.
We've included some aquariums and a serpentarium for you, as well. If you're looking for something fun to do with your kids, this list is for you.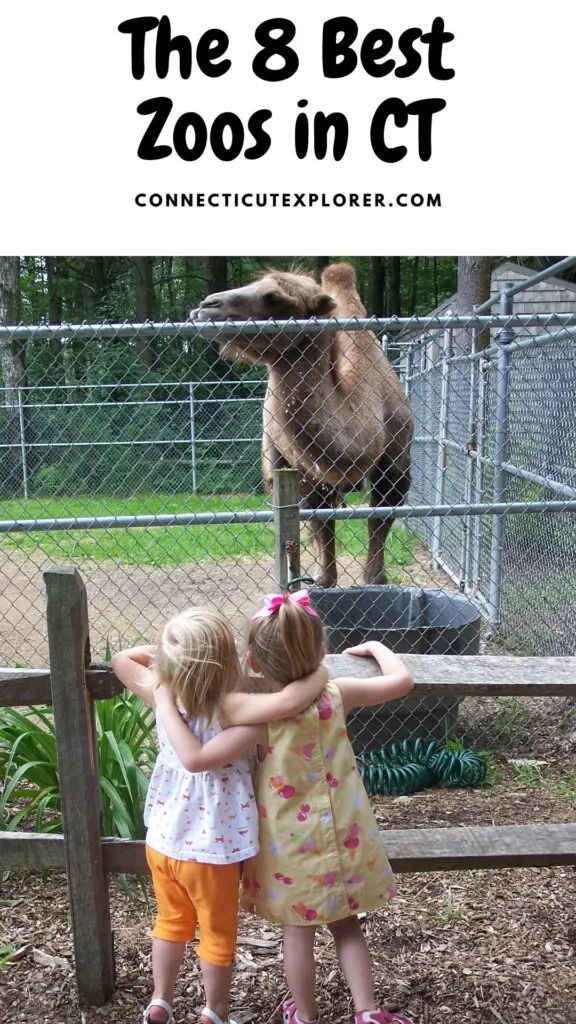 The 9 best zoos in Connecticut
Beardsley Zoo – Bridgeport CT
The Beardsley Zoo is Connecticut's most popular animal attraction. There's so much to see here!
Your kids will have a blast, but the most important thing is that this zoo treats its animals with a lot of respect by providing healthy environments.
That's why the animals look so happy! From insects to wolves, tigers, and more three won't be one animal your kids won't enjoy seeing!
1875 Noble Ave, Bridgeport, CT
Riverside Reptiles Education Center – Enfield
If you've got a reptile-loving little one, you will be happy to know that there is now a serpentarium in the state of Connecticut.
Riverside Reptiles Education Center boasts over 7,000 square feet of exploration space and quite a list of snakes, frogs, lizards, and turtles for kids to learn about and enjoy.
If seeing anacondas and cobras sounds like a good time, Riverside also hosts birthday parties with special animal encounters.
riversidereptileseducationcenter.com
Action Wildlife – Goshen CT
With animals from 6 out of the 7 continents, this gem is an up-close and personal experience with wildlife that your kids will never forget.
You don't need to go all the way to Africa to have a Safari. Check out their Zebra, llamas, water buffalo, and many more animals – right here in Connecticut.
There is a petting zoo here, too, for the very little ones!
337 Torrington Rd, Goshen, CT
The Animal Farm/Silverman's Farm – Easton CT
While technically more of a farm zoo than a wildlife zoo this is still worth a visit for you and the family.
Buffalo and bunnies – these are just a couple of the animals that will be around to hang out with.
One of this farm's best perks is that children can feed the animals when they ask an employee.
451 Sport Hill Rd, Easton, CT
silvermansfarm.com/animal-farm/
Denison Pequotsepos Conservation Center – Mystic CT
While all the zoos are local treasures, the Denison Pequotsepos Conservation Center is really one of the best zoos for both in-state and out-of-state visitors.
Why? Because it is massive conservation land that allows kids and their families to walk around and enjoy the natural habitat with any animal nearby.
With plenty of trails to visit there is no need to make this a one-and-done trip. Come back many times as it is an enrichment center for children to learn.
109 Pequotsepos Rd, Mystic, CT
Sharon Audobon Center – Sharon CT
Natural habitats are a popular thing in Connecticut and there is no better way to see them. In Sharon, you can visit the Audobon Center.
Not only are they protecting forest life at this zoo, but they are giving visitors a chance to appreciate the natural habitats of animals as well. Open sunrise to sunset, you can walk around or visit the birds of prey in the aviaries kept on-site.
325 Cornwall Bridge Rd, Sharon, CT
The Maritime Aquarium – Norwalk CT
Some of us prefer the sea to land, and if you asked the animals inside the Maritime Aquarium they would tell you the same.
With nearly 7,000 animals staying there the goal for this Maritime is to protect and preserve a natural habitat for them while others enjoy their beauty.
From beautiful seals to all the fish from Finding Nemo, kids are going to love running around to see the different creators from down under the sea!
10 N Water St, Norwalk, CT
SeaQuest Trumbull – Trumbull CT
Hands-on learning is super important for kids. That's why SeaQuest of Trumbull CT is the perfect zoo aquarium to visit for you and the kids.
With 20,000 square feet, the adventure never ends and the journey is just beginning. Wander around with the turtles or check out the porcupine!
With so many animals each child is sure to find a connection with one of them!
5065 Main St Ste 1106, Trumbull, CT
Mystic Aquarium – Mystic CT
While technically not a zoo, it is still worth a visit to see the cutest sea creatures swimming around.
There is so much to look at with baby beluga whales, seals, and an array of fish.
The Beluga Pod is the aquarium's claim to fame where many come to see the beluga whales while staff members work hard to research a healthier and better lifestyle for these magnificent creatures.
Ever enjoy the movie Madagascar? Well, they have the penguins for you.
African penguins have a constant live stream so you can see what these unique birds are up to at any time!
55 Coogan Blvd, Mystic, CT
Zoos, serpentariums, and aquariums are the ultimate forms of fun and learning.
While adults can enjoy the learning process just as much as children, the kids get a chance to make learning fun and understand more about wildlife both on land and in the sea.
Aside from that, each Zoo offers something a little unique from the others while also offering the same fun.
For instance, the baby beluga exhibit is unique and only offered at the Mystic Aquarium! The same can be said for SeaQuest as they put a primary focus on interacting with the animals.
All of the zoos in Connecticut are great and your experience will be a memorable one with the kids. Over the course of a year, you can hit up nearly all of them!