Connecticut is full of surprises, and having an antique shop in nearly every town is one of them. Well, the Connecticut Tourism Board even organized the best antique shops into the Antiques Trail, so that people from out of state and around Connecticut had an easy way of discovering all the antique shops.
Whether you're a tourist, or Connecticut Native, the best antique shops in Connecticut are sure to make you leave with at least one awesome antique.
You can organize your own little antique trail if you stop at some of these antique shops in Connecticut.
A few even have online shopping and shipping options, making it easier to shop their collections from a distance! They are family-friendly, and also nestled in nice towns and cities where you can shop at other places or make a day out of your trip to the antique shop!
We hope one of the top 10 antique shops in Connecticut has something for you!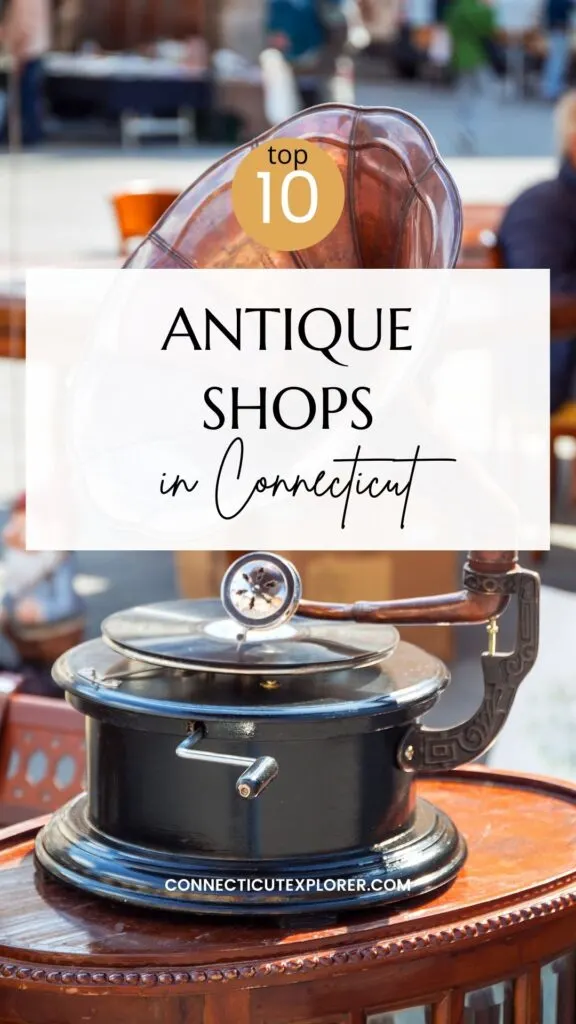 The Top 10 Antique Shops in Connecticut
1. The Past Antiques Marketplace- Oakdale, Connecticut
This has all the charm of the usual antique shop, with a little bit of the Oakdale spirit mixed in. the Nature's Art Village Complex, next door to The Dinosaur Place, has lots of shops, but the Past Antiques Marketplace has to be one of their best shops.
With over 90 vendors around them, the Marketplace has lots for sale from small to big.
Furniture, lights, jewelry, toys, and figurines are all on sale. The items vary, so every time you come, something will be new!
2. Antiques on the Farmington- Canton, Connecticut
The village of Collinsville is small, but it has something for all kinds of visitors. They have nurseries and art shops, but the large antique store is definitely where you want to go.
The Antiques on the Farmington shop has about 50 vendors who sell an array of goods. They have vintage furniture, porcelain items, and lots of different collectibles.
The Antiques on the Farmington shop in Collinsville, Connecticut is also a Connecticut perennial favorite, so antiquers of all kinds should visit and see what they have!
3. Mine- Mystic, Connecticut
This vintage and antique store is super cool, and they sell lots of goods that are affordable and timeless. The overall hope for the antique store is to turn something old and used into something that is yours!
So, the Mine collection is thoughtfully curated with items that stand the test of time. They have vintage chests, unfinished tables, and cute, small pieces for decor!
Mine, located in Mystic, Connecticut, is one of the most unique antique shops and can appeal to antiquers of all ages and interests.
4. Stratford Antique Center- Stratford, Connecticut
The Stratford Antique Center is a gorgeous, huge blue building that has over 200 vendors offering many different antiques for all interests.
The Stratford Antique Center's vendors span over 16,000 square feet and allow visitors to see lots of different kinds of antiques for all interests. Their items include toys, collectibles, glass wear, cookery, statues, and furniture!
The Stratford Antique Center is easily accessible, well-staffed, and has plenty of antique items to satiate your antique needs!
5. Greenwich Living Antiques and Design Centre- Stamford, Connecticut
The Greenwich Living Antiques and Design Centre has something for all kinds of antique lovers. If you are looking for a specific item, you might find it here!
They sell higher-end antique furniture pieces and light fixtures, as well as mirrors and artwork. Their staff is also available to help you select items for your tastes, and they have had celebrities like Beyonce and Anne Hathaway visit!
So, if you ever wanted to shop with the likes of Beyonce or Catherine Zeta Jones, you should head over to the Greenwich Living Antiques and Design Centre!
6. English Building Markets- New Haven, Connecticut
With over 4,000 square feet of space, the English Building Markets antique shop has tons of antique finds like furniture, clothing, and kitchenware.
They are affordable too, with their 20% off sales, and a new color theme every week!
Their online shop also makes their items super accessible if you would prefer to shop at home.
7. G. Sergeant Antiques- Woodbury, Connecticut
This antique shop has been around for over 40 years. G. Sergeant Antiques sells English, Continental, and American furniture.
All their items are super high quality and include furniture, mirrors, light fixtures, and much more!
They even help collectors with unique, original pieces. G. Sergeant Antiques is a huge asset to the antique shopping community because they offer only the best of antiques out there!
8. Wayne Mattox Antiques- Woodbury, Connecticut
The Wayne Mattox Antiques shop is also known as the Antique Capital of Connecticut, and for good reason!
They are located in a Greek-Revival home built in 1835, and they change their items often.
They focus on European and American furniture, toys, weathervanes, and Native American art.
If you are interested in antiques, you should definitely check them out, as well as their blog and podcast!
9. United House Wrecking, Inc.- Stamford, Connecticut
They were originally started as a demolition company in 1954, but now the United House Wrecking Inc. is an antique furniture and decor store.
They have over 43,000 square feet of rugs, stained glass, mirrors, garden decorations, mantels, and much more!
They have super unique items to impress even the most seasoned collectors.
10. Monique Shay Antiques and Designs- Woodbury, Connecticut
French Canadian techniques are hard to find, so the Monique Shay Antiques and Designs shop is very popular.
They have gorgeous painted French Canadian cupboards, tables, chairs, and armoires.
Their shop was also featured in newsstand magazines!
You can be a seasoned antique collector or new to the game, it doesn't matter because Connecticut has something for everyone!
We hope you find that special antique you are looking for, or just have fun browsing the wonderfully maintained and artfully crafted antique shop items in Connecticut!